Story Progress
Back to home
Rajasthan Royals vs Royal Challengers Bangalore: IPL 2022 Live Cricket Score, Live Score Of Today's Match on NDTV Sports
Live Updates of Today Match between Rajasthan Royals vs Royal Challengers Bangalore from Narendra Modi Stadium, Ahmedabad. Check commentary and full scoreboard of the match.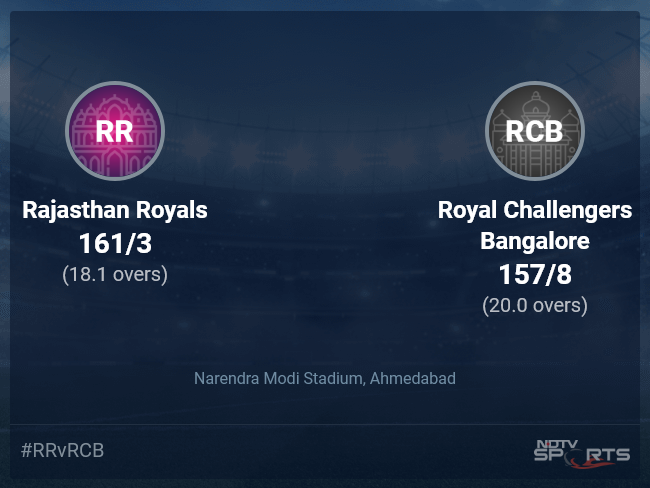 RR vs RCB Latest Score
A dedicated team of experts bring you live score, live cricket score, live match update on Sports.NDTV.com. After 18.1 overs, Rajasthan Royals, chasing a target of 158, are 161/3. The live updates of Rajasthan Royals vs Royal Challengers Bangalore scorecard is also available. It is the perfect platform to follow your favourite teams in Indian Premier League 2022. Keep a track on your favourite batsmen and bowlers through Indian Premier League 2022 today match, ball by ball commentary, Rajasthan Royals vs Royal Challengers Bangalore, Rajasthan Royals vs Royal Challengers Bangalore live score, Rajasthan Royals vs Royal Challengers Bangalore scorecard. Follow the excitement of the Indian Premier League 2022 on Sports.NDTV.com as you can follow live match updates and live cricket score through our platform.
That concludes the proceedings for the penultimate game of this season. Rajasthan have set a date with Gujarat for the ultimate glory. The final is on Sunday, the 29th of May, at 8 pm IST (2.30 pm GMT) in Ahmedabad. You can join us in advance for the build-up. Until then, it's goodbye and cheers!
Jos Buttler (106* off 60 balls) collects the Player of the Match award! The Englishman says that he came in this season with great excitement and to get into the final is incredibly exciting. Adds that he has had a tournament of two halves and has had really honest conversations with the people close to him. Admits that he was feeling the pressure but he went to Kolkata a lot more relaxed. Shares that he always tries to react to the game situation. Shares that Kumar Sangakkara has advised him by saying that the longer he will stay there, the more runs will come. On his celebration after scoring a ton, Jos replies that after two years of playing on empty grounds, he was very excited in front of a capacity crowd. Talks about Shane Warne who was an influential figure for Rajasthan and say that the great man will be looking down on them with a lot of pride.
Sanju Samson, the victorious captain of Rajasthan, says that it was really tough for them after the last loss but they are used to bouncing back. Adds that the pitch was a bit sticky and helping the fast bowlers. Mentions that his fast bowlers executed the plans really well and they closed the innings superbly. Tells that they believed in their skills and that got them through. Smiles and says that toss plays a role definitely as the wicket plays differently in the second innings. On Obed McCoy, Samson replies that he is a tough character and very calm and composed who backs his strengths. Regarding Jos Buttler, Samson hopes that he has one more big knock left in him. Talks about the first Indian T20 League and shares that he was very young that time.
Kumar Sangakkara, the director of cricket and head coach of Rajasthan, comes up for a chat! The Sri Lankan legend says that all the hard work and training paid off with this victory. Adds that the way guys picked themselves up after the last match was pretty special. Regarding Jos Buttler, Kumar replies that he has got some very potent strength and manoeuvres the bowling smartly, he is great against spin and has all the shots, and chooses his shots wisely. Adds that he can accelerate at any time which is a big bonus. Praises his bowlers and calls the entire bowling group amazing. Lauds Prasidh Krishna for the way he bounced back after his last match where he got hit for three sixes by David Miller and talks about the commitment of Obed McCoy whose mother is ill back home. For the Rajasthan spinners, Kumar replies that they have been running the show for them, and as a unit, they stood up in this match. Mentions about the auction strategy and tells that they worked hard in picking the players, and their core is a group of seasoned international players. Signs off by saying that they will look to do the basics right against Gujarat and the team that plays better on that evening will win.
Faf du Plessis, the captain of Bangalore, says that they were a few runs short. Feels that the start against the new ball was a bit tough but then they got the momentum. Admits that Rajasthan bowled very well in the end overs. Shares that there was plenty of bounce on the surface and it perhaps eased out in the second innings. Adds that he is proud of his team and thanks all the fans for supporting them. Talks about Harshal Patel, Wanindu Hasaranga and Dinesh Karthik for their performances this season, and expresses his disappointment for not making it to the final. Lauds the effort of the backroom staff and is grateful for the kindness shown to them. Further says that they have a few young boys who can turn into superstars and they have a great future. Signs off by thanking the Bangalore fans and says that the support they got is truly remarkable.
Stay tuned for the interviews...
Bangalore will be deeply disappointed. Another season has gone and their trophy cabinet remains empty. They showed plenty of promise but failed to cross the last hurdle to get into the final. Their batting didn't operate at full strength once again. After the kind of start they had, Bangalore were in a good position to maximize the death overs but their innings nosedived and they managed just a below-par total. With the ball, the start from them was mediocre in the Powerplay and the writing was on the wall very early. They did try to create pressure later on but the damage was already done.
The start to the chase was bright and breezy from Rajasthan. Yashasvi Jaiswal hammered Mohammed Siraj for 16 runs to set the tone, and then Jos Buttler capitalized. He started in the top gear, contrastingly to his last knock, and notched up a quickfire fifty. Rajasthan enjoyed a great Powerplay and brought the asking rate down to 6.5. Samson also played a handy knock, but his departure slowed the scoring rate. The victory though was never in doubt, and Rajasthan eventually crossed the line in the 19th over. Jos Buttler struck yet another century and stayed till the end.
Rajasthan have decimated Bangalore and stormed into the final! Very clinical show from the Pink team, both with the bat and ball, and they deserve to contest for the trophy in the final - first time since 2008.
18.1 overs (6 Runs) SIX! Jos Buttler finishes off in style! Short in length and around off. Jos Buttler stands tall and pulls it all the way over deep mid-wicket for a biggie. Rajasthan are in the final as they win by 7 wickets.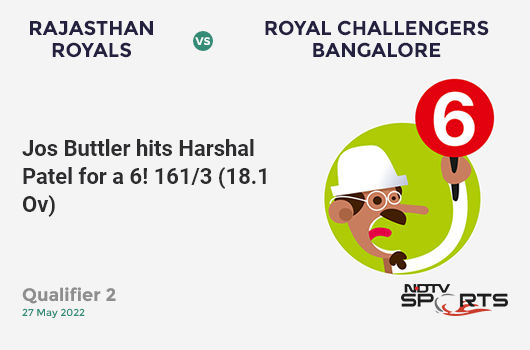 17.6 overs (1 Run) CENTURY FOR JOS BUTTLER! The man for the big moment! Take a bow, Jos! What an innings this has been from the Englishman! Fuller and outside off. Jos drives it through covers and takes a single. He removes his helmet and soaks all the applause from this huge Ahmedabad crowd. He deserves it all!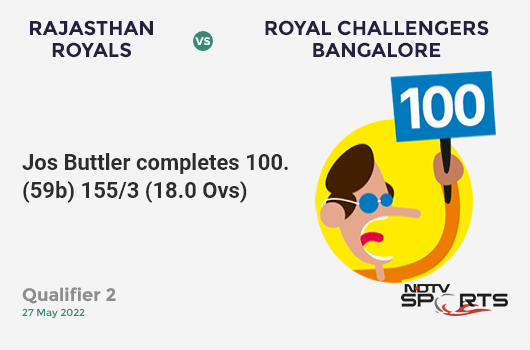 17.5 overs (2 Runs) Tossed up, on off. Buttler heaves it in the gap to wide long on. The long on fielder gives up but sees the ball hold in the surface and then gives a chase again. Two runs taken! Jos Buttler is on 99 now.
17.4 overs (1 Run) Shorter ball, on off. Hetmyer punches off the back foot to long on for a single.
17.3 overs (1 Run) Quicker one, slanting on middle. Buttler tucks it to deep mid-wicket for a single. He moves to 97.
17.2 overs (1 Run) Too full and angling on middle. Hetmyer tucks it to deep square leg for one more.
17.1 overs (1 Run) Tossed up, spinning around middle and leg. Buttler flicks it in front of square on the leg side for a single.
16.6 overs (0 Run) On a length and on off. Blocked out to cover.
Shimron Hetmyer walks in next with 10 needed more.
16.5 overs (0 Run) OUT! CAUGHT BEHIND! Short ball, on middle, steep bounce as well. Devdutt Padikkal tries to play it over the keeper but gets cramped for room and the ball goes off the gloves and to Dinesh Karthik, behind the sticks who pouches it. A wicket but too late for Bangalore!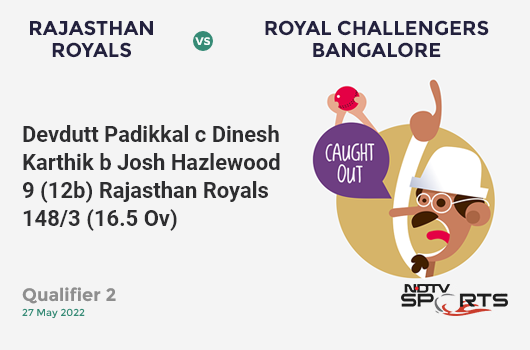 16.4 overs (1 Run) Fuller and on off. Buttler mistimes his heave to deep mid-wicket for a single.
16.3 overs (4 Runs) FOUR! Innovative! Around off, on a length. Buttler shuffles across and laps it over short fine leg for a boundary. Jos is eyeing the triple-digit score now. He deserves it.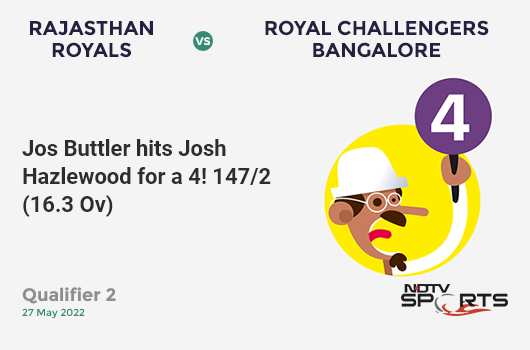 16.2 overs (2 Runs) In the air but falls safely! Short of a length, outside off. Buttler looks to hoick it away but gets a top edge. The ball falls behind backward point and they get two. Jos moves to 90. Can he score yet another hundred?
16.1 overs (1 Run) On a length and on middle. Padikkal dabs it to third man for a single.
Josh Hazlewood is back on to bowl his last.
15.6 overs (6 Runs) SIX! Second of the over and Rajasthan are nearing the victory line! Tossed up again, in the slot. Jos Buttler opens his body and heaves it over deep mid-wicket for a maximum. 18 needed now.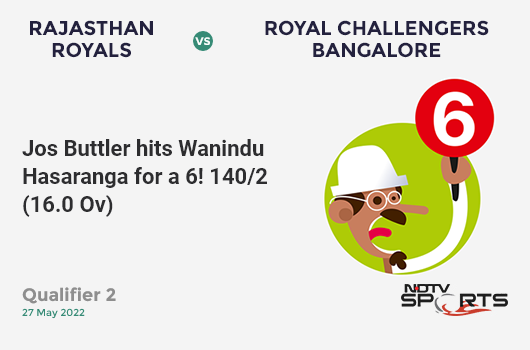 15.5 overs (0 Run) Flatter ball, on off. Jos stays back and pushes it off the leading edge to point and looks for a quick single. But he is sent back as the fielder makes a good stop there.
15.4 overs (6 Runs) SIX! A welcome biggie for Rajasthan! Tossed up, full and on middle. Buttler waits and smashes it over long off for a biggie. This was always coming at some point. It was just a matter of when!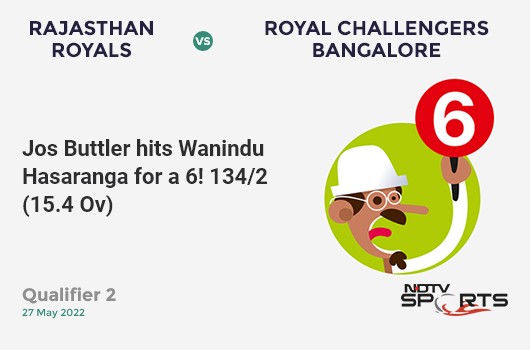 15.3 overs (0 Run) Quicker one, on middle. Buttler punches it to the left of Hasaranga who does well to stop it.
15.2 overs (1 Run) Flatter and around leg. Padikkal clears his front leg and works it to deep mid-wicket for a single.
15.1 overs (1 Run) Tossed up, on middle. Buttler nudges it past mid-wicket for a single.
Match Reports
Topics mentioned in this article