Story Progress
Back to home
Rajasthan Royals vs Royal Challengers Bangalore Live Score Ball by Ball, IPL 2022 Live Cricket Score Of Today's Match on NDTV Sports
Live Updates of Today Match between Rajasthan Royals vs Royal Challengers Bangalore from Narendra Modi Stadium, Ahmedabad. Check commentary and full scoreboard of the match.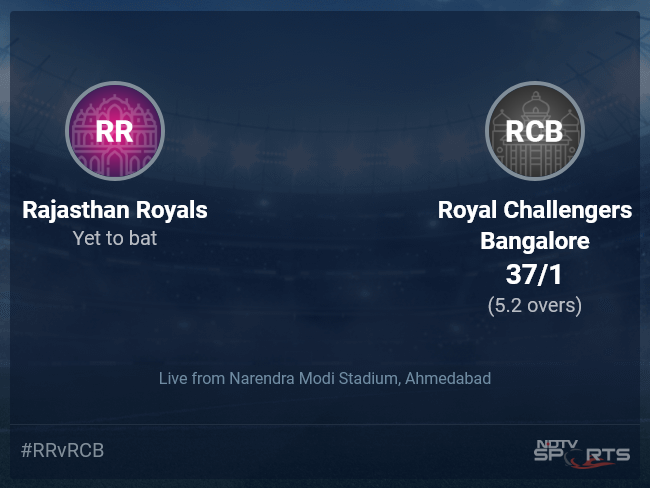 RCB vs RR Latest Score
Follow the Indian Premier League 2022 live cricket score on Sports.NDTV.com. After 5.2 overs, Royal Challengers Bangalore are 37/1. Get live score, ball by ball commentary and much more. Keep track of Indian Premier League 2022 today match between Rajasthan Royals and Royal Challengers Bangalore. Everything related to Rajasthan Royals and Royal Challengers Bangalore match will be available on Sports.NDTV.com. Stay updated with Rajasthan Royals vs Royal Challengers Bangalore live score. Do check for Rajasthan Royals vs Royal Challengers Bangalore scorecard. You can get scorecard updates, match related facts. Get quick live updates with ads, Sports.NDTV.com, which is the perfect destination for live cricket score.
4.6 overs (4 Runs) FOUR! Shot! Short in length and outside off, Faf du Plessis hangs on the back foot and whacks it through extra cover for a cracking boundary. 12 from the over!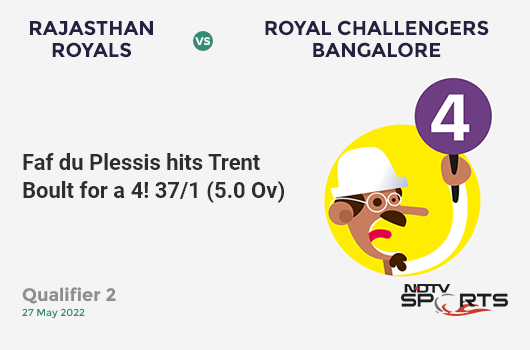 4.5 overs (0 Run) Shortish and on off, shaping in, Faf is cramped for room and ends up pushing it defensively towards the bowler.
4.4 overs (4 Runs) FOUR! A tough chance for Samson goes begging. Back of a length, around leg, Faf du Plessis tries to glance it across the line but gloves it behind. Sanju Samson dives across to his left but it takes his fingertips and scoots behind for a boundary at fine leg.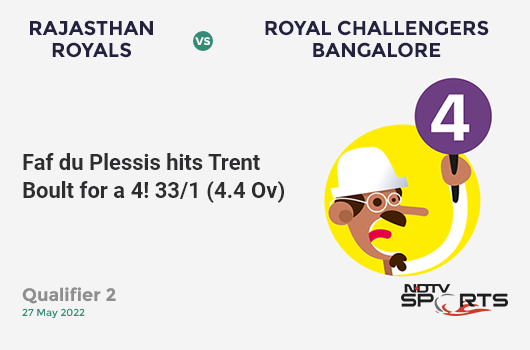 4.3 overs (2 Runs) Boult goes fuller but the line is around leg, Faf takes a step down and wrists it through square leg for a couple of runs.
4.2 overs (1 Run) Fraction short and outside off, Patidar uses the angle of the bowler and dabs it down to third man for one.
4.1 overs (1 Run) Fuller in length and outside off, Faf du Plessis drives it square of the wicket on the off side for a run.
3.6 overs (0 Run) Slightly fuller this time, outside off, Rajat Patidar drives but finds the fielder at wide mid off.
3.5 overs (0 Run) Angling in, on a length, it's defended from the back foot to the leg side.
3.4 overs (0 Run) In the zone outside off, left alone.
3.3 overs (4 Runs) FOUR BYES! That's so unlucky for the bowler. It's a peach of a delivery. Prasidh Krishna clocks 148 kph and delivers it on a length around off. It lands and jags back in to beat the inside edge and keeps on swinging away from the diving keeper. A boundary at fine leg results.
3.2 overs (0 Run) A touch short again, outside off, Rajat Patidar plays late but finds the backward point fielder.
3.1 overs (4 Runs) FOUR! Short in length and outside off, Rajat Patidar stands tall inside the crease and throws his bat at it. It takes a thick outside edge and flies over the slip cordon for a boundary.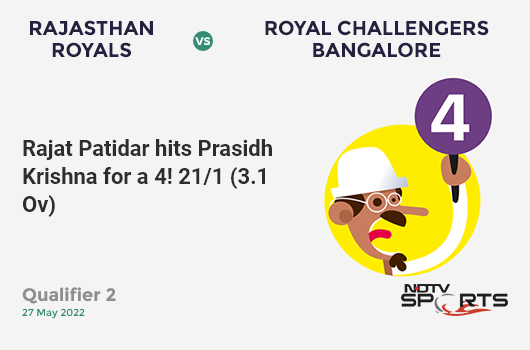 2.6 overs (0 Run) A cracking yorker from Boult. It's swerving into the batter, around middle, Faf du Plessis does well to have his bat down in time as he digs it out safely to square leg.
2.5 overs (0 Run) Too full and around off, du Plessis drills his drive but finds the mid off fielder.
2.4 overs (4 Runs) FOUR! Poor line and length from the Kiwi on this occasion and he pays for it. Serves it full and wide outside off, Faf du Plessis gets the chance to free his arms and pumps it over covers for a boundary.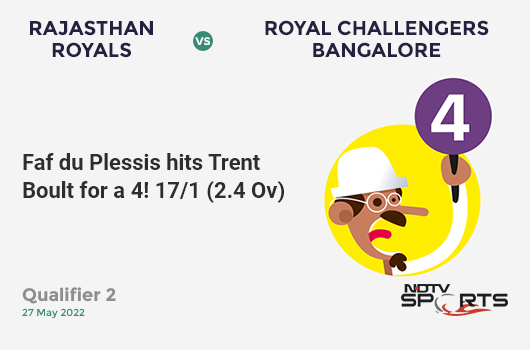 2.3 overs (0 Run) Presses forward and pushes a full ball to covers.
2.2 overs (0 Run) Another delivery on off, du Plessis stays back to defend but gets an inside edge onto the pads. It deflects to covers and Rajat Patidar comes out in search of a run. He is sent back as the fielder misses his shy at the bowler's end.
2.1 overs (0 Run) Excellent line from Trent Boult. Serves it on a length around off, gets it to bend back in a bit, Faf is caught inside the crease as he blocks.
1.6 overs (4 Runs) FOUR LEG BYES! Wrong line from Prasidh Krishna. Slips a length ball down the leg side, it beats Patidar's bat, clips his thigh pad and races away to the fine leg fence.
Rajat Patidar is the new batter in. He is fresh from a sublime century and would look to play another crucial knock here.
1.5 overs (0 Run) OUT! EDGED AND GONE! That line to Kohli outside off has worked. Back of a length, around off and shaping away with some extra bounce. Virat Kohli sticks on the back foot and has a lazy waft inside the line. It takes the outside edge and Sanju Samson holds on to the catch. Kohli departs much to the disappointment of the capacity crowd. Needless to say, this is a big breakthrough for Rajasthan but they can't afford to relax as Bangalore have an in-form batting group.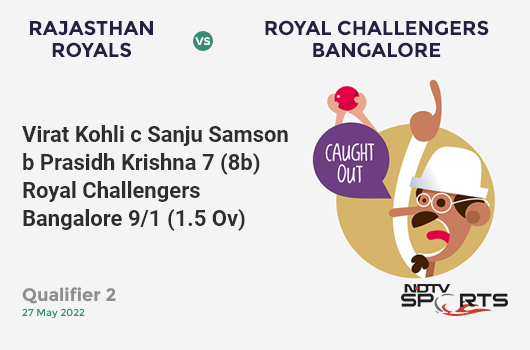 1.4 overs (0 Run) Length delivery around off, angling in, Kohli defends it from the front foot.
1.3 overs (0 Run) Lands it on a good length and in the channel outside off, this one holds its line and Kohli shoulders arms.
1.2 overs (1 Run) Around leg, helped behind square leg for a single.
1.1 overs (0 Run) Prasidh Krishna goes very full and in the line of the stumps, du Plessis tries flicking but misses. He is rapped on the pads, the bowler appeals but the umpire turns it down. Two noises there, it's of the ball hitting both the pads, shows the replay. Would have missed the leg stump, anyway.
Who will bowl from the other end? It is Prasidh Krishna.
0.6 over (6 Runs) SIX! Virat Kohli advances down the track and makes his intentions clear. Boult hurls across a length ball around off, Virat shimmies down the track and dismisses it in front of square on the leg side for a biggie. The crowd erupts.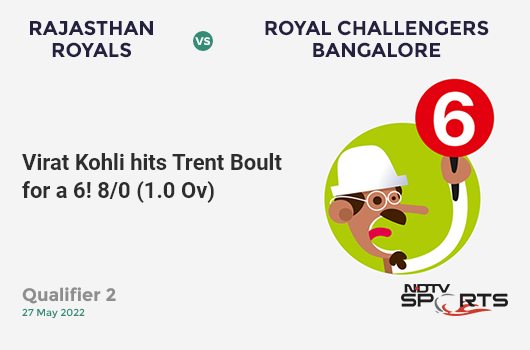 0.5 over (0 Run) Angling away from the batter, outside off, Kohli taps it down to point and looks for a run but is sent back.
0.4 over (0 Run) That's the line and length. Around off, with a good seam position, the ball nips back in a shade, Kohli covers his stumps and makes a watchful leave.
0.3 over (1 Run) Serves it on a length and around leg, du Plessis eases it down to fine leg for a single.
0.2 over (1 Run) Kohli is away with a single and the crowd roars! Boult delivers it on a length around leg, Virat works it behind square leg and crosses for a run. The throw comes towards the bowler's end and deflects off Kohli's leg. He decides not to take advantage of it.
Halt in play! Looks like we already have a pitch invader.
0.1 over (0 Run) The Kiwi speeds in and delivers a length ball in the channel outside off. It lands and goes on with the angle as Kohli allows it through to the keeper.
We are all set for Qualifier 2! Out come the Rajasthan players and so are the openers of Bangalore - Virat Kohli and Faf du Plessis. Trent Boult to start with the ball. Here we go...
Faf du Plessis, the captain of Bangalore, says that he would have batted anyway as it looks like a good wicket. Feels that runs on the board in a big game are always crucial. Adds that they have rested well and turned up fresh. Mentions that it's quite big for the team to reach this stage and they are only a game away. He wants his boys to keep doing the right things. Further adds that it's an amazing ground, and it's incredible to play in front of so many people.
Sanju Samson, the captain of Rajasthan, says that they want to bowl first as the pitch looks a bit sticky and hopes that it will help his bowlers. Shares that they had a good practice session and everyone is happy and chilled out. Tells that it's an unbelievable atmosphere here and everyone is excited about the game. Further says that everyone is connected to the team and they want to play good cricket and put smiles on the faces of the fans. Feels that it's important to keep calm and cut the noise from outside. Informs that they don't have any changes.
Bangalore (Unchanged playing XI) - Virat Kohli, Faf du Plessis (C), Rajat Patidar, Glenn Maxwell, Mahipal Lomror, Dinesh Karthik (WK), Shahbaz Ahmed, Wanindu Hasaranga, Harshal Patel, Josh Hazlewood, Mohammed Siraj.
Rajasthan (Unchanged playing XI) - Yashasvi Jaiswal, Jos Buttler, Sanju Samson (C/WK), Devdutt Padikkal, Shimron Hetmyer, Riyan Parag, Ravichandran Ashwin, Trent Boult, Prasidh Krishna, Yuzvendra Chahal, Obed McCoy.
TOSS - Up goes the coin and it lands in the favour of Rajasthan. They have elected to BOWL first!
Pitch report - Matthew Hayden is near the playing area and starts by saying that this place is amazing and over 100,000 people are expected to watch this game in the stadium. Adds that the boundaries are not as big as the ground looks but the boundary pockets are a little bit bigger. Shares that it's been too hot out there and the groundsmen have done well to prepare a pitch which is devoid of any cracks and it has an even covering of grass. The Aussie feels that it's a good one for batting and ends by informing us that the average winning score here is 175.
All roads will lead to the Narendra Modi Stadium - the venue for the last two games of the season. This is the place where the endgame will begin in a short while. Considered to be the largest stadium in the world, it's going to be jam-packed and excitement will be touching the roof. Let's see how the pitch is expected to play...
Bangalore received a big lifeline from Mumbai to get a backdoor entry into the playoffs, but they earned one for themselves by edging out Lucknow. They have reached this stage but are yet to hit the top gear. There is a lot more they can achieve as a batting group, and against the bowling arsenal of Rajasthan, the famed Bangalore batting will have to put its best foot forward. Kohli and du Plessis versus Boult, Maxwell and Karthik versus the spin duo of Ashwin and Chahal, Buttler versus Hazlewood - there are so many match-ups to look forward to this evening.
Rajasthan have been doing great things in this edition. At the start, not many would have given them the tag of favourites, but they earned it with their consistent display. Jos Buttler has been the nucleus of their batting, but it has its advantages and disadvantages. Jos' failure often led to Rajasthan's failure, and in a team sport, this should be avoided. Their batting depth doesn't offer much confidence, and that puts extra pressure on the top order. This area will be under the scanner this evening, as picking early wickets will put Bangalore in the driver's seat. Can the Pink team avoid that situation?
Here we go! After experiencing all the ups and downs of the season, going through the excitement and thrill of the league stage, facing loss and receiving favours, Rajasthan and Bangalore are standing at the cusp of booking their ticket to the finale. Plenty riding on this all-important Qualifier 2, and the change in venue will add more drama and challenges. Are you ready to witness this mega clash? We surely are, as we welcome you all for the coverage. Stay tuned for more...
Topics mentioned in this article