Story Progress
Back to home
Mumbai Indians vs Delhi Capitals Live Score Ball by Ball, IPL 2022 Live Cricket Score Of Today's Match on NDTV Sports
Live Updates of Today Match between Mumbai Indians vs Delhi Capitals from Wankhede Stadium, Mumbai. Check commentary and full scoreboard of the match.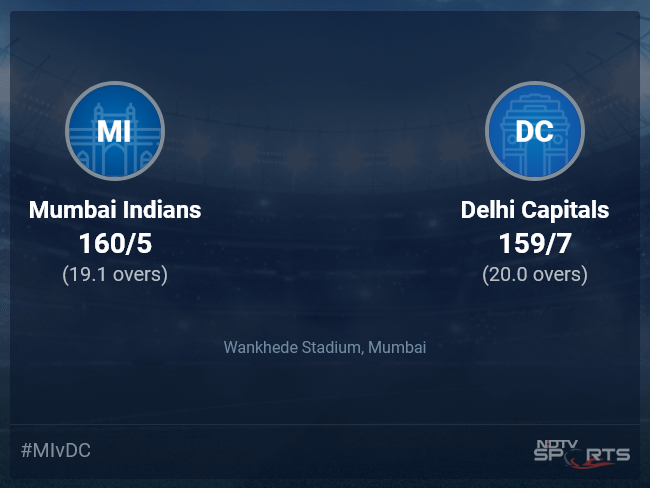 DC vs MI Latest Score
Follow the Indian Premier League 2022 live cricket score on Sports.NDTV.com. After 19.1 overs, Mumbai Indians, chasing a target of 160, are 160/5. Get live score, ball by ball commentary and much more. Keep track of Indian Premier League 2022 today match between Mumbai Indians and Delhi Capitals. Everything related to Mumbai Indians and Delhi Capitals match will be available on Sports.NDTV.com. Stay updated with Mumbai Indians vs Delhi Capitals live score. Do check for Mumbai Indians vs Delhi Capitals scorecard. You can get scorecard updates, match related facts. Get quick live updates with ads, Sports.NDTV.com, which is the perfect destination for live cricket score.
Right then, we have got the four finalists as Gujarat, Rajasthan, Lucknow and Bangalore qualify for the playoffs but before that we have one more group stage game remaining as Hyderabad will take on Punjab on 22nd May at 7.30 pm IST (2 pm GMT) Do join us for the build up as well. Till then, goodbye and cheers!
Jasprit Bumrah is the Player of the Match for his lethal spell of (4-0-25-3). He says he just tries to have fun and enjoy the game. Adds that this wicket is quite fast here, there's pace and bounce. But this was slow, and the bounce was low, there wasn't much swing so they executed the plans properly. They tried to bowl stump to stump and it came nicely for them. Tells that when you come up the ranks, you try to help the youngsters and that is how they build an atmosphere around them. Shares that they always keep in touch and they will analyze this season before they start again next year. Mentions that he was happy with his rhythm, he was executing well and following the process. He just tries to keep it simple and execute his plans.
Rohit Sharma, the skipper of Mumbai says they were here to win the game, a couple of teams were watching them but they were trying to finish on a high and take some positive off the game. Says it was tough to lose 8 on the trot but he feels, they did pretty well in the second half of the tournament. Admits he was nervous as it was not a 160-run pitch, it was sluggish but they needed a big partnership and Kishan and Brevis put in a good stand after not having a good start. Shares that collective performance always gets through but it didn't happened for them, When you want to qualify, they have to play collectively but there they didn't do it. Says there is many things to learn from this tournament. Mentions that they always keep an eye on youngsters. Adds there were no calls from Faf Du Plessis or Virat Kohli. Ends by wishing the qualified teams, all the best and hopes the best team wins.
Rishabh Pant, the losing skipper says they were on top most of the game but in patches they let it slip and that was not enough to win this match. Adds that they failed in execution and it's been the same scenario the whole tournament and hopes to come back strong next year. Adds that he felt they were 5-10 run short and dew came in in the later half and they bowled some freebie as well. They should keep their chin up and learn from it. On the review he didn't take off Tim David, he says he was convinced but he says, the other players inside the ring were not convinced enough and at the end, he didn't go up.
Tim David is up for a quick chat. He says it was nice to finish the game, he failed in the last game but he helped today. Adds that the slow balls were sticking and he tried to keep it simple. Tells that he got away with the baby sixes (the wide deliveries which went for six), adds that he works really hard and practices hard to hit big. Admits it's been a tough season but they found the rhythm in the last six games, Informs he got a message from Faf Du Plessis in the morning that, he, Virat Kohli and Glenn Maxwell were wearing the Mumbai jersey. Talks about the edge he got that Pant did not appeal for the caught behind, he says he heard the noise off his bat but when they didn't review, he took advantage of it.
Earlier in the day, after being asked to bat first, Delhi were in big trouble at 55 for 4. Pant, Powell and Axar played well to get them to a total which we felt was above par. That though did not prove to be enough despite doing well for most parts of the innings. It was the pressure which told and in the end, Delhi ended up on the losing side. Some interviews coming up...
Coming to the game now, defending 159, Delhi began really well as they got Rohit early and really made run scoring tough for Mumbai in the first 10 overs. Kishan and Brevis though then stepped on the gas to turn the tide towards Mumbai. Kuldeep though got the big wicket of Kishan. He could have had Brevis too had Pant not dropped him. Thakur however got him soon. He could have had two in two but Delhi did not take a review. That cost them dearly as his innings took the game away. He was well supported by Tilak and then Ramandeep added the finishing touch.
Have to say Delhi just succumbed under pressure. The dropped catch, and the review against David which was not taken just cost them dearly. It was the crunch situation which they needed to win but they failed to do so.
DELHI HAVE BEEN KNOCKED OUT! IT IS BANGALORE WHO HAVE MADE IT THROUGH TO THE PLAYOFFS! It is not only the Mumbai players who are celebrating but so are the Bangalore players and fans.
19.1 overs (4 Runs) FOUR! Mumbai win the match but it is Bangalore who will enjoy the success more. A full toss, on middle. Singh tries to heave it but gets a top edge over short third man for a boundary. Mumbai win by 5 wickets.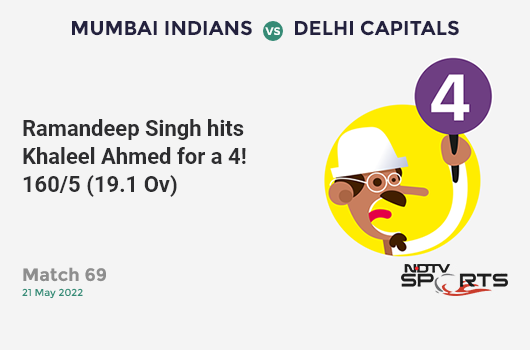 19.1 overs (1 Run) NO BALL! Ahmed bowls it straight in the hands of Pant! A big no ball! A full toss way above the head and Singh leaves it alone. Ahmed apologizes straightaway to Singh. Free hit coming up.
A brief discussion going on. Khaleel Ahmed, David Warner and Pant are in a debate and Khaleel Ahmed has been given the ball. 5 runs needed off the last over.
18.6 overs (0 Run) A low full toss, outside off. Sams nudges it to mid-wicket. A slight hesitation in between the wickets but no harm done.
Daniel Sams walks in. 5 runs off 7 ball.
18.5 overs (0 Run) OUT! CAUGHT BEHIND! Short of a length and on middle. Varma leans back and tries to steer it away but the ball was too close to hit that shot. It goes off the faint edge and to Pant who appeals. The umpire takes his time before raising his finger.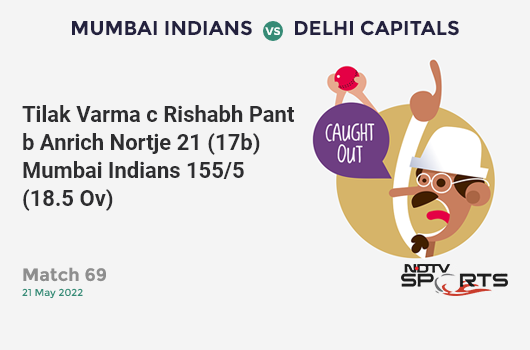 18.4 overs (3 Runs) Three runs taken! On a length and on middle. Singh looks to lap it but miscues it. The ball goes over short fine leg and the fielder gives a chase and flicks it back. The ball though spins back in but the man from across, runs in and flicks it back to save a run. Mumbai one hit away now.
18.3 overs (1 Run) A low full toss, on middle, it is hit past the bowler for a single.
18.2 overs (1 Run) Nortje sees Singh shuffling across and serves it full and outside off. Singh drives it to sweeper cover for a single.
18.1 overs (4 Runs) FOUR! Perfectly timed! A length ball, outside off. Singh punches it past the diving cover fielder for a boundary. Pressure on Nortje. 10 runs needed now.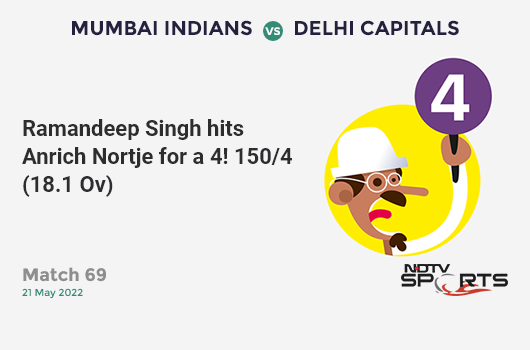 Who will bowl the penultimate over? It is Anrich Nortje.
17.6 overs (1 Run) Length ball, outside off. Singh punches it to deep cover for a single. 14 needed in 12 balls.
17.5 overs (0 Run) OUT! TAKEN! Tim David has done the damage though! A low full toss, on middle. David closes the face of the bat too early as he looks to flick it but gets a leading edge, it balloons and Prithvi Shaw at covers takes a simple catch. Tim David goes for 34 off 11 balls. He has been find of the season for Mumbai. A perfect game changer and finisher. Could be the perfect replacement for Kieron Pollard.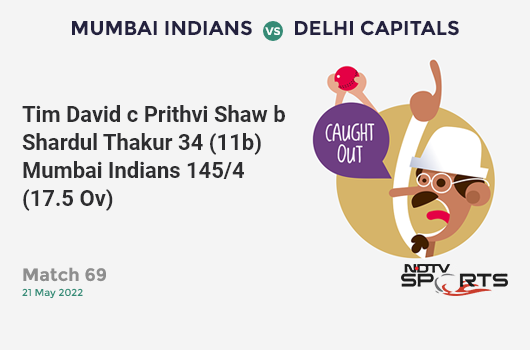 17.5 overs (1 Run) Wide! Way outside off and David slashes at it but misses.
17.4 overs (6 Runs) SIX! HAMMERED! This is just power from Tim David! Incredible stuff! Full again, outside off, well away. David swings his bat, drags it and fetches it over long off. The fielder is there but the ball sails over his head for a maximum.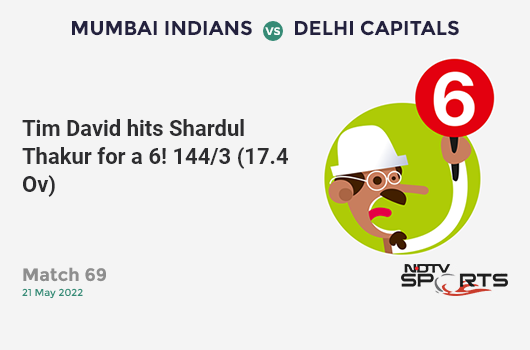 17.3 overs (6 Runs) SIX! SHEER POWER! Full ball, outside off. David looks to go downtown but does not middle it. Still the ball travels all the way over long off for a biggie.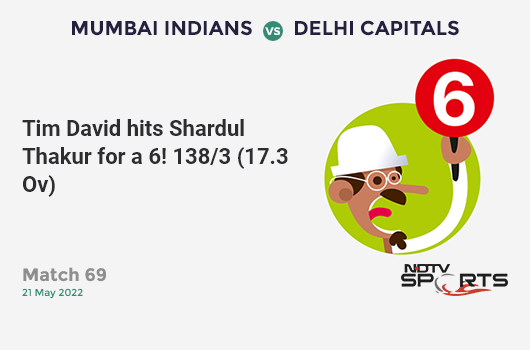 17.2 overs (1 Run) Fullish ball, outside off. Varma smashes it high in the air and to deep point but the fielder collects it on a bounce. A single.
17.1 overs (0 Run) A length ball, outside off. Varma works it to covers for a single.
16.6 overs (6 Runs) SIX! The perfect way to end the over for Mumbai! A length ball, outside off. David makes room but has to reach for the ball in the end. He hits it high and straight over the bowler's end. The man at long on runs across, and puts in a superb dive but fails to get to the ball. David Warner was there. A six. 29 needed in 18 balls.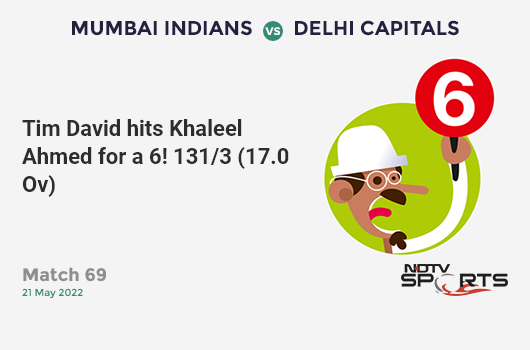 16.5 overs (1 Run) A full toss on middle. Varma doesn't make the most of it as he pushes it to long on for a single.
16.4 overs (1 Run) Length ball, at 125 clicks, outside off. David mistimes his punch to point for a single.
16.3 overs (4 Runs) FOUR! 9 already of the first three balls! A length ball, outside off. David slaps it through covers and it races into the fence in no time.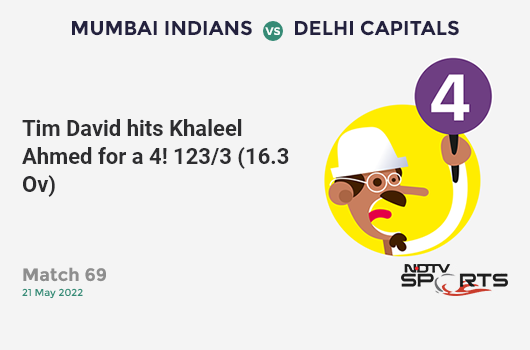 16.2 overs (1 Run) Slower one, length and around off. Varma lofts it to long on for a single. Slower balls is key for Delhi here!
16.1 overs (4 Runs) FOUR! Superb shot! A length ball, outside off. Varma shuffles way across and scoops it over the bowler's head and past short fine leg for a boundary. Innovation at its best.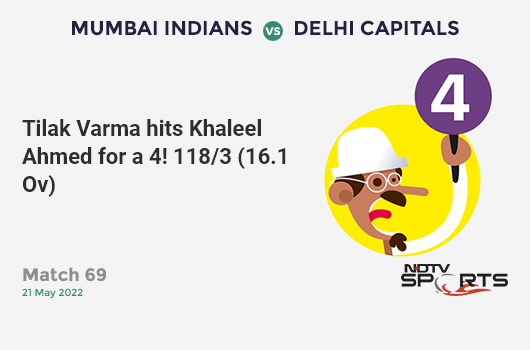 15.6 overs (4 Runs) FOUR! Put away! Yet again the last ball finds the fence! Short and on the pads, David pulls it hard through square leg. Thakur in the deep, runs to his left and dives but pushes the ball onto the fence. Delhi crumbling under pressure here. 46 needed in 24.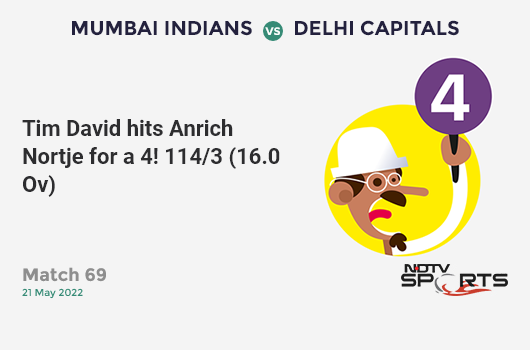 15.5 overs (1 Run) NOT OUT! That has pitched well outside leg! A review in desperation probably! A poor one though and they lost one. On the pads, Varma looks to pull but misses to get hit on the pads. A huge appeal but turned down. Pant reviews and replays show that it is not a good review.
Review taken! Delhi take a review for LBW. Looks like pitching outside leg and Ball Tracking confirms the same. A poor review and not out it is.
15.4 overs (6 Runs) SIX! Tonked over! Tilak now gets into the act! 51 needed now in 26. This is in the slot, full and on off, Varma smashes it over the long off fence for a biggie.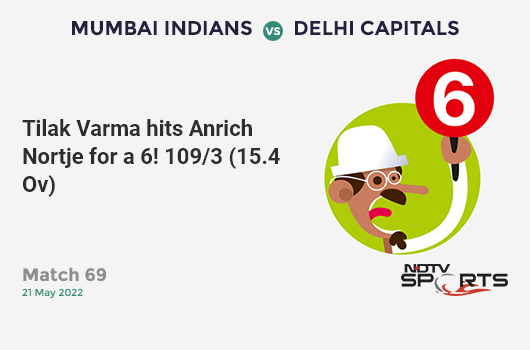 15.3 overs (0 Run) Dot! Dots are gold at this stage! Back of a length and on off, this is pushed back to the bowler.
15.2 overs (1 Run) Outside off, David guides it through point for another single. Varma wanted another but is sent back.
15.1 overs (1 Run) Length and around off, Varma guides it to point for one.
Match Reports
Topics mentioned in this article