Story Progress
Back to home
Kolkata Knight Riders vs Sunrisers Hyderabad Live Score Ball by Ball, IPL 2022 Live Cricket Score Of Today's Match on NDTV Sports
Live Updates of Today Match between Kolkata Knight Riders vs Sunrisers Hyderabad from Maharashtra Cricket Association Stadium, Pune. Check commentary and full scoreboard of the match.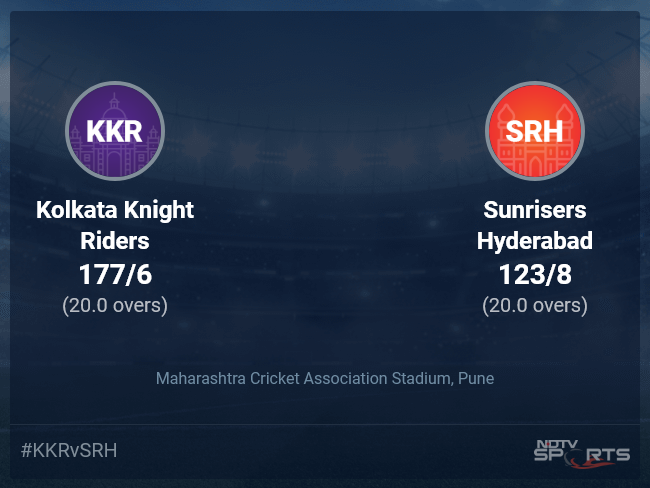 SRH vs KKR Latest Score
Follow the Indian Premier League 2022 live cricket score on Sports.NDTV.com. After 20.0 overs, Sunrisers Hyderabad, chasing a target of 178, are 123/8. Get live score, ball by ball commentary and much more. Keep track of Indian Premier League 2022 today match between Kolkata Knight Riders and Sunrisers Hyderabad. Everything related to Kolkata Knight Riders and Sunrisers Hyderabad match will be available on Sports.NDTV.com. Stay updated with Kolkata Knight Riders vs Sunrisers Hyderabad live score. Do check for Kolkata Knight Riders vs Sunrisers Hyderabad scorecard. You can get scorecard updates, match related facts. Get quick live updates with ads, Sports.NDTV.com, which is the perfect destination for live cricket score.
Right then, that is all we have from this game. The action continues on Sunday, 15th May and it will be a double-header with a double dose of action. In the afternoon game, it will be Chennai going up against Gujarat at the Wankhede Stadium. That game will start at 3.30 pm IST (10 am GMT). The second game will be between Lucknow and Rajasthan. It starts at 7.30 pm IST (2 pm GMT). Our coverage, as you know, will start in advance. So do join us for the same. Till then, goodbye and cheers!
Andre Russell is the PLAYER OF THE MATCH for his all-round performance. He scored 49 from 28 balls and then took three wickets with the ball. He says it was difficult to bat when he went outand they knew they had a decent total on the board and their bowling attack pulled them back. Adds that the mindset is very clear, he doesn't think of the situation that isn't his role, he just tries to go from ball one. Shares that he knew Sundar has an over left so he wanted to play over and fortunately he got full toss and it went for six. On his bowling, he tries to chip in with wickets as well and hopes it continues and hopefully they qualify for the playoffs.
Shreyas Iyer, the skipper of Kolkata, says that the mindset they came up in this game was outstanding and it was very important to win the toss considering the wicket in Pune, so everything panned out well. Tells that they were praying that Russell bat till the end and luckily it came off for them. Mentions that spinners bowled well and both of them bowled smart lines and lengths. Says that they have not played their best cricket so far in the tournament and they needed every individual to step up and they have done well today. Signs off by clarifying that in the last interview when he talked about CEO's involvement in the team selection he meant that he is there to console the players who are sitting out as it is tough work to select the players.
Time for the presentation.
Tim Southee is down for a chat. He says it was a great win, they know chances will come and go but sometimes for an overseas player, you have to sit on the sidelines but have to be ready to grab the chance. Adds that they bowl according to the plan, sometimes it's tough to replicate match situation in the nets. On the surface, he says it was hard to hit back of a length delivery but they stick to it, they have played a couple of games and they did well to put a decent score on the board here. Tells that their spinners, particularly Narine bowled really well.
Kane Williamson, the skipper of Hyderabad, says it was a fair total and Russell showed how dangerous he can be after having a good first half. Adds that they are failing to create momentum and whenever they tried to put up a partnership, Kolkata came good. Tells that it was always going to be tough for Sundar but he did a decent job, overall he thinks it was a much improved bowling performance. He used his resources a little early and that didn't work at all. Shares that Abhishek was brilliant today but throughout the inning, they didn't glued any partnership and now they will sit down and address the issue. Says the game forever teaches the lesson and they'll learn from it.
Time for some interviews!
Hyderabad were never really in the chase as their skipper, Kane Williamson failed to get going. It was only Abhishek Sharma who batted fluently and kept them in the hunt. However, wickets kept falling at regular intervals and they lost the plot completely when Abhishek Sharma, Pooran and Markram departed in quick succession. Markram's wicket was the final nail in the coffin and after that, it was all about minimising the damage for Hyderabad, and unfortunately for them, they have suffered a big defeat here. They probably gave away 15-20 runs more than the par-score on this pitch and that 20 runs final over from Washington Sundar really cost them.
Shreyas Iyer made a bold call at the toss and decided to bat first and Kolkata managed to get a very good score on the board with Andre Russell showing his might in the final overs. However, Kolkata were under the pump halfway during that innings but Kane Williamson probably made an error when he did not give Umran Malik a third over on the trot when he took three wickets in his first two overs. Kolkata took the momentum of the first innings to their bowling innings and bowled quite tightly in the Powerplay. Russell once again provided the first breakthrough and got rid of Kane Williamson and then Southee got the big wicket of Rahul Tripathi. Narine was a bit expensive in his first two overs as Abhishek Sharma decided to target him but Varun Chakaravarthy was brilliant and got the wicket of Sharma and with Markram departing in the 15th over, it was all Kolkata after that. Russell finished with three wickets and Southee with two to cap off a dominating performance.
Kolkata have kept their playoff hopes alive! They needed a win and needed a big one to keep their slim hopes of qualification alive. They have done exactly that and it is the big man, Andre Russell who has delivered a brilliant all-round performance to keep his team in the hunt. Hyderabad, on the other hand, have now lost five games on the trot and have made things tougher for themselves. Their net run rate has also been hampered with this big loss and they would need something special now from hereon to qualify for the playoffs.
19.6 overs (0 Run) Swing and a miss! Short in length and on middle. Malik looks to pull but misses. Kolkata are still fighting for the playoffs race as they win here by 54 runs.
19.5 overs (1 Run) Fuller, slower and on leg. Kumar forces it to long on for a single.
19.5 overs (1 Run) Wide! Length ball but down the leg side. Kumar misses his pull.
19.4 overs (0 Run) Length ball, outside off. Kumar guides it to backward point.
19.3 overs (0 Run) Back of a length, on middle. Kumar looks to push to covers but misses.
19.2 overs (0 Run) On the pads, slower and it is hit to mid on.
19.1 overs (4 Runs) FOUR! A length ball, around off. Kumar makes some room and drives it hard through covers for a boundary,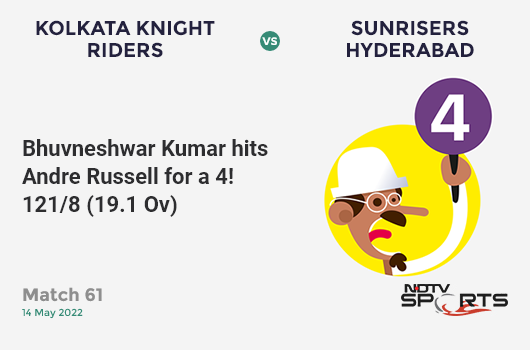 18.6 overs (0 Run) On middle, fuller. Blocked out.
18.5 overs (2 Runs) Dropped! Comedy of errors! Short and on middle. Malik looks to pull but the bat turns in his hand. The ball balloons and goes to mid-wicket where Shivam Mavi makes a schoolboy error. He throws in frustration at the bowler's end and the backup fielder makes a mess of it. Even the fielder in the deep fumbled while collecting the ball. Two runs are taken.
18.4 overs (0 Run) On middle. Umran Malik mistimes his pull to square leg.
18.3 overs (1 Run) On a length and outside off. Kumar opens the face of the bat and plays it to the keeper and takes a quick single. Umran Malik was running at the danger end but Sam misses his shy.
18.2 overs (1 Run) Outside off, dabbed to third man for a single.
Umran Malik walks out now.
18.1 overs (0 Run) OUT! TAKEN! A length ball, outside off. Shashank Singh shuffles and swings his bat across but the ball goes off the splice and towards mid off where Shreyas Iyer takes it. The other Iyer, Venkatesh was running across too but the former called it big.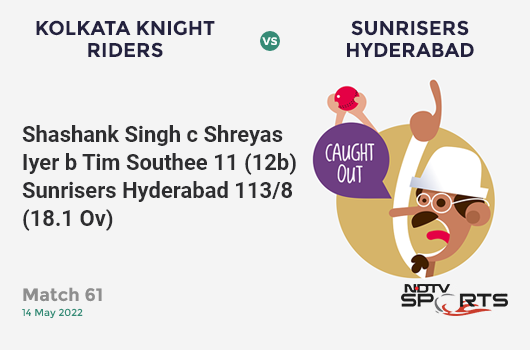 17.6 overs (0 Run) Too full and outside off. Kumar digs it out to cover. Watch out for NRR, what a boost it will give to Kolkata. Shashank Singh should try and cut the deficit.
Bhuvneshwar Kumar is the next man in.
17.5 overs (0 Run) OUT! CAUGHT BEHIND! A length ball, slower and just outside off. Marco Jansen clears his front leg and looks to heave but only manages to get an outside edge to the keeper, Sam Billings who does really well to dive forward and pluck it out. Third wicket for Russell now.
17.4 overs (1 Run) On middle, drilled down to long on for a single.
17.3 overs (4 Runs) FOUR! Short of a length, outside off and slower. Shashank Singh pulls it to deep square leg. Rinku Singh runs to his left and reaches for the ball but it bounces and spins away. Nothing much he can do.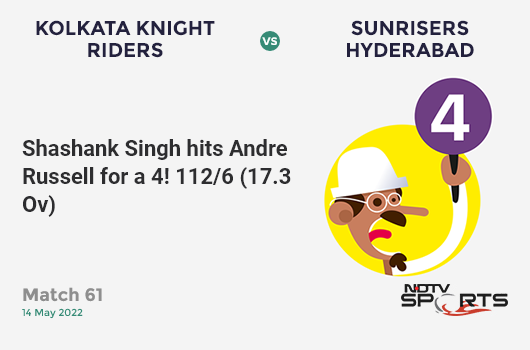 17.2 overs (1 Run) Yorker, angling on leg. Jansen jams it out to long on for a single.
Marco Jansen is the next man in.
17.1 overs (0 Run) OUT! TAKEN! Andre Russell delivering with the ball now! What an all-around performance it is! Short of a length and on leg. Washington Sundar pulls it and one hand comes off the handle. It goes high in the air and towards deep square leg where Venkatesh Iyer catches it.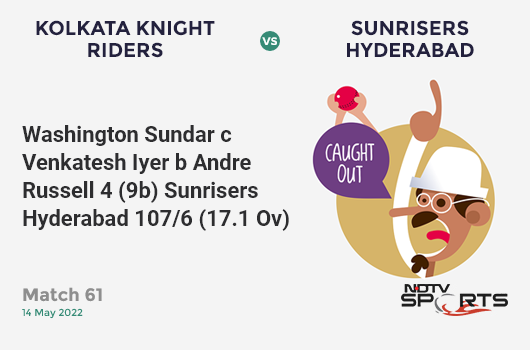 16.6 overs (1 Run) A length ball, outside off. Sundar works it over covers for one more.
16.5 overs (1 Run) Short in length and outside off. Singh pulls it to deep square leg for a single.
16.4 overs (0 Run) OUT! LBW! Another huge shout for LBW and the umpire raises his finger but Shashank Singh is quick to review it. Height might be an issue there. Yes, wickets missing. Not out it is. A length ball, around off. Shashank Singh shuffles across and misses his flick. The ball bounces a bit and hits him high on the pads.
16.3 overs (1 Run) Length and slanting on leg, tucked to long on for one more.
16.2 overs (1 Run) Follows Singh on the leg side and serves a length ball. Singh hits it to long on for a single.
16.1 overs (2 Runs) A length ball, on off. Singh pulls it, not off the middle, and over mid-wicket for a couple of runs.
DRINKS! Kolkata are bossing this game at the moment. The required rate is almost 20 an over and with the likes of Aiden Markram and Nicholas Pooran back to the pavilion, it looks a very tough task for Hyderabad. Kolkata bowlers, on the other hand, have bowled well and they would be looking to continue the good work in these final four overs and make the margin of victory as big as possible as net run-rate can play a crucial part at the end. Tim Southee is back on.
15.6 overs (0 Run) Flatter and around off, it lands and spins away. Sundar looks to push but is comprehensively beaten. An excellent spell from Varun Chakaravarthy, this will give so much confidence to him.
15.5 overs (0 Run) Slower through the air and on the pads. Sundar misses his flick.
15.4 overs (1 Run) Tossed up, around middle. Singh tucks it to mid-wicket and looks for a quick single. The throw comes in and the keeper whips the bails off and the replay shows Washington Sundar was just in. A tight single.
15.3 overs (0 Run) Full and on middle. Singh flicks it to mid-wicket.
15.2 overs (0 Run) Flatter and around off. Kept out.
15.1 overs (0 Run) A huge appeal for LBW and it is not given! Kolkata take the review though! Looks very tight! UltraEdge shows no bat involved. Ball Tracking shows the umpire's call on wicket hitting. Still a good review from Kolkata! Varun bowls it on a length and angles around off. Singh steps down and looks to sweep but misses and gets hit on the front pad. The umpire's call saves Shashank Singh here.
Match Reports
Topics mentioned in this article