Story Progress
Back to home
Kolkata Knight Riders vs Sunrisers Hyderabad: IPL 2022 Live Cricket Score, Live Score Of Today's Match on NDTV Sports
Live Updates of Today Match between Kolkata Knight Riders vs Sunrisers Hyderabad from Maharashtra Cricket Association Stadium, Pune. Check commentary and full scoreboard of the match.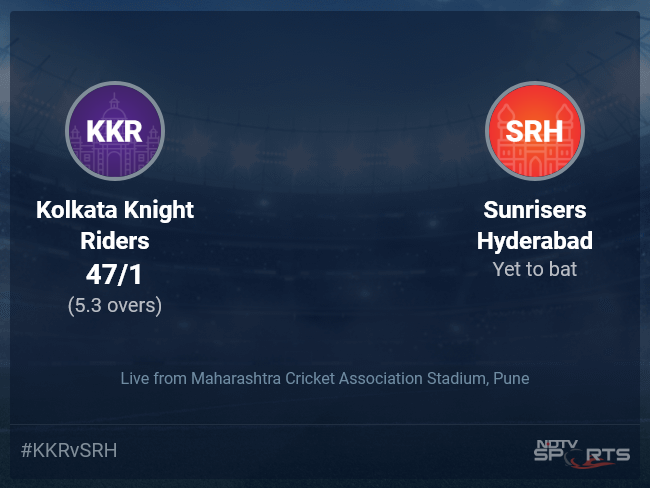 KKR vs SRH Latest Score
A dedicated team of experts bring you live score, live cricket score, live match update on Sports.NDTV.com. After 5.3 overs, Kolkata Knight Riders are 47/1. The live updates of Kolkata Knight Riders vs Sunrisers Hyderabad scorecard is also available. It is the perfect platform to follow your favourite teams in Indian Premier League 2022. Keep a track on your favourite batsmen and bowlers through Indian Premier League 2022 today match, ball by ball commentary, Kolkata Knight Riders vs Sunrisers Hyderabad, Kolkata Knight Riders vs Sunrisers Hyderabad live score, Kolkata Knight Riders vs Sunrisers Hyderabad scorecard. Follow the excitement of the Indian Premier League 2022 on Sports.NDTV.com as you can follow live match updates and live cricket score through our platform.
4.6 overs (1 Run) 18 off the over! Just what Kolkata ordered! Full and around middle. Rahane nudges it in front of square on the leg side for one.
4.5 overs (1 Run) On middle, it is flicked to deep square leg for a single.
4.4 overs (6 Runs) SIX! Not a good welcome for T Natarajan! Rana just uses the pace here! On a length and tailing on leg. Rana swivels and pulls it all the way over deep backward square leg for a maximum.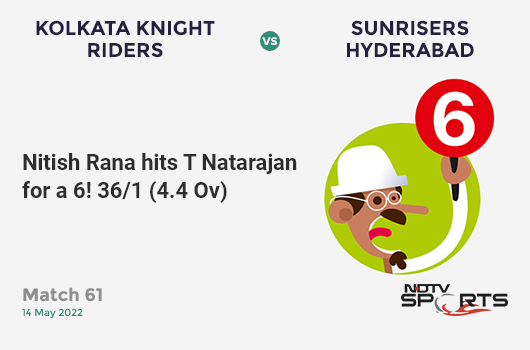 4.3 overs (0 Run) Natarajan drags his length back and keeps it around off. Rana has a poke at it but misses.
4.2 overs (6 Runs) SIX! HUGE! Full again, in the slot. Rana swings his bat across and hits it over long on for a biggie.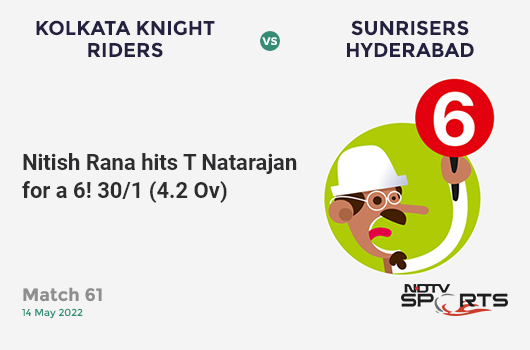 4.1 overs (4 Runs) FOUR! Little fuller, around off. Rana makes the most of it as he smashes it past the bowler for a boundary. Welcome boundary.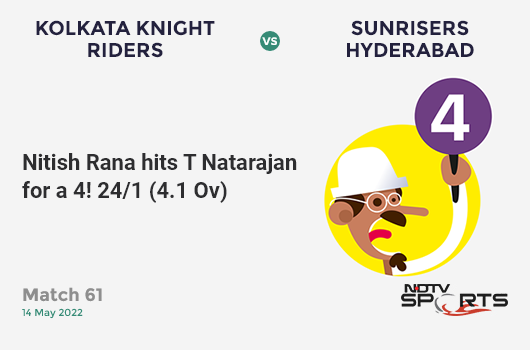 T Natarajan is into the attack.
3.6 overs (0 Run) SIX! Ajinkya Rahane gets into the act now!
3.5 overs (1 Run) Leg bye! Angling on the pads. Rana misses his flick. It rolls off the pads to mid-wicket for a leg bye.
3.4 overs (0 Run) Make it three in a row now! Jansen keeps it tight around off. Rana plays it to the cover fielder.
3.3 overs (0 Run) Kolkata are soaking in some pressure, at least they should try and rotate the strike. Another dot as Rana taps this length ball to cover.
3.2 overs (0 Run) Angling around off, on a length. Rana dabs it straight to backward point.
3.1 overs (1 Run) Full ball, on off. Rahane steps across and works it to the right of mid on for a quick single.
2.6 overs (0 Run) A single off the over! Excellent stuff from Bhuvi! A length ball, outside off. Rana again leaves it alone.
2.5 overs (0 Run) Length ball, angling across and Rana lets it through.
2.4 overs (1 Run) A single then! Length and on off. Rahane knocks it to covers for a single.
2.3 overs (0 Run) Length ball, on middle. Rahane shuffles across and wrists it to mid-wicket. Pressure on Rahane, three dots now.
2.2 overs (0 Run) Around off, Rahane strokes it to covers.
2.1 overs (0 Run) On a length and on off. Rahane defends it back to the bowler.
Nitish Rana walks out at number 3.
1.6 overs (0 Run) OUT! CHOPPED ON! Hyderabad get the breakthrough! Venkatesh Iyer was struggling a bit to time his shots and gives away his wicket here. Short of a length, outside off. Iyer on his toes is late as he tries to punch through covers but gets a thick inside edge and the ball ricochets onto the stumps. Marco Jansen jumps in the air with delight.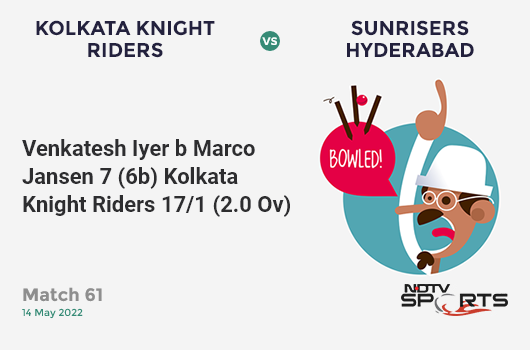 1.5 overs (1 Run) Soft hands from Rahane! Length and on off. Rahane taps it on the off side and takes a single.
1.4 overs (0 Run) Fuller ball, around off. Defended to covers.
1.3 overs (6 Runs) SIX! Ajinkya Rahane is off the mark in style! Jansen goes short on leg. Rahane picks the length quickly and pulls it over deep backward square leg for a maximum.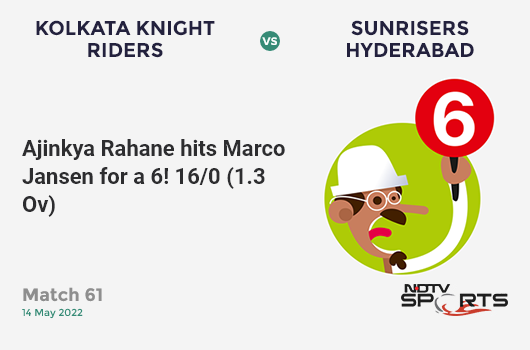 1.2 overs (1 Run) Touch fuller and on middle, It is hit to mid on for a quick single.
1.1 overs (0 Run) Full and on off, pushed to covers.
Marco Jansen will start from the other end.
0.6 over (1 Run) Short in length and outside off. Iyer looks to cut but gets an inner edge, past the stumps and to fine leg for a single. He played it touch late there.
0.6 over (1 Run) Wide! Short but down the leg side. Iyer misses his flick.
0.5 over (4 Runs) FOUR! Good shot! Overpitched from Kumar, just outside off. Iyer punches it through mid off for a boundary. Confident shot from Venkatesh Iyer!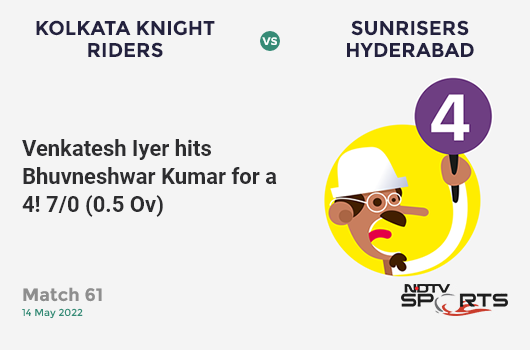 0.4 over (1 Run) Leg bye! This is straight and around middle and leg. Rahane misses his flick. It went off the pads and to square leg for a leg bye. Kumar puts a muted appeal for LBW but nothing given.
0.3 over (0 Run) Full ball on off. Rahane leans and blocks it out.
0.3 over (1 Run) Wide! Similar delivery as the previous one but this is just over the tramline. Ajinkya Rahane fails to cut it. Wided.
0.2 over (0 Run) Length ball, wide outside off. Rahane slashes his bat at it but misses.
0.1 over (1 Run) Short of a length, on the hips. Iyer tucks it to fine leg and gets off the mark with a single.
Hyderabad are back with the playing XI that brought them some success this season. They are bowling first and will be raring to go as Hyderabad players walk out to the middle. Venkatesh Iyer and Ajinkya Rahane are the openers for Kolkata. Bhuvneshwar Kumar will start with the ball for Hyderabad. Here we go...
The captain of Hyderabad, Kane Williamson says they played on the surface earlier so they were looking to bat first as well. Informs that there are three changes, T Natarajan, Washington Sundar and Marco Jansen come in. Adds that every game carries point, they haven't been at their best in the past few games but they want to turn things around now.
Shreyas Iyer, the skipper of Kolkata, says that they will bat first and tells that the record in the previous games here has seen the team winning after batting first and it suits them as well. Mentions that Umesh and Sam Billings come in. Says that they had ups and downs in the tournament and they made changes this season that they do not want to. States that they have gone back to their core team and they had a good start with the ball and bat in the Powerplay in the last game.
Hyderabad (Playing XI) - Abhishek Sharma, Kane Williamson (C), Rahul Tripathi, Aiden Markram, Nicholas Pooran (WK), Shashank Singh, Washington Sundar (In place of Jagadeesha Suchith), Marco Jansen (In place of Fazalhaq Farooqi), Bhuvneshwar Kumar, T Natarajan (In place of Kartik Tyagi), Umran Malik.
Kolkata (Playing XI) - Venkatesh Iyer, Ajinkya Rahane, Nitish Rana, Shreyas Iyer (C), Sam Billings (WK) (In for Sheldon Jackson), Andre Russell, Rinku Singh, Sunil Narine, Tim Southee, Varun Chakaravarthy, Umesh Yadav (In for Pat Cummins).
TOSS - Up goes the coin and it lands in the favor of Kolkata. They have elected to BAT first!
Pitch report - Deep Dasgupta is down near the pitch. He says that the pitch has a fair bit of grass and it is lively as well. It looks quite firm and in the last few games spinners had some help on this pitch but he feels that there will not be much help today. Mentions that while the bowlers have enjoyed on this ground in the last few games, the batters will have the last laugh here.
Hyderabad, on the other hand, have been doing things in clusters this season. They went on a five-match winning streak earlier this season but since then fallen off the radar with four losses on the trot. The injuries to T Natarajan and Washington Sundar have been a big problem for them and that has made their bowling vulnerable which was their stronger suit earlier. They are, however, expected to be back for this game. They registered a comfortable win against Kolkata earlier this season and would be looking to find a similar form to get back to winning ways. Can they knock Kolkata out of the competition? We shall find out. Toss and team sheets in a while.
Kolkata have been pretty inconsistent this season both in terms of results and their team combination. The constant chopping and changing have not helped their cause but they will be happy with their performance in the last game with Venkatesh Iyer and Varun Chakaravarthy, their retained players showing some form. Pat Cummins has been ruled out for the remainder of the season and will be interesting to see how Kolkata go about their business in this must-win game.
Hello and a warm welcome to our coverage as Pune get ready to host its final game of this season of the Indian T20 League. It is a crucial encounter as Kolkata will be up against Hyderabad in game number 61 of the season. A loss for Kolkata will end their playoff hopes while a loss for Hyderabad will also put them on the verge of elimination.
Topics mentioned in this article