Story Progress
Back to home
Kolkata Knight Riders vs Punjab Kings: IPL 2022 Live Cricket Score, Live Score Of Today's Match on NDTV Sports
Live Updates of Today Match between Kolkata Knight Riders vs Punjab Kings from Wankhede Stadium, Mumbai. Check commentary and full scoreboard of the match.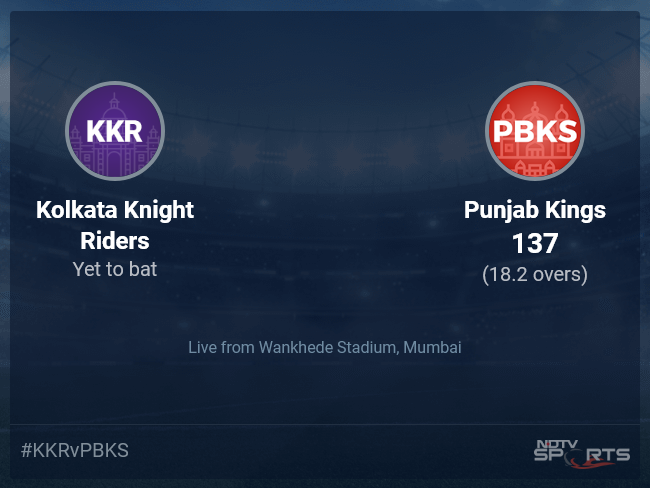 KKR vs PBKS Latest Score
A dedicated team of experts bring you live score, live cricket score, live match update on Sports.NDTV.com. After 18.2 overs, Punjab Kings are 137. The live updates of Kolkata Knight Riders vs Punjab Kings scorecard is also available. It is the perfect platform to follow your favourite teams in Indian Premier League 2022. Keep a track on your favourite batsmen and bowlers through Indian Premier League 2022 today match, ball by ball commentary, Kolkata Knight Riders vs Punjab Kings, Kolkata Knight Riders vs Punjab Kings live score, Kolkata Knight Riders vs Punjab Kings scorecard. Follow the excitement of the Indian Premier League 2022 on Sports.NDTV.com as you can follow live match updates and live cricket score through our platform.
Right then, Punjab have firepower in their bowling attack but they have only 137 to defend. Needless to say, picking early wickets will be the key as it is not going to be easy once the ball gets wet. Stay tuned as the chase will begin shortly.
Umesh Yadav (4-1-23-4) comes up for a chat. The speedster says he is very happy with his performance. Shares that he has not played white-ball cricket for a long time but he is pleased he is able to do well. Mentions his job is to take wickets with the new ball and that is the role given to him and he tries his best. Adds that he feels it is a chasable score, the ball is skidding onto the bat unlike the wickets before and it should be chased.
The ploy to bowl out four main bowlers by the 17th over backfired a little on Kolkata. Shivam Mavi had an ordinary day and went for aplenty. Andre Russell's introduction though in the 19th over resulted in wickets and Kolkata managed to bundle out Punjab to a below-par total.
After losing a crucial toss, Punjab lost their skipper cheaply as well. That didn't affect them much though as Bhanuka Rajapaksa walked in with great intensity and played a stunning cameo to hand the momentum to Punjab. His departure, followed by the wicket of Shikhar Dhawan in the last over of the Powerplay, pushed Punjab on the back foot and the Kolkata spinners then took control in their hands. Shreyas Iyer was exceptional with his bowling changes. His spinners created pressure and then he kept bringing in the pacers to cash in. Umesh Yadav finished with a 4-wicket haul while Tim Southee grabbed a couple along with a stupendous catch to dismiss the dangerous Kagiso Rabada.
Another classic case of aiming too high and getting too little. The dew factor is playing with the psyche of teams. Something similar happened with Kolkata against Bangalore and this evening, Punjab also suffered a similar fate although Kagiso Rabada's knock has given them something to defend!
18.2 overs (0 Run) OUT! RUN OUT! That is the end of the innings! Kolkata do keep Punjab under 150 as they are bowled out for 137, wasting 10 balls! Can't blame Smith here, he wanted the strike. Singh did not have the presence of mind. He guides it to point. Smith is off but Singh is late in taking off. Rana picks it up and throws it to the bowler who whips the bails off.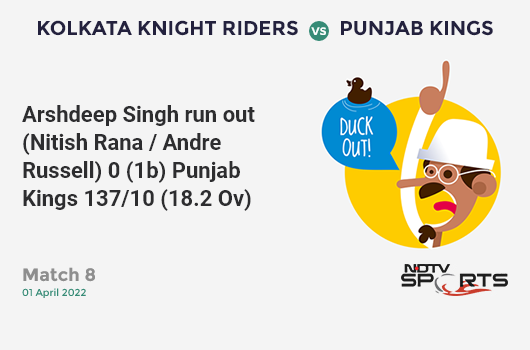 Arshdeep Singh is the last batter.
18.1 overs (0 Run) OUT! WHAT A CATCH THAT IS! Brilliant! Take a bow, Tim Southee and the stand which was probably worrying Kolkata a little has been broken. Yet again a bowling change brings about a wicket, this time though it was compulsory. A slower one on middle, Rabada is early in the swing of his bat, he hits it high up in the air behind the bowler. Long on runs in, Southee from long off too sprints in and the bowler also goes for it. It seems like it would land safely but Southee dives after making a lot of ground and snaps it with a dive. Incredible.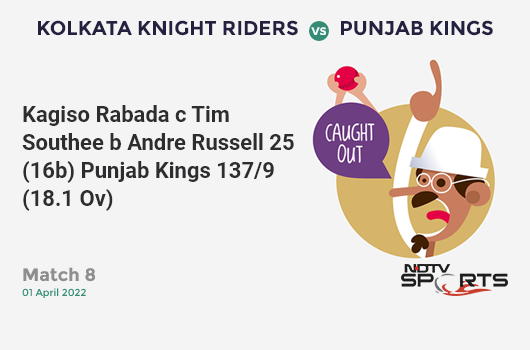 Who will bowl the 19th over? Andre Russell to steam in...
17.6 overs (6 Runs) SIX! Over the fence! Smith gets one over, not off the middle but he will take it. End of another big over and Punjab are well on track to getting to a competitive total. Shorter and on the body, Smith looks to pull, this flies off the top edge and goes over the fine leg fence. 17 from the over, 33 in the last two.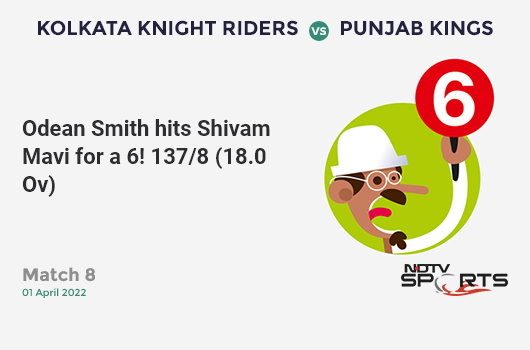 17.6 overs (1 Run) WIDE! Another one which is very short and very wide outside off. Smith tries to play the upper cut but misses.
17.5 overs (0 Run) That has just about missed the off pole! This lands on off and straightens. Smith swings but only connects with thin air. He is struggling to put the bat on the ball. He is on 3 off 11. Probably, he should just turn the strike over to Rabada.
17.5 overs (1 Run) WIDE! The idea was not bad though! Short and well wide outside off. Smith swings really hard but misses.
17.4 overs (0 Run) Swing and a miss! That was there in the slot! Angled into the pads, length. Smith looks to heave it but misses.
17.3 overs (1 Run) He is clobbering it, just the one this time! Shorter and on middle, this is slapped down to long on for one.
17.2 overs (4 Runs) FOUR! EDGY! This one races away to the fence! Full and outside off, Rabada swings, it goes more off the toe-end and down to the third man fence. Punjab won't mind how they come, as long as they come. Now 150 also looks possible.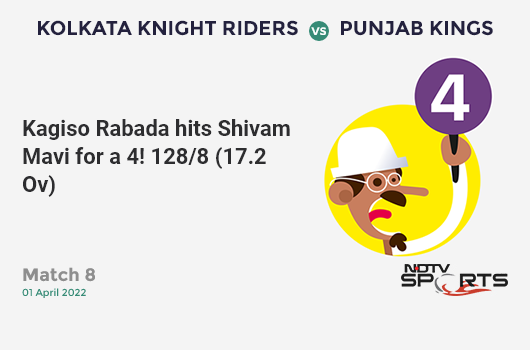 17.1 overs (4 Runs) FOUR! Slammed! Rabada is enjoying himself out there! What a knock this is from him! Stand and deliver! On middle, shorter. He stays leg-side of the ball and hammers it over the bowler's head for a boundary.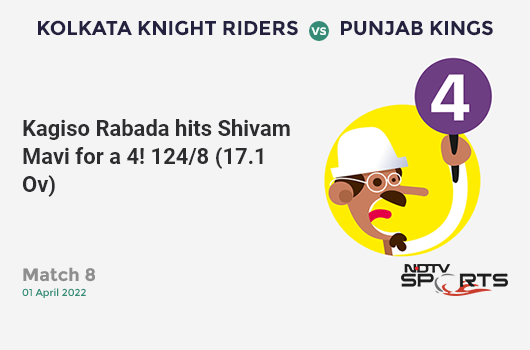 Three overs are left to be bowled for Kolkata and only Shivam Mavi is left with overs from those who have bowled this evening. Surely, either Venkatesh Iyer or Andre Russell will have to contribute, if not both. Here is Shivam Mavi to bowl the 18th.
16.6 overs (0 Run) Two dots to end but the damage was done earlier on! A full ball outside off, Smith looks to hit it through covers but gets an inside edge onto the pads. 16 from the over!
16.5 overs (0 Run) A yorker, Smith looks to jam it out on the off side but it goes off the inner half back to the bowler.
16.4 overs (1 Run) Just a single off the freebie! Gets it right, a yorker on middle, this is jammed down to long on for one. Not a bad result for Punjab as it gets Smith on strike.
16.4 overs (1 Run) NO BALL! Pressure is getting to the experienced Southee! A high full toss from him outside off. Rabada looks to guide it but misses. Free Hit coming up as it was well over the waist.
16.3 overs (6 Runs) SIX! BANG! Over the fence! Rabada is the unsung hero here so far for Punjab. Needs to keep going though. Rabada makes room and this is full and on middle. He powers it over the bowler's head for a biggie.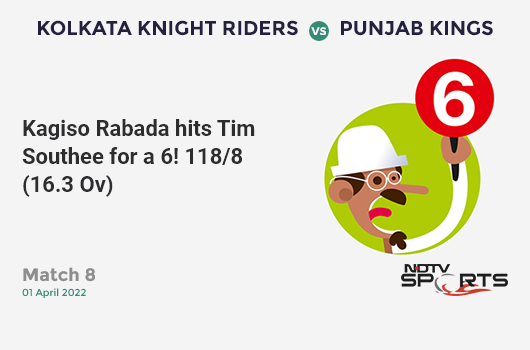 16.2 overs (4 Runs) FOUR! Brilliant from Rabada again! This is right in the slot too, full and on off, Rabada lofts it over covers to fetch yet another boundary. Southee is bowling hit-me balls here.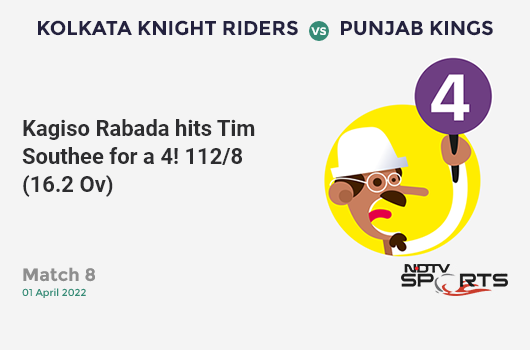 16.1 overs (4 Runs) FOUR! Up and over! Lovely shot, very elegant and Punjab will love a few more. Full and outside off, his is lofted over covers for a boundary.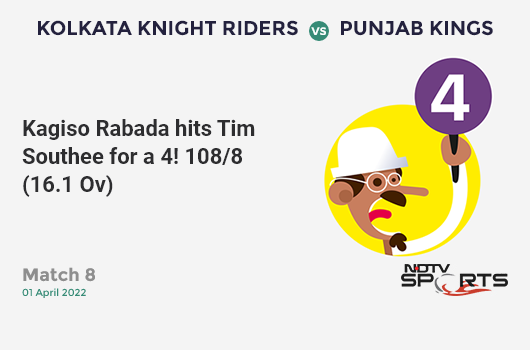 Who will bowl now? Tim Southee is back to bowl his final over.
15.6 overs (1 Run) A single to end then! End of a very economical spell by Varun Chakaravarthy! On middle, this is pushed down to long on for one.
15.5 overs (0 Run) Goes past the outside edge yet again. On off, this lands and spins away. Rabada is beaten yet again as he tries to defend.
15.4 overs (0 Run) BEATEN AGAIN! Flatter and outside off, Rabada looks to push at it but is beaten.
15.3 overs (0 Run) BEATEN! Fires it on off and angles it across, Rabada looks to defend but is beaten.
15.2 overs (0 Run) Outside off, left alone.
15.1 overs (1 Run) Smith steps out and whips it towards deep square leg for one. He holds the key now, can he play a gem of a knock and take them near 135?
Match Reports
Topics mentioned in this article