Story Progress
Back to home
Kolkata Knight Riders vs Punjab Kings Live Score Ball by Ball, IPL 2022 Live Cricket Score Of Today's Match on NDTV Sports
Live Updates of Today Match between Kolkata Knight Riders vs Punjab Kings from Wankhede Stadium, Mumbai. Check commentary and full scoreboard of the match.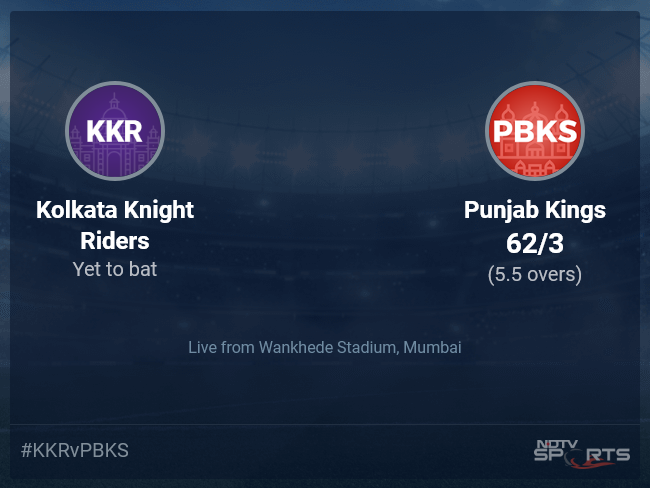 PBKS vs KKR Latest Score
Follow the Indian Premier League 2022 live cricket score on Sports.NDTV.com. After 5.5 overs, Punjab Kings are 62/3. Get live score, ball by ball commentary and much more. Keep track of Indian Premier League 2022 today match between Kolkata Knight Riders and Punjab Kings. Everything related to Kolkata Knight Riders and Punjab Kings match will be available on Sports.NDTV.com. Stay updated with Kolkata Knight Riders vs Punjab Kings live score. Do check for Kolkata Knight Riders vs Punjab Kings scorecard. You can get scorecard updates, match related facts. Get quick live updates with ads, Sports.NDTV.com, which is the perfect destination for live cricket score.
4.6 overs (0 Run) A muted appeal for an lbw! Sliding down. Quicker and fuller, around leg, Dhawan tries to sweep but misses. It goes off his pads to short fine leg. 8 from the over!
4.5 overs (1 Run) Some extra bounce on this delivery as it lands on middle, Liam Livingstone goes on the back foot and flicks it wide of short fine leg for a run.
4.4 overs (1 Run) Skidding down towards leg, Dhawan works it through backward square leg and rotates the strike.
4.4 overs (1 Run) Wide! Quicker one, again down the leg side, Dhawan tries his best to paddle sweep but misses.
4.3 overs (0 Run) Miscued! Short and on off, Dhawan goes back to pull but only manages to drag it off the inner half. It lands beside the pitch.
4.2 overs (3 Runs) Full and flighted outside off, Liam drives it through the line and finds the gap at covers. The mid off fielder chases it down and they get three runs.
4.1 overs (1 Run) On the pads, helped to square leg for a run.
4.1 overs (1 Run) Wide! Fires a quicker one down the leg side, Dhawan tries to paddle it around but misses.
Change! Spinner for the first time in the game as Varun Chakaravarthy comes on.
3.6 overs (0 Run) Pitches it up and around off, Liam drives it down to mid off. A dot ball to end a very eventful over!
Who will walk out to bat next? Liam Livingstone it is. He has time here, can get his eye in and once he does, we all know how dangerous he can be.
3.5 overs (0 Run) OUT! CAUGHT! Mavi gets his revenge after going for 22 runs in the over. A stunning cameo from Bhanuka Rajapaksa comes to an end. Shivam Mavi hurls it across on a length outside off at 139.2 kph, Bhanuka Rajapaksa stands back and attempts to loft it over the infield on the off side. But it comes from the higher portion of his bat and flies towards wide mid off. Shreyas Iyer moves across to his left from extra cover, Tim Southee goes for it from mid off, maybe someone called and then the Kiwi grabs the catch. For a moment, we thought there will be a collision. Anyway, Bhanuka exits the scene after impressing one and all.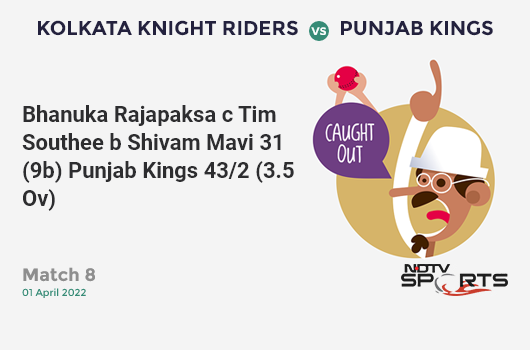 3.4 overs (6 Runs) SIX! Mavi comes in from 'round the wicket and serves a slower full ball around off, Bhanuka picks it very early and hoicks it over mid-wicket for a maximum. 22 from the over already!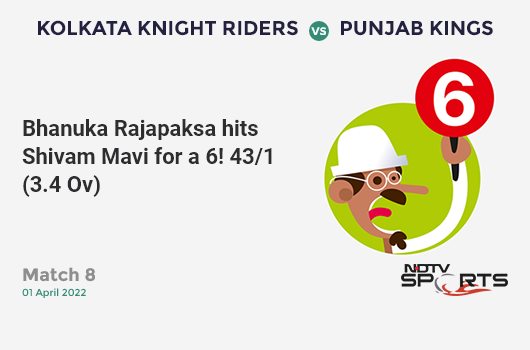 3.3 overs (6 Runs) SIX! That is a cracking shot. Even better. Bhanuka moves to 25 off just 7 balls. Mavi overcorrects his length and delivers it full around middle, Bhanuka Rajapaksa dismisses it from his presence and hammers it yet again over wide long on.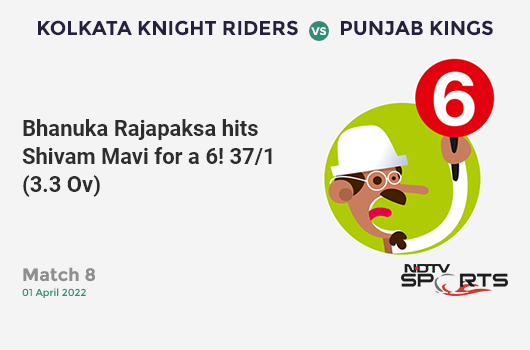 3.2 overs (6 Runs) SIX! The Sri Lankan is unstoppable. He will keep going! A touch short in length, around middle, Bhanuka dances down the track and launches it over wide long on for a maximum. Mavi is under pressure, 10 off his first two balls.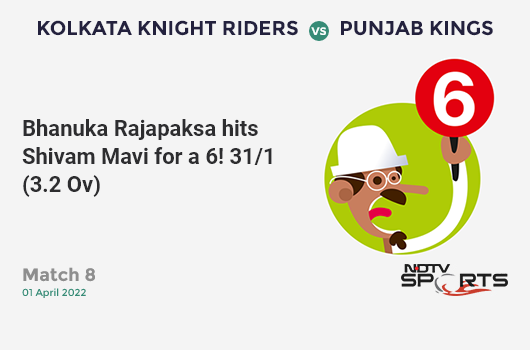 3.1 overs (4 Runs) FOUR! Shot! This boy is so powerful. Back of a length, around middle and off, Bhanuka stays back to power it on the leg side, doesn't get it from the middle of the bat but it still scoots away to the deep square leg fence.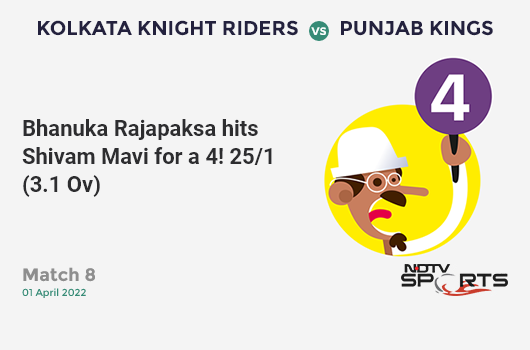 Change! Shivam Mavi is on now!
2.6 overs (1 Run) Another delivery which is served around middle and leg, the length is short again, Bhanuka tries to turn it on the leg side but misses. It goes off his thigh pad to short fine leg and they collect a leg bye. 14 from the over!
2.5 overs (1 Run) Shortish and around leg, Dhawan tucks it to square leg and crosses for a run.
2.4 overs (6 Runs) SIX! Dismissive! Dhawan did struggle for timing in the previous over but has got his touch now. Fuller and on middle, Shikhar steps down the track and lifts it behind the bowler's head for a biggie.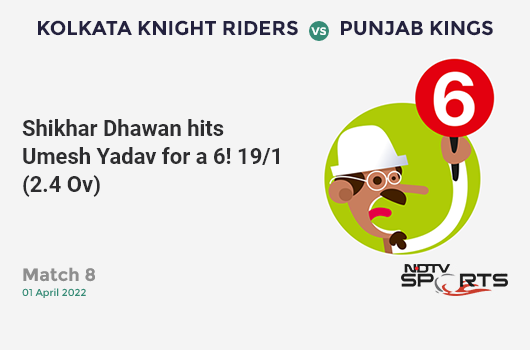 2.3 overs (1 Run) Shortish and around middle and leg, it's glanced behind square leg for a single.
2.2 overs (4 Runs) FOUR! Finds the gap with surgical precision. Fractionally short and around off, Bhanuka stays on the back foot and opens the face of his bat at the last moment. He threads the gap between backward point and short third man to find the fence.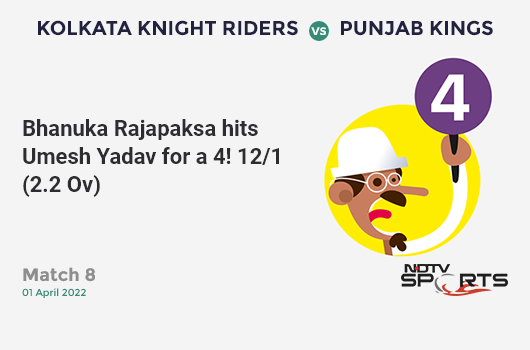 2.1 overs (1 Run) Around middle, on a length, Dhawan gives the charge and flicks it to deep mid-wicket for a single.
1.6 overs (4 Runs) FOUR! Up and over the infield! This is how Bhanuka Rajapaksa bats. It's full and outside off, the Sri Lankan gets forward and lofts it cleanly over covers for a boundary.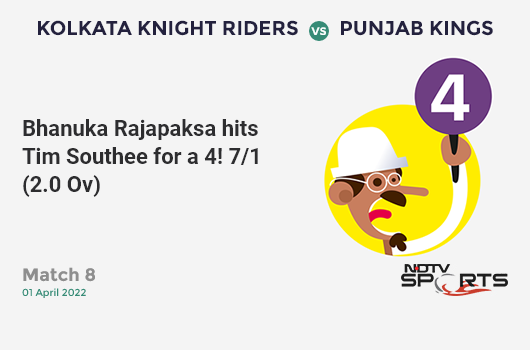 1.5 overs (1 Run) Goes full and around middle, Dhawan clips it away off his pads and it goes to deep square leg. They cross for a run.
1.4 overs (0 Run) Fullish and around off, once again Dhawan plays a mistimed shot to mid off.
1.3 overs (0 Run) Shortish and on off, Dhawan steps down the track to punch but mistimes it towards covers.
1.2 overs (0 Run) In the channel outside off, left alone.
1.1 overs (0 Run) Almost drags it on! Fuller in length, wide outside off, Dhawan tries to unveil a booming cover drive but gets an inside edge onto the pads. He searches for the ball for a while and then returns.
Who will walk out to bat then now, also, who will bowl from the other end? Bhanuka Rajapaksa it is for Punjab whereas Tim Southee it is for Kolkata.
0.6 over (0 Run) OUT! Trapped in front! Umesh Yadav strikes early and gets his 50th wicket in the Powerplay. Beautiful change in length. After bowling short for almost all over, Yadav decides to spear in a length ball around off. It lands and skids in at 141.2 kph, Mayank Agarwal tries to work it on the leg side but misses. He is rapped on the pads, they appeal and the finger goes up. Mayank knows that he is gone for all money and walks away without even thinking about the DRS. Early blow to Punjab!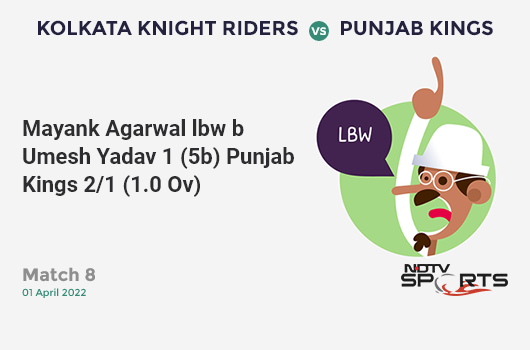 0.5 over (0 Run) Umesh continues to be short with his length. Outside off, Mayank chops his attempted square cut to covers.
0.4 over (1 Run) Slightly short around leg, Dhawan taps it off his pads and sends it to deep mid-wicket. Shikhar is off the mark with a single.
0.3 over (1 Run) The length is short and the line is outside off, Mayank stays back and cuts it to deep point for a single. Punjab are underway!
0.2 over (0 Run) Back of a length, around middle and angling in, Mayank Agarwal works it on the leg side but fails to beat Tim Southee at square leg.
0.1 over (0 Run) Wow, Mayank wastes no time and tries to give himself room by stepping back. Umesh bowls it short and wide outside off, Agarwal flashes and misses. Yadav smiles.
All in readiness now! We're done and dusted with the build-up. The players walk out to the centre. Punjab have a task to put a total on the board that can be defended in the wet conditions later in the evening. Shikhar Dhawan and Mayank Agarwal are the openers. Umesh Yadav, in scintillating form this season, will bowl the first over. Here we go...
Anil Kumble, the head coach of Punjab, comes up for a chat. He says they were very confident in the last game with all the big hitters in and it was just a matter of adapting to the conditions and Shahrukh Khan and Odean Smith got them through. States they decided about the playing XI during the auction itself and they have an exciting bunch. Further adds that the overseas players are also joining now and it is a good team. Mentions they are taking one game at a time and it is good to begin with a win and they are looking forward to this game.
Punjab (Playing XI) - Mayank Agarwal (C), Shikhar Dhawan, Liam Livingstone, Bhanuka Rajapaksa (WK), Odean Smith, Shahrukh Khan, Raj Bawa, Harpreet Brar, Kagiso Rabada (In for Sandeep Sharma), Arshdeep Singh, Rahul Chahar.
Kolkata (Playing XI) - Ajinkya Rahane, Venkatesh Iyer, Shreyas Iyer (C), Nitish Rana, Sam Billings (WK), Andre Russell, Sunil Narine, Shivam Mavi (In for Sheldon Jackson), Umesh Yadav, Tim Southee, Varun Chakaravarthy.
Mayank Agarwal, the skipper of Punjab, says they need to start well and assist the conditions and get going once they get their eye in. Mentions they are looking to tick a few boxes and will be looking to execute under pressure. Informs that Kagiso Rabada comes in and Sandeep Sharma sits out.
Shreyas Iyer, the captain of Kolkata, says the reason for them bowling is the amount of dew that comes later on. Mentions the character and the attitude matter irrespective of the total they get on the board and they want to give it their all. Adds the players are focused to give their best and it has been really good in the last few games and they are looking forward to this game. Informs that Shivam Mavi comes in for Sheldon Jackson as they want to strengthen their bowling.
Toss - Shreyas Iyer and Mayank Agarwal are out in the middle for the all-important toss. Given the trend so far, winning the toss could be half the battle. Iyer flips the coin, Agarwal calls 'Heads' but it has come down as 'Tails'. Kolkata elect to BOWL!
We might just see Kagiso Rabada play his first game for Punjab here tonight. That will really bolster the bowling attack of Punjab. He is warming up at the moment. In fact, the fresh picture shows that the South African speedster has been given his Punjab cap.
Punjab have started their campaign with a dominating win. They flexed their muscles by chasing down a 200-plus target and everyone is talking about the fearless nature of their batting group. Odean Smith has emerged as the new Jamaican giant and Kolkata are going to have their task cut out against him. Under Brendon McCullum's guidance, Kolkata themselves adopt a fearless approach while batting and this clash between two powerhouse batting line-ups will surely make the mercury rise. Stay tuned for more updates...
The start time of the match is not far away, and we welcome you all for the coverage of the clash between Kolkata and Punjab at the Wankhede Stadium. So far, all the matches this season in Mumbai, across venues, have been won by the chasing team and that will make the toss very crucial. It's not been easy to bowl in the second innings and both teams would be hoping that the coin falls in their favour. Who will be lucky - Mayank or Shreyas? We will find out soon.
Topics mentioned in this article