Story Progress
Back to home
Gujarat Titans vs Sunrisers Hyderabad: IPL 2022 Live Cricket Score, Live Score Of Today's Match on NDTV Sports
Live Updates of Today Match between Gujarat Titans vs Sunrisers Hyderabad from Wankhede Stadium, Mumbai. Check commentary and full scoreboard of the match.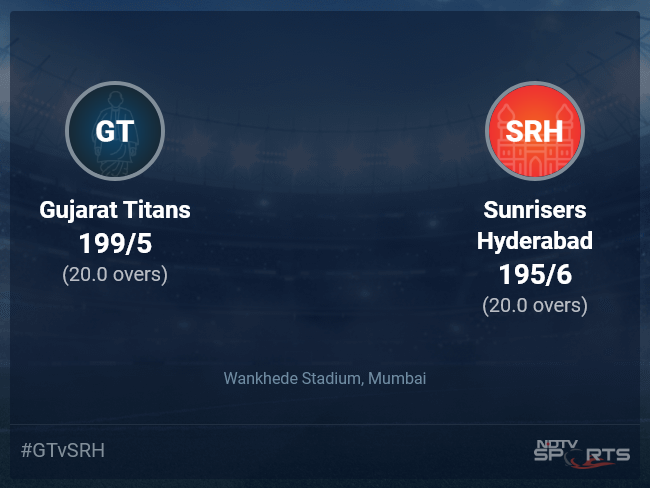 GT vs SRH Latest Score
A dedicated team of experts bring you live score, live cricket score, live match update on Sports.NDTV.com. After 20.0 overs, Gujarat Titans, chasing a target of 196, are 199/5. The live updates of Gujarat Titans vs Sunrisers Hyderabad scorecard is also available. It is the perfect platform to follow your favourite teams in Indian Premier League 2022. Keep a track on your favourite batsmen and bowlers through Indian Premier League 2022 today match, ball by ball commentary, Gujarat Titans vs Sunrisers Hyderabad, Gujarat Titans vs Sunrisers Hyderabad live score, Gujarat Titans vs Sunrisers Hyderabad scorecard. Follow the excitement of the Indian Premier League 2022 on Sports.NDTV.com as you can follow live match updates and live cricket score through our platform.
So, that is it from this game! Yet another thriller of a match! The Indian T20 League action continues on Wednesday as two teams in desperate need of a win clash, it is Kolkata against Delhi. That game begins at 1930 IST (1400 GMT). Till then, take care and goodbye!
Umran Malik is the PLAYER OF THE MATCH for his five-wicket haul. Malik says that he just planned to bowl it well on good lengths, a bouncer to Pandya and then a yorker to Saha. Adds that he looks out for himself and tries to use his raw pace to its fullest. Mentions that the boundaries were short and the idea was to keep it on the stumps, unfortunately, it didn't work out for his team but that happens. On being asked about clocking 155 kph, he says that someday it might happen but he just wants to concentrate on bowling well.
Gujarat skipper, Hardik Pandya says that he keeps on joking in the dressing room that God is helping them but is very happy with the performance. Mentions that the players are given the freedom to express themselves and the pressure is taken on by the support staff. He adds that he is waiting for the right time to get back into his bowling stride but will bowl only when the team requires it. About Wriddhiman Saha, he says that he is very happy and the start provided by Saha and Gill was great for them. Mentions that the players have a lot of self-belief and they keep it chilled out in the dressing room and the credit goes to the support staff for this.
Man of the moment, Rashid Khan is down for a quick chat. Rashid says he believed in his batting which he has been working on and when they needed 22 and they backed themselves and he told Rahul Tewatia not to panic and get as close as possible and they just needed to stay there and keep their shape and got the 4 sixes. Mentions he has not bowled as well as he could and on such wickets, you can't miss your line and length but it was a good wicket and he will try and learn from this. Mentions the team is a great one to be a part of and everyone understands things and the coaches have done really well and there is a good atmosphere in the team.
Kane Williamson, the skipper of Hyderabad says it was a superb game, they will take the positives out of this and look forward to the games ahead. Adds Umran Malik was brilliant, he has a lot of pace and the ball can fly anywhere after hitting the bat. Mentions the death bowling has been really good for them but such things happen. Adds Marco Jansen has been really good in the tournament and they will learn from here, they will look forward to the games coming up now.
Well, what can you say about this Gujarat side? For a new franchise to put on performance, after performance of the highest level is no joke. After being asked to chase a stiff target, Wriddhiman Saha gave them a flying start but losing Shubman Gill and skipper Hardik Pandya in a short span of time put them on the back foot. Saha carried on but Malik had other plans and got rid of Saha, Miller and Manohar in no time. But then, it was the man with the golden touch, Rahul Tewatia who kept the match alive and what do we even say about the freakshow in the last over by Rashid Khan. Rashid went for plenty tonight and maybe that is what urged him to go out there and put in more than his hundred percent. Gujarat still have lost just the solo match and are inching closer to a playoffs berth. Stayed tuned for a few interviews.
Hyderabad will feel they have let this one slip and maybe, just maybe the poor bowling display inside the Powerplay dearly cost them tonight. T Natarajan and especially Marco Jansen had a night to forget. Washington Sundar and Bhuvneshwar Kumar were economical given the match situation but spare a thought for Umran Malik. The young pacer bowled his heart out and picked up five wickets only to end up on the losing side. A tough pill to swallow this for Hyderabad but they are still having a pretty strong tournament.
Wow! Would you believe that? Rashid Khan goes bang, bang and sends his former franchise into heartbreak! When two in-form teams go head to head, a riveting contest in what we get and boy, it was entertainment galore tonight. Gujarat have come out trumps on the final delivery and they shoot back up to the top of the table.
19.6 overs (6 Runs) SIX! OVER THE FENCE! It is Gujarat, it is Gujarat who have yet again smacked a biggie on the last ball to win the game. What a win, what a chase! This time it is not Rahul Tewatia but it is Rashid Khan! A short one and on middle, he pulls, it goes more off the top edge but sails over Umran Malik at fine leg for a biggie. GUJARAT WIN BY 5 WICKETS!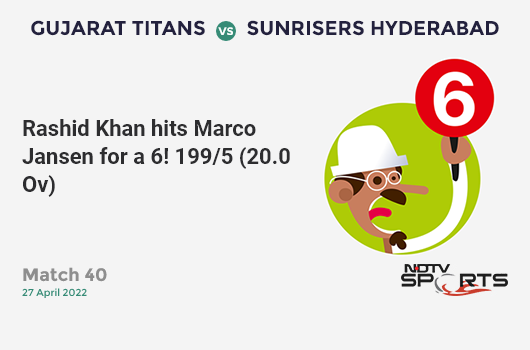 19.5 overs (6 Runs) SIX! Gets it over the fence! 3 needed in one now! All three results possible, a tie, a Gujarat win and a Hyderabad win too. That is some shot, he has really hit that well. This is full and outside off. He smacks it over the cover fence and it goes sailing over the fielder there. Super over anybody? A two here?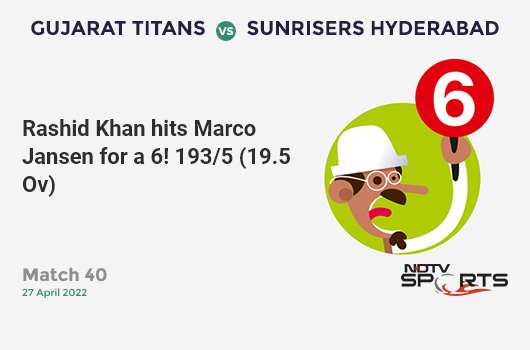 19.4 overs (0 Run) That is a dot! Gold dust at this stage! 9 needed now in 2. A short one and outside off, Rashid may have been expecting a full one. He is late in the slash, he misses and it goes towards the keeper.
19.3 overs (6 Runs) SIX! Rashid smacks it over the fence! That is a powerful hit and now the equation is down to 9 needed in 3. Fuller and outside off, right in the slot. This is heaved over the long on fence for a biggie. Have to say the game is in the balance now.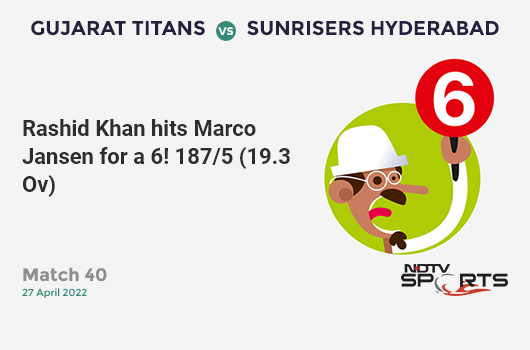 19.2 overs (1 Run) Just the one! Goes short this time and on the body, Rashid pulls it behind square on the leg side for one.
19.1 overs (6 Runs) SIX! BANG! That is right in the slog and it is a biggie to begin the last over. 16 needed now in 5 balls. Pressure on Marco Jansen! This is right in the slot. It is full and on middle, Rahul Tewatia sends it sailing over the mid-wicket fence.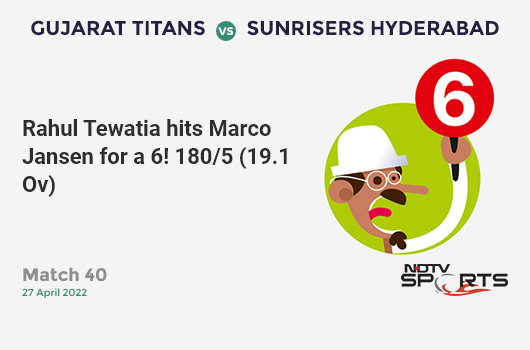 Marco Jansen to bowl the final over. Can he defend 21 runs?
18.6 overs (1 Run) Just the single to end! Really good finish! 22 needed then in the last over. A full one outside off, this is jammed through covers for one.
18.5 overs (6 Runs) SIX! BANG! Does find the boundary! 23 needed in 7 now. That is a hit me ball. A full toss on middle, Rahul Tewatia goes down on one knee and sends it sailing over the mid-wicket fence. Rahul has done it before, can he do it again?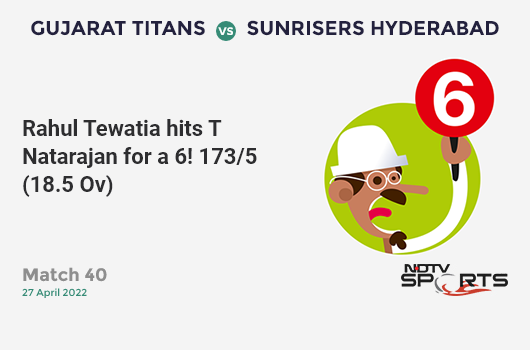 18.4 overs (0 Run) Outstanding stuff! A yorker outside off, not a lot you can do with that. Tewatia swings but misses. He needs to find the boundaries now.
18.3 overs (1 Run) Malik probably lost it in the lights! This is a full toss on the pads, Rashid scoops it, it goes uppishly towards Malik at fine leg. He runs in but then stops himself. A single.
18.2 overs (1 Run) Well bowled! Makes the batter hit on the leg side by bowling it full and on middle, it is the longer part. It is hit towards deep mid-wicket for one.
18.1 overs (4 Runs) FOUR! Clears Jansen and yet again, T Natarajan's over begins with a boundary! They need a huge, huge over here! This is full and on off, it is thumped down the ground, over mid off for a boundary.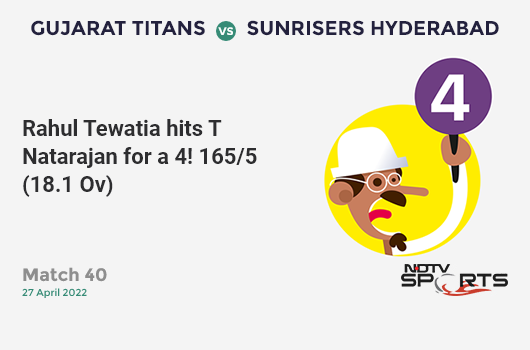 17.6 overs (1 Run) Yes, he does, just the 12 from it, the run rate needed now is over 15. Rahul Tewatia makes room, he is followed and gets a low full toss, this is hit towards deep mid-wicket for one.
17.5 overs (1 Run) Shorter and on off, Khan slaps it down to long off for only one. Can Kumar end the over well? This has been a really good one keeping the context of the game in mind.
17.4 overs (6 Runs) SIX! That is brilliant use of the wrists! What a hit! On middle, fuller, this is whipped over the long on fence for a biggie. Welcome biggie. They need one more probably in the next two balls.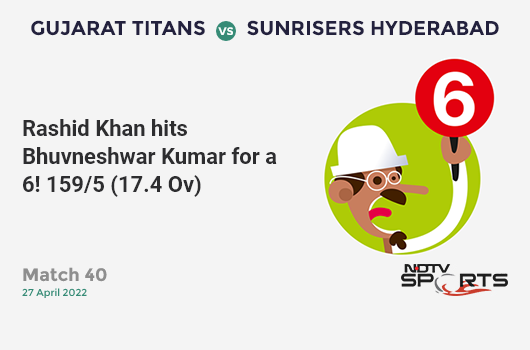 17.3 overs (0 Run) Dots are just gold! Outside off, Khan slashes but misses.
17.2 overs (2 Runs) Really good fielding again! On middle, fuller, this is whipped through mid-wicket. Jansen in the deep, runs to his right, slides and keeps it down to two. Outstanding fielding.
17.1 overs (2 Runs) Really well bowled and well fielded too! A slower one, full and outside off, this is lofted over covers, Markram runs to his left from long off. Two taken.
16.6 overs (0 Run) NOT OUT! That never looked out to be honest! A good use of the review but more importantly, it is a dot. Should have been a single but ends up being a dot! A full delivery, on the pads, Rahul looks to flick but misses, it hits the pad and goes down to fine leg. T Natarajan is the only one appealing. The batters are jogging across for a run but the finger is raised. Tewatia reviews. Replays roll in and they show it has pitched outside leg. So, a really good comeback by T Natarajan after going for a boundary on the very first ball.
16.5 overs (1 Run) Magical stuff! Another yorker, on middle, Khan jams it down to fine leg and takes one.
16.4 overs (1 Run) Just the one! Singles won't win Gujarat the game! A low full toss on off, this is hit down to long on for one.
16.3 overs (0 Run) Tewatia misses out there! This is a full toss on off, he hits it hard but to square leg.
16.3 overs (1 Run) WIDE! T Natarajan under pressure here! Looks to bowl it well wide outside off. Left alone. Wided.
16.2 overs (2 Runs) In the air... safe! On middle, full. Tewatia looks to go over square leg, this is way too full, it goes off the top edge towards deep mid-wicket. Lands short, the fielder misfields, two taken.
16.1 overs (4 Runs) FOUR! Smashed! This is full and right in the slot! It is hit over covers for boundary. Just the start they needed now, can they make this into a big over?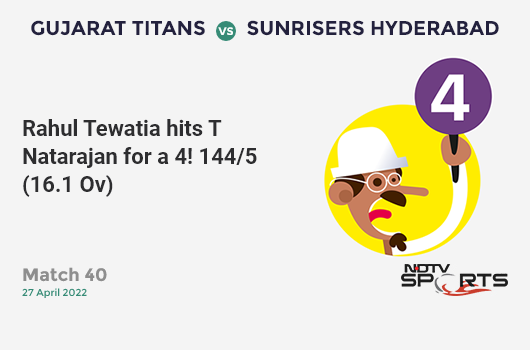 15.6 overs (0 Run) OUT! KABOOM! Five for Umran Malik, young man, take a bow! What a beauty of a bowler. He has single-handedly turned the game in Hyderabad's favor. This is full and fast yet again on middle, Manohar looks to defend, this lands and moves away. It goes past the outside edge and hit the off pole. Two wickets in the over and Gujarat now need 56 in the last 4.
Rashid Khan is the new man in. Also, T Natarajan is back into the attack.
15.6 overs (1 Run) WIDE! Still a ball left in his spell! Will the extra ball cost him though! Down the leg side, Manohar looks to flick but misses. Wided.
Abhinav Manohar is in at number 6.
15.5 overs (0 Run) OUT! TIMBER! Yes, he does! That is the big fish, the finisher for Gujarat walks back! Huge, blow, a body blow one can say. This is a top class delivery, full and fast, you miss, I hit stuff! On middle, Miller swings across the line but misses it altogether. The middle stump is uprooted. Malik's spell could have well won Hyderabad the game. 57 needed in 25.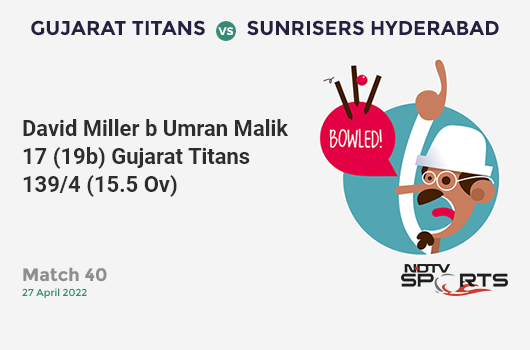 15.4 overs (1 Run) Hyderabad won't mind the singles! On middle, this is worked through square leg for one. Two balls to go, can he get Miller in this over?
15.3 overs (1 Run) Almost snuck through! On middle, length, Miller looks to flick, he gets an inside edge onto the pads. It rolls towards square leg for one.
15.2 overs (1 Run) Another single! Length and on off, Tewatia opens the face of the bat and guides it through point for one.
15.1 overs (1 Run) Direct hit and Miller was probably gone! Length and on off, Miller guides it to point. He takes off. Sharma collects the ball and has a shy at the bowler's end but misses. Miller probably would have made it. Does seem like that.
Match Reports
Topics mentioned in this article