Story Progress
Back to home
Gujarat Titans vs Rajasthan Royals Live Score Ball by Ball, IPL 2022 Live Cricket Score Of Today's Match on NDTV Sports
Live Updates of Today Match between Gujarat Titans vs Rajasthan Royals from Eden Gardens, Kolkata. Check commentary and full scoreboard of the match.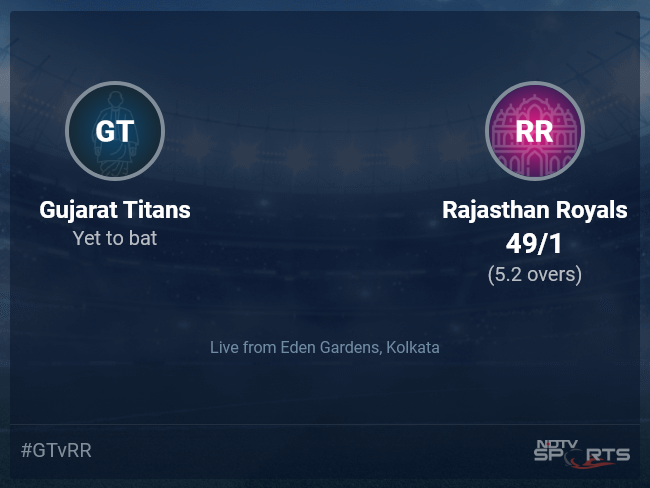 RR vs GT Latest Score
Follow the Indian Premier League 2022 live cricket score on Sports.NDTV.com. After 5.2 overs, Rajasthan Royals are 49/1. Get live score, ball by ball commentary and much more. Keep track of Indian Premier League 2022 today match between Gujarat Titans and Rajasthan Royals. Everything related to Gujarat Titans and Rajasthan Royals match will be available on Sports.NDTV.com. Stay updated with Gujarat Titans vs Rajasthan Royals live score. Do check for Gujarat Titans vs Rajasthan Royals scorecard. You can get scorecard updates, match related facts. Get quick live updates with ads, Sports.NDTV.com, which is the perfect destination for live cricket score.
4.6 overs (4 Runs) FOUR! Another delightful shot! Samson is in the mood here. Fuller and around off, Samson heaves it over mid-wicket and collects his third boundary. Has hit one biggie also. 14 from the over, the ploy to give Shami an extra over has not worked for Hardik.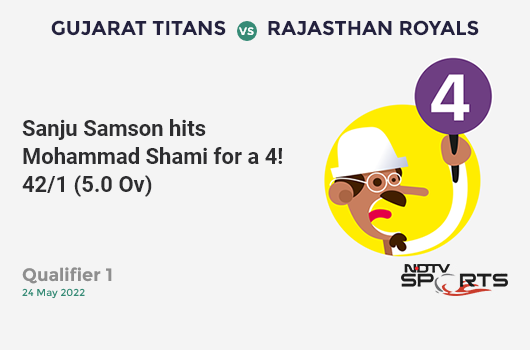 4.5 overs (4 Runs) FOUR! Struck well. Aerial for a while but away from the fielder. A touch short in length, around off, Samson hammers it off the back foot towards mid on. The fielder there dives across to his left but it falls wide and races behind.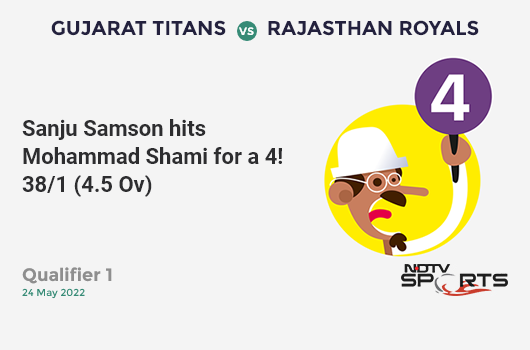 4.4 overs (1 Run) Short in length, on middle, Buttler turns and pulls it to deep square leg for a single.
4.3 overs (0 Run) A yorker on middle at 144 clicks, Buttler digs it out down to mid on. Three dots now after five wides.
4.2 overs (0 Run) On a good length, around off, Buttler punches from the back foot but not in the gap, finds the cover fielder.
4.1 overs (0 Run) Lands it on a length around off, Buttler stays back and pushes it to covers.
4.1 overs (5 Runs) FIVE WIDES! Not an ideal start to a new over. Shami fails to control his line and the inward movement takes it further away from the batter and the keeper. All the action happened down the leg side and it's a bonus boundary for Rajasthan at fine leg.
Will Hardik Pandya take a gamble of giving Shami his third over in the Powerplay? Yes, here is Shami with his third over!
3.6 overs (0 Run) Delivers it on a shortish length around leg, Samson gets behind the line and defends it down. 10 from the over!
3.5 overs (0 Run) In the channel outside off, short in length, Sanju watches it closely and allows it through to the keeper.
3.4 overs (0 Run) On a length, around middle and off, Samson punches from the back foot to wide mid off.
3.3 overs (4 Runs) FOUR! Another one from the flashing blade of Sanju Samson. Back of a length, around off and angling away, Samson packs a punch from the back foot. Doesn't bother to keep it down and sends it blazing through extra cover.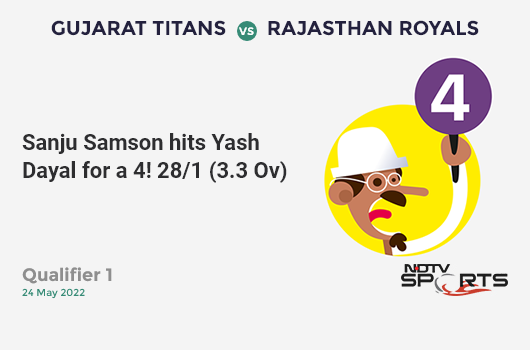 3.2 overs (0 Run) Angles across a full ball, outside off, Samson allows it through to the keeper.
There seems to be some problem with the ball as the six went into the crowd. The umpires have changed the ball and the action resumes...
3.1 overs (6 Runs) SIX! Goodness, me! Sanju has effortlessly dismissed this one. Yash Dayal serves a length ball, around leg, Sanju Samson picks it off his pads and lofts it nonchalantly over long on.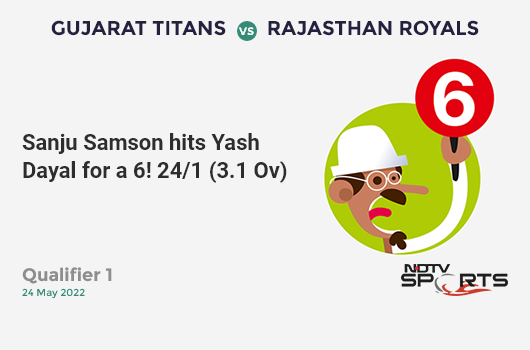 Will Yash Dayal continue after a successful first over? Yes, he will.
2.6 overs (0 Run) Close to off, on a length and moving back in, Buttler tries to play close to his body but gets an inside edge onto the front pad.
2.5 overs (0 Run) Beauty from Shami! Another inswinger to beat the inside edge of Buttler's bat. It's a great contest. Jos is trying to hit through the line but is not reading the variations accurately all the time.
2.5 overs (1 Run) Wide! Slips a length ball down the leg side, Buttler tries to flick bt misses.
2.4 overs (4 Runs) FOUR! Connects this time and connects well. Shami comes up with an outswinger this time. Lands it on a length and outside off, Buttler plays it with the movement and crunches it through covers. He is not trying to hit it hard this evening, just caressing his shots in the gap.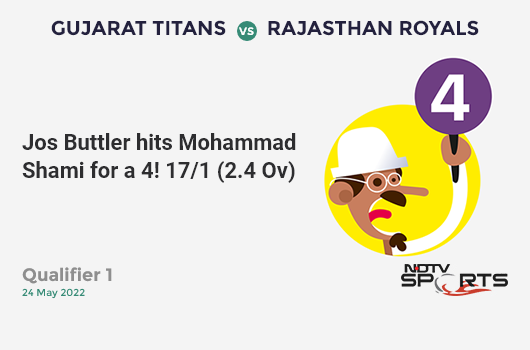 2.3 overs (0 Run) Beaten! Shami delivers an inswinger, on a length and outside off, Buttler tries to punch it from the back foot but it beats the inside edge of his bat.
2.2 overs (2 Runs) Around middle and leg, on a length, Jos eases it through square leg and returns for the second run.
2.1 overs (0 Run) Shortish and around off, Buttler mistimes his shot back towards the bowler.
The skipper, Sanju Samson walks in at number 3.
1.6 overs (0 Run) OUT! CAUGHT BEHIND! Yashasvi Jaiswal walks. Brilliant from the young man. Yash Dayal had Yashasvi Jaiswal in his pocket in this over. He outfoxed him on many occasions with the movement and the change in length and this time, Dayal forced an outside edge. He hurls it around off, on a length and shaping away, Yashasvi Jaiswal tries to drive but only manages to edge it behind. Wriddhiman Saha catches it, they appeal, the umpire stays still but Yashasvi Jaiswal turns and starts to walk.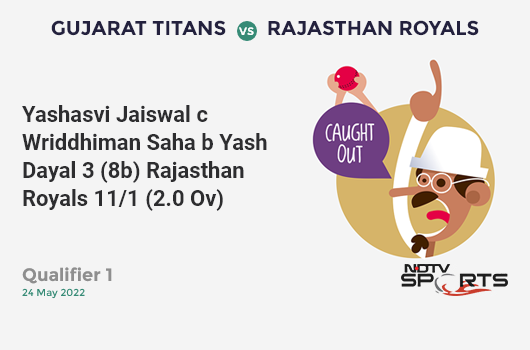 1.5 overs (2 Runs) A miscued shot! Yash Dayal digs it in short to surprise the batter, Yashasvi Jaiswal plays a reactive pull shot, without any timing, it just clears the infield at mid-wicket. Two runs are taken.
1.4 overs (0 Run) Spears it in, very full and around middle, Yashasvi Jaiswal keeps it out back towards the bowler.
1.3 overs (0 Run) On a length and around off, Yashasvi Jaiswal mistimes his punch on the off side.
1.2 overs (0 Run) Fuller and close to off, shaping away a bit, Yashasvi Jaiswal drives it off the front foot to mid off.
1.1 overs (0 Run) A gentle delivery from Yash Dayal. He serves it in the zone outside off, taking it away from the batter with the seam movement, Jaiswal flashes his bat at it but fails to connect.
Yash Dayal will start from the other end.
0.6 over (4 Runs) FOUR! Great timing again from the bat of Buttler and he seems to have regained his lost touch already. Shami pitches it up and lands it around off, Buttler strokes it elegantly through extra cover. Once it beats the fielder inside the ring, it's always a boundary.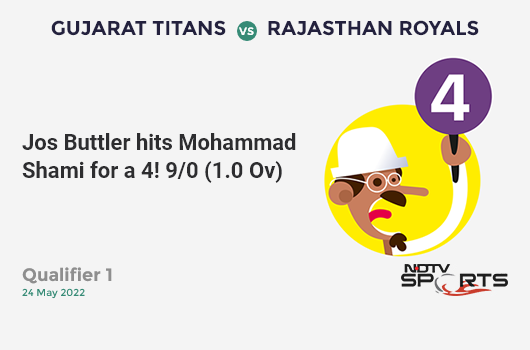 0.5 over (0 Run) Shami returns to bowling on a length and around off, Jos Buttler allows it through to the keeper.
0.4 over (4 Runs) FOUR! Off the mark in style! Shami delivers it full and outside off, Buttler leans into the drive and caresses it through the gap between mid off and extra cover. It races away on this lightning-quick outfield.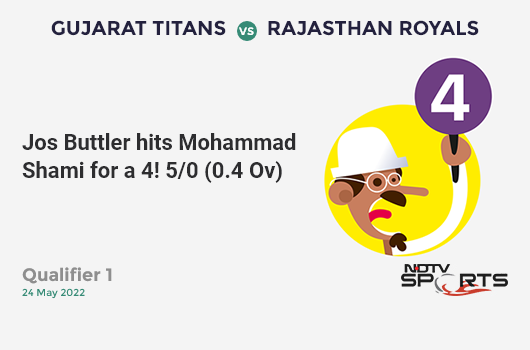 0.3 over (0 Run) Watchful from Jos! Shami hurls across a length ball, close to off and it shapes away off the seam, Buttler watches the line and shoulders arms.
0.2 over (1 Run) Rajasthan are away! Back of a length, around middle and angling in, Yashasvi Jaiswal works it behind square leg and opens his account with a single.
0.1 over (0 Run) Shami begins from 'round the wicket for the left-hander. He angles in a length ball around middle and leg, Yashasvi Jaiswal tries to flick but misses. It clips his pads and drops next to the pitch.
We are all set to begin! The two umpires make their way out to the middle. The Gujarat players make their way out to the middle as well and they are greeted with a big roar from this jam-packed Eden Garden crowd. Jos Buttler and Yashasvi Jaiswal are the openers for Rajasthan. Mohammad Shami has the new cherry in his hand. Here we go...
We are in the City of Joy, folks! It's a fresh pitch and we might see a fresh approach from both these teams today. They have power-hitters in their lineup and they will need them to shine tonight as Eden Gardens has seen 16.7 sixes per game since 2018 in the Indian T20 League.
Rashid Khan comes up for a quick chat. The Afghan says that it's a great opportunity for them, to play in Qualifier 1. Adds that they want to keep everything simple. Further says that as a team they want to learn from their mistakes and enjoy the game. Tells that he has played in the playoffs before and in one final, and that experience will help him in this game. States that it's all about enjoying the game and giving 100 per cent. Shares that he was missing his line and length in the first few games, so he focused on that, worked on target bowling, and that's how he got better. Feels that they have played enough cricket all around the world, so they just need to adjust as soon as possible to the conditions, and most of the players have played here before. Hopes that they will do that quickly.
Sanju Samson, the skipper of Rajasthan, says that they have done quite well batting first and tells that it looks like a decent wicket. Adds that it is important to focus on this game and it is important to keep the emotions aside and focus on cricket. Mentions that they have been playing good cricket and they just need to continue that and keep it simple. Informs that they are playing an unchanged XI.
Hardik Pandya, the skipper of Gujarat, says they want to bowl first as the pitch looks like a decent one to bat on. Adds that there have been no games here in the last few months, so it will be good to know what you are chasing. Shares that they reached safely here and they have prepared well. Mentions that they want to treat this game as a simple one and not create demons in their heads. Wants his team to make sure that the intensity is high and that they are aware of what the situation demands. Informs about the only change as Lockie Ferguson gets replaced by Alzarri Joseph.
Rajasthan (Unchanged Playing XI) - Yashasvi Jaiswal, Jos Buttler, Sanju Samson (C) (WK), Devdutt Padikkal, Ravichandran Ashwin, Shimron Hetmyer, Riyan Parag, Trent Boult, Yuzvendra Chahal, Prasidh Krishna, Obed McCoy.
Gujarat (Playing XI) - Wriddhiman Saha (WK), Shubman Gill, Matthew Wade, Hardik Pandya (C), David Miller, Rahul Tewatia, Rashid Khan, Sai Kishore, Yash Dayal, Alzarri Joseph (In place of Lockie Ferguson), Mohammad Shami.
TOSS - The coin goes up and lands in favour of Gujarat. They have elected to BOWL first.
Pitch Report - Matthew Hayden is down for the pitch report. He says that the ground is magnificent but it is not big. Tells that the pitch has a lot of grass cover and quicks will come into play. Adds that there is black soil here and he expects pacers to get some bounce. The Aussie reckons that there won't be much turn as it is a fresh pitch. Mentions that 170-180 will be a par score here and he expects the team winning the toss to bowl first.
The forecast was worrying but the good thing is that it's not raining and the players are out on the field, going through their warm-up drills. Let's hope the conditions remain the same and we get 40 overs of uninterrupted action.
There is a slight chance of rain playing a spoilsport in the city of joy, and already two hours have been added over the originally stipulated 200 minutes of match time. In case a minimum five-over game cannot be completed, the result will be determined by a Super Over. However, the standings of the league stage will be considered in determining the winner if the playing conditions do not allow even the Super Over to take place. The rain threat is not that alarming, and in all possibilities, we shall have a full game. Let's hope that our not-so-beloved friend, i.e. rain, stays away.
Gujarat came out on top in the group stage game between these two teams earlier in the season. Will the same story continue tonight? Or will Rajasthan avenge that defeat and book a place in the final for the first time since the inaugural season?
Rajasthan, on the other hand, looked like one of the most complete outfits right from the start of the tournament, and their final position at the end of the league stage was almost on the expected lines given the strength of their squad. Jos Buttler and Yuzvendra Chahal have been outstanding with bat and ball respectively, but the form of Buttler in the second half of the season will be a bit of concern. However, the stage is big and expect big players from both teams to bring their A-game in this crunch game.
Gujarat were the table-toppers in the group stage and were the one team that truly played like a team this season. Their bowling was always going to be their stronger suit, but the way their batting group has stepped up has been pleasantly surprising for many. The top order and especially the number 3 spot is still a concern, but the likes of David Miller, Rahul Tewatia and Rashid Khan have timed and again proved their worth with the bat to show the never-say-die attitude of this team. Hardik Pandya, the skipper, has also played a key role with his all-round abilities and captaincy and let's see how they go about their business in this big game.
Hello and a very warm welcome to Qualifier 1 of the 2022 season of the Indian T20 League where Gujarat will lock horns against Rajasthan at the iconic Eden Gardens in Kolkata. These two have been the best teams of the season and are rightly contesting for a direct place in the summit clash. The losing team though won't be knocked out and will enjoy the perks of finishing in the top two by unlocking yet another shot in Qualifier 2. That said, both sides would want to avoid the longer route to the grand finale. Fasten your seatbelts and get ready for a thrilling ride as both teams come out all guns blazing this evening.
Topics mentioned in this article