Story Progress
Back to home
Gujarat Titans vs Rajasthan Royals Live Score Ball by Ball, IPL 2022 Live Cricket Score Of Today's Match on NDTV Sports
Live Updates of Today Match between Gujarat Titans vs Rajasthan Royals from Narendra Modi Stadium, Ahmedabad. Check commentary and full scoreboard of the match.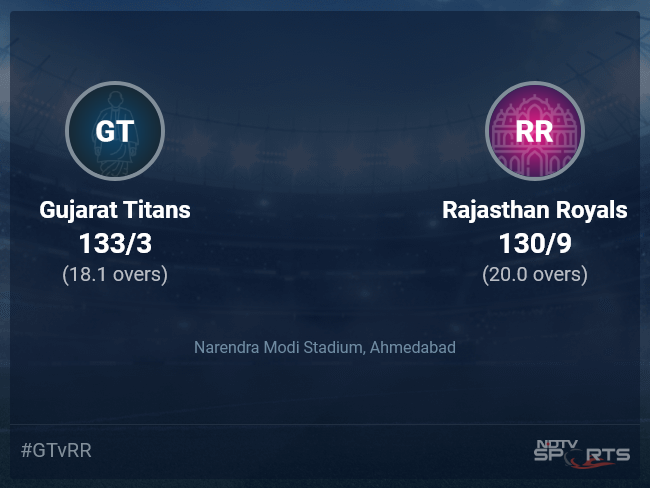 RR vs GT Latest Score
Follow the Indian Premier League 2022 live cricket score on Sports.NDTV.com. After 18.1 overs, Gujarat Titans, chasing a target of 131, are 133/3. Get live score, ball by ball commentary and much more. Keep track of Indian Premier League 2022 today match between Gujarat Titans and Rajasthan Royals. Everything related to Gujarat Titans and Rajasthan Royals match will be available on Sports.NDTV.com. Stay updated with Gujarat Titans vs Rajasthan Royals live score. Do check for Gujarat Titans vs Rajasthan Royals scorecard. You can get scorecard updates, match related facts. Get quick live updates with ads, Sports.NDTV.com, which is the perfect destination for live cricket score.
Hardik Pandya is presented with the cup! He along with his teammates celebrate. End of a long and very good edition of the Indian T20 League. 10 teams took part and in the end, it was Gujarat who were the winners in their very first edition. We hope you enjoyed our company, there is a lot of cricketing action coming up. So stay tuned with us and keep checking the upcoming schedule, but for now, it is goodbye!
The victorious skipper of Gujarat, Hardik Pandya says the whole support staff has been fantastic. Mentions he likes to play proper bowlers and the batters can chip in whenever required. Adds the batters need to put their hand up. Reckons it is the bowlers who win you the game. Adds it is always about becoming better and that is what they always try. Says he considers himself lucky, he has been in 5 finals and has won all 5 and to win it for the first time as captain is very special.
Sanju Samson, the captain of Rajasthan says this season was special, he is proud of his team and there are a lot of good players, today was a day off but he is proud of his team. States right from the outset they wanted to have quality bowlers. States the roles were different for everyone and it was a decent season for them but there is a lot to learn. Ends by congratulating Hardik Pandya and Gujarat.
Kumar Sangakkara, the head coach of Rajasthan collects the runners-up medal - The Sri Lankan legend says they had a huge contribution from Jos Buttler, the two spinners, Prasidh Krishna also did well and almost everybody on the side contributed well. Adds the overall effort from everyone and the backing from the manager has been a lot. Adds he appreciates the journey but they need to be realistic about the things that could have been done and improve next year.
Jos Buttler is the Player of the Season - The Englishman says he is disappointed they could not take home the trophy and congratulates Hardik and Gujarat. States he reacts according to the game and he plays according to how the game wants him to. States he has huge trust in everyone and everyone has played well but today they came short and he just tries to react according to the game situation. Adds he is very grateful for the opportunity he got today, he is disappointed he lost this one and it has been a privilege to win the highest scorer.
Hardik Pandya is the Player of the Match for his all-round performance both with the bat (34 runs off 30 balls) and with the ball (3/17) - He says he has worked very hard for it and at the right time he wanted to show what he has worked for and with the bowling point of view, he saved the best for the last. States if one hits the wicket hard, something was happening and he just wanted to hit the length right. States he would take the trophy rather than scoring quickly and for him his team is important and for his team, he needed to bat carefully. States when the auction was done, he knew he had to bat up the order and he has done this before and will do it ahead if needed.
...Presentation coming up...
Gary Kirsten says he is very happy for the guys and they put in a lot of hard work and it has been an amazing journey. States they were looking for a good balance in the auction but more than that, they were looking for versatile guys and that is what they got. States they put up a good bowling attack throughout the tournament, Sai Kishore was really good towards the end. Credits the way Pandya played and captained and he enjoyed working with him and he has been really engaging with the players and has played with a lot of responsibility. Ends by saying he enjoys his coaching and he loves working with Ashish Nehra.
Rahul Tewatia is up for a chat. He says the environment was warm in the Qualifier 1 and they always wanted the finishers to end the game and with top order giving a good start. Adds their sole goal was to win the trophy and jokes saying, he won't sleep tonight. Shares that everyone were doubting them but the management trusted them. Tells that Hardik Pandya has given him the freedom to play his game.
Rashid Khan is up for a chat. He says they adjusted quickly, they needed to hit the right areas and everyone took the responsibility and bowled well. Adds he is very happy with how Gill played and he is very pleased with how he played. Gill says winning this tournament is as big as winning the World Cup and he is very pleased with them winning it. Rashid then says winning this tournament is one of the biggest achievements and you need to be prepared to win such tournaments. Adds, he feels their bowlers bowled really well and he felt anything under 150 was going to be a good target to chase down and they did chase it down.
David Miller is up for a chat. He says it was a phenomenal journey. It is a collective effort and it is the best season he ever had. On Hardik Pandya, he says he has led the team fantastically throughout the seasons and feels this is the best season for him in the tournament. Matthew Wade joins him and says it is a relaxed environment, it is a family-type atmosphere and Hardik Pandya, and Rashid Khan was superb for them this season. Lauds Ashish Nehra as well. Tells that everyone got time in the ents and were given chances. On the crowd, he thanks and hopes to do it again next year. Lockie Ferguson joins as well. He says it feels good to win, is he happy for the boys. Adds that Hardik Pandya led them from the front and today he was a standout both with the bat and ball.
Mohammad Shami is up for a chat. He says they wanted a good start (the first ball dismissal of KL Rahul in the team's first game) and that just set up a template for a team. He wanted to serve on a good length and line and keep it simple. Adds that Saha has the abilities, he just needs opportunities. Saha joins him and says it was his fifth final but second on the winning side. Everyone said it is not a good squad but they have shown what they are capable of.
For Rajasthan, Boult and Prasidh Krishna bowled well but they needed to keep taking wickets and that was not the case. Yes, they did keep it quiet for a while but just could not get the wickets. There were half chances which they failed to take and when defending such totals, that need to be taken. Have to say, the better side won and Gujarat were the better side by a long way. Stay tuned as there are interviews coming in a flurry...
In the second half, Rajasthan needed early wickets, they did have a chance in the very first itself but they dropped Gill. They did manage to get a couple but that drop of Gill cost them dearly. A couple of partnerships is all that Gujarat needed and they got that. First it was Gill and Pandya and then Miller along with Gill. Shubman Gill was the mainstay in this innings and the rest played around him.
It was quite a one-sided finals in the end! Gujarat probably wanted it a lot more than Rajasthan as the latter were just not as their best. They were well below par with the bat, despite being around 60 for 1 in the 8th over, they ended up with only 130. Yes, the likes of Pandya and Rashid bowled brilliantly but the batting and the shot selection was also not of the highest quality.
GUJARAT IT IS! The new team, the new entrant manages to lift the trophy in the first year itself. Outstanding display from them. Just brilliant. They were the best team in the tournament and they have shown why! For the third time they have managed to beat Rajasthan in this edition and this win is probably the most convincing and the sweetest.
18.1 overs (6 Runs) SIX! Shubman Gill hits the glory runs! There is a new name on the Indian T20 League trophy and it belongs to Gujarat! Short in length and on middle. Gill pulls it all the way over deep square leg for a biggie. He removes his helmet and jumps in the air in delight. Miller gives him a big hug in the middle. What a tournament for Gujarat. Superb maiden outing. Gujarat win by 7 wickets and with 11 balls to spare.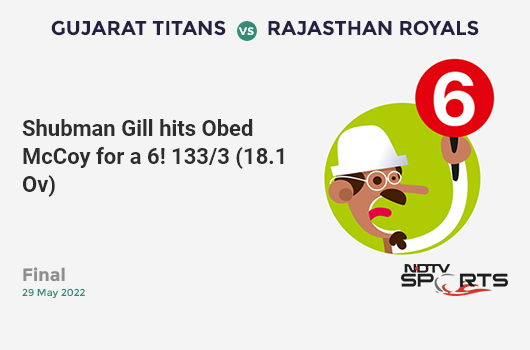 17.6 overs (2 Runs) Tossed up, full and just outside off. Miller tries to slog-sweep but gets an inside edge to fine leg for a brace. 4 runs needed now.
17.5 overs (1 Run) Shorter and outside off, cut to deep point for a single.
17.4 overs (0 Run) Quicker one, on middle. Gill turns it to square leg.
17.3 overs (1 Run) Miller is tempted to go big but resist himelf by just pushing this full ball to deep cover.
17.2 overs (1 Run) Tossed up, on leg. Gill tucks it to deep square leg for a single.
17.1 overs (0 Run) Flatter and outside off. Gill reverse-hits it straight to point.
16.6 overs (2 Runs) On middle, on a length. David flicks it behind square on the leg side for a couple. 9 needed now.
16.5 overs (4 Runs) FOUR! Gujarat are edging closer! A length ball, outside off. Miller looks to cut but it goes off the cue end of the bat and to third man, very fine and into the fence.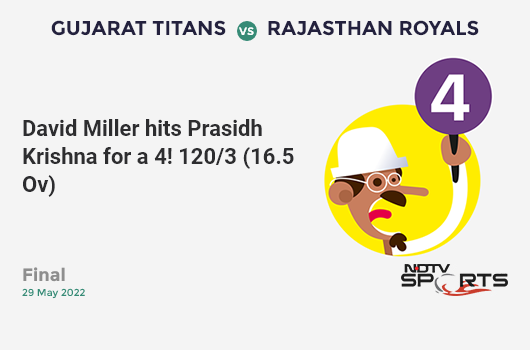 16.5 overs (1 Run) Wide! Another short ball and this time Miller lets it alone. Wide given.
16.4 overs (4 Runs) EDGED AND FOUR! Short of a length, on middle. Miller plays the pull shot with soft hands and it goes off the top edge to fine leg for a boundary.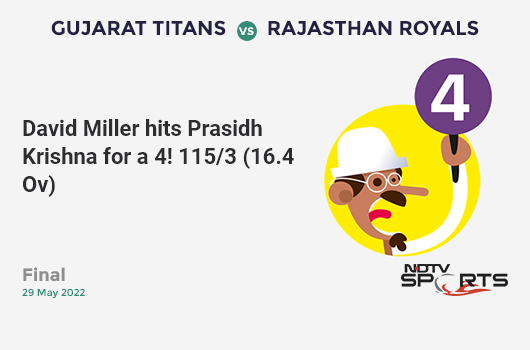 16.3 overs (0 Run) Touch short and going across, outside off. Miller looks to cut again but misses.
16.2 overs (2 Runs) A length ball, outside off. Miller cuts it hard past backward point and McCoy does the sweeping work in the deep. Two runs.
16.1 overs (0 Run) On middle, slanting on a length. Miller blocks it out.
DRINKS! This is Gujarat's game to lose now! They are cruising along and sensible cricket will do it for them from here! Rajasthan on the other hand, need something special. They need a couple of wickets quickly. Do they have it in them to pull this off? The final passage of play coming up.
15.6 overs (1 Run) On the pads. Miller works it to through mid-wicket for a single. 12 runs off the over. Just 22 needed now. Gujarat are smelling a win here.
15.5 overs (1 Run) Six of the third ball and singles now will do for Gujarat! On middle, nudged to mid-wicket for a run.
15.4 overs (1 Run) Flatter and on middle, tucked to mid-wicket for a single.
15.3 overs (6 Runs) SIX! Ashwin was kept behind for left-handers and he gets a surprise gift from Miller! Too full and on off. Miller swings across and hits it high and over mid-wicket for a biggie.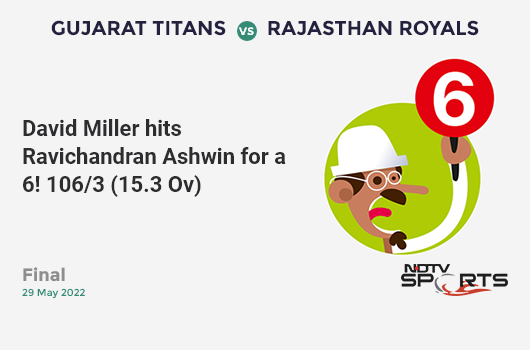 15.2 overs (1 Run) A carrom ball, short again, on off. Gill pushes it to deep mid-wicket for a single. 100 up for Gujarat!
15.1 overs (2 Runs) Excellent running! Drops it short and on the pads. Gill flicks it with soft hands to mid-wicket and comes back for the second.
Match Reports
Topics mentioned in this article