Story Progress
Back to home
Gujarat Titans vs Delhi Capitals: IPL 2022 Live Cricket Score, Live Score Of Today's Match on NDTV Sports
Live Updates of Today Match between Gujarat Titans vs Delhi Capitals from Maharashtra Cricket Association Stadium, Pune. Check commentary and full scoreboard of the match.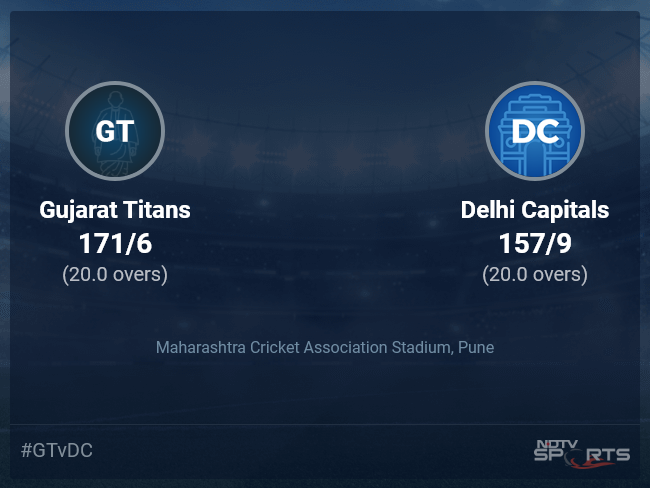 GT vs DC Latest Score
A dedicated team of experts bring you live score, live cricket score, live match update on Sports.NDTV.com. After 20.0 overs, Delhi Capitals, chasing a target of 172, are 157/9. The live updates of Gujarat Titans vs Delhi Capitals scorecard is also available. It is the perfect platform to follow your favourite teams in Indian Premier League 2022. Keep a track on your favourite batsmen and bowlers through Indian Premier League 2022 today match, ball by ball commentary, Gujarat Titans vs Delhi Capitals, Gujarat Titans vs Delhi Capitals live score, Gujarat Titans vs Delhi Capitals scorecard. Follow the excitement of the Indian Premier League 2022 on Sports.NDTV.com as you can follow live match updates and live cricket score through our platform.
Right then, that is all we have from this Super Saturday. As we move ahead, it will be Chennai going up against Punjab on Sunday, April 3. That game starts at 7.30 pm IST (2.00 pm GMT). Our coverage, though, will start in advance. So do join us for the same. Till then, goodbye and cheers!
Lockie Ferguson is the PLAYER OF THE MATCH. He says it was one of those nights, they had a lot of chances early on. States the others took the pressure off him with the way they bowled and he got the rewards. Mentions the pressure was coming from both ends and he was fortunate to be rewarded with the wickets. Informs there was a little bit of nibble at the start, he was on the shorter side but it worked out, adds one needs to be clever against Pant and he was pleased to get him. Ends by saying it was an all-round performance from the bowlers and tells that the skipper is so good in giving him the confidence and taking wickets is the part of his game.
Hardik Pandya, the skipper of Gujarat, says that he is very happy and everyone is stepping up at the right occasion. Mentions the attack they have is very good, they were 10 to 15 short but with the kind of bowing they have, it was defendable. States there was a time when Delhi were ahead in the game but Ferguson was brilliant. Admits they were 10 to 15 runs short but he backs his bowlers to defend an under par score. Also says when Pant was batting the game was on their side and they were also a bowler short and they needed to finish the game in the 19th over and they did so. Credits the way Shankar and Tewatia bowled and they did their job well. Applauds the way Gill batted.
Time for the presentation.
Rashid Khan is down for a chat. He says that he is enjoying his time and with two wins in two games he is happy. Tells that he does not mind a bit of dew and there was no dew there and length was key on this wicket. Adds that he tried few things in the first over and then some runs in the first few overs hurt him and he will take that learning from this game. Signs off by saying that it was a good effort overall.
Rishabh Pant, the skipper of Delhi, says that according to the wicket that total was not that big. He tells that they lost too many wickets in the Powerplay and in the middle and that did not help them. Adds that he is not thinking about what they will do when they come back to Pune and says that they are focussing on the next game. Says that Ponting has been amazing and when one loses, it is important to learn and keep improving.
Time for some interviews!
For Gujarat, Ferguson was outstanding. Pandya also began really well and so did Shami. Rashid was not at his best but got the important wicket of Thakur. Rahul Tewatia, Varun Aaron and Shankar filled in as the 5th bowler and that is where the game slipped out of Gujarat's hand. They went for over 10 per over. However, the rest bowled really well at the end and helped their side get over the line.
Coming to the game now, it swung like a pendulum, from one way to the other. To be honest, Delhi had it in their bag as they headed into the last 5 overs but they just could not hold their nerve. The problem for them was wickets in heaps. They lost that at the beginning. Then there was a superb stand between Pant and Lalit Yadav who got them back into the game. Then the partnership between Powell and Pant turned the tide towards Delhi. However, three in quick time put the responsibility of taking them over the line on Powell. His wicket though was the killer blow and in the end, they have fallen well short.
Two games and two matches of the highest quality! Also, to everyone's surprise, both the times, it is the side batting first who have come out on top. That is so not the trend in this tournament. Gujarat is only the second team this season to have defended a total and they have done so brilliantly. Also, it just shows how difficult it is to defend with dew around. No dew in both the games and scores which were being tracked down easily have been defended.
19.6 overs (1 Run) Tossed up on middle. Kuldeep Yadav sweeps it but gets a top edge. The ball falls short of the deep square leg fielder and a single is taken. So a comfortable win for Gujarat in the end. They win by 14 runs!
19.5 overs (0 Run) A fuller delivery on off. Kuldeep Yadav drives it to the cover fielder in the ring.
19.4 overs (6 Runs) SIX! Kuldeep Yadav decides to have some fun now! Tossed up on middle. Kuldeep Yadav dances down the track and tonks it over long on for a maximum.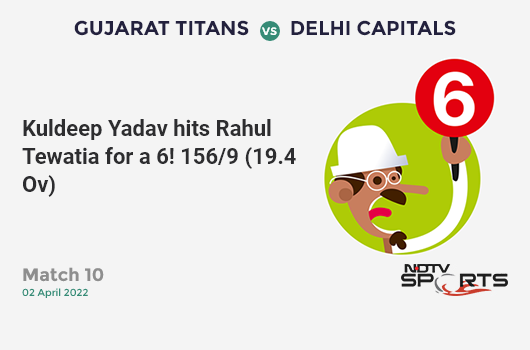 19.3 overs (1 Run) On the shorter side again, around off. Mustafizur Rahman punches it to sweeper cover for a single.
19.2 overs (1 Run) Shorter one on middle. Yadav pulls it to deep backward square leg for a single.
19.1 overs (0 Run) A flatter delivery and pushed outside off. Kuldeep Yadav leaves it alone. However, the umpire does not call it wide.
18.6 overs (1 Run) Off the splice and only one! Shorter and on the body, Yadav looks to pull, it goes off the splice towards mid on for one. 24 needed from the last over!
18.5 overs (0 Run) Another short one and on the body, this is guided to point.
18.4 overs (0 Run) That is a sharp bumper, he really bent his back on this one. Yadav looks to pull but misses.
18.3 overs (1 Run) Goes full and around off. Mustafizur Rahman drives it to long on for a single.
18.2 overs (0 Run) Back of a length, outside off. Mustafizur Rahman dabs it square on the off side.
18.1 overs (1 Run) On a length, on middle. Yadav works it to square leg for a single.
17.6 overs (0 Run) Dropped! Goes short, around off. Mustafizur Rahman looks to upper cut it but ends up slicing it towards fine leg. The fielder there does well to catch it but the ball pops out as his elbow hits the ground. Dot ball.
17.5 overs (1 Run) Ohh...direct hit and that would have been game over! A full delivery on off. Yadav drives it to mid off and there is a mix-up between the batters. There is a shy at the batter's end but the direct hit is missed. A single taken.
17.4 overs (1 Run) A full toss angling into the body from 'round the wicket. Mustafizur Rahman manages to defend it towards the off side and takes a single. So no hat-trick for Shami!
Mustafizur Rahman is the last man in.
17.3 overs (0 Run) OUT! EDGED AND TAKEN! Two in two for Shami and Gujarat just the one wicket away. Shorter and on middle, Khaleel looks to fend it away, it goes off the outside edge and it is taken by the keeper by moving to his right.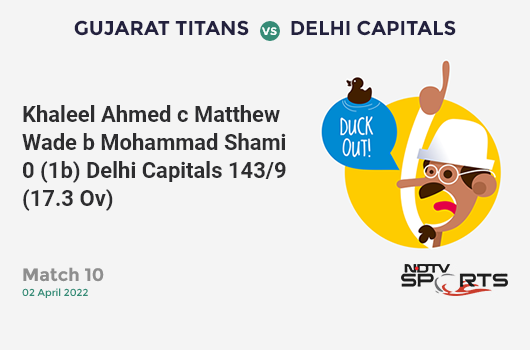 Khaleel Ahmed walks out to the middle now.
17.2 overs (0 Run) OUT! THREE REDS! Powell goes and that should be the game for Gujarat! Another lovely slower one, on middle, holds in the surface a touch. Powell is way too early in the swing, he misses and gets hit on the pad. An appeal and the finger is raised. Powell reviews in desperation. Replays roll in and it shows he has to walk back and also take a review along. Delhi will need something spectacular from the rest to win this now.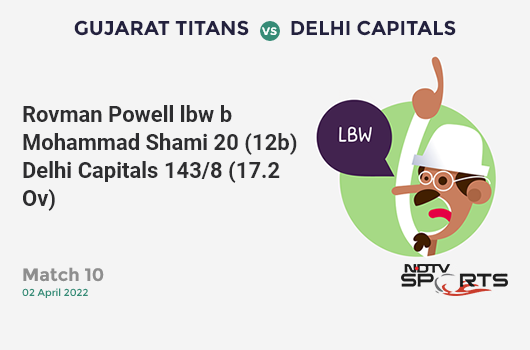 17.1 overs (1 Run) A run from the first ball! Good from Kuldeep! Lucky run but a run! Outside off, Yadav pushes at it, it goes off the inside edge past the off pole and down to fine leg for one. Powell on strike.
16.6 overs (4 Runs) FOUR! Deft! A welcome boundary to end the over and that is not the end Ferguson would have wanted, to his spell and the over. 30 needed in 18. Outside off, clever batting. Ferguson guides it past short third man and into the third man fence.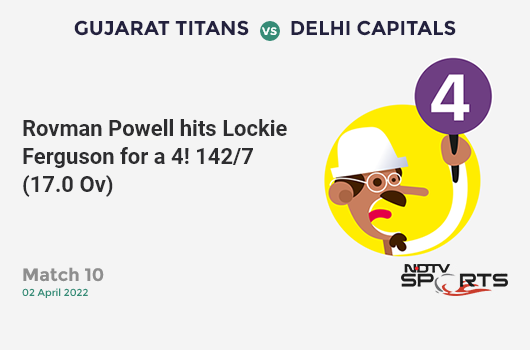 16.5 overs (1 Run) On the bounce! Shorter and on middle, Yadav pulls, it goes towards deep square leg, on the bounce for one. Ferguson has one ball to go, can he get Powell?
16.4 overs (0 Run) A dot! Outside off, Yadav looks to guide it past the keeper but is beaten.
16.3 overs (1 Run) Powell is happy to play this over out, understands this is Fergusons' last who is the best bowler today. Just watches it and guides it towards point for one more.
16.2 overs (1 Run) Yadav now gives strike over to Powell, just what he needs to do! On middle, this is tucked around the corner for one.
Kuldeep Yadav is the next batter in.
16.1 overs (1 Run) A slower one on middle, Powell works it on the leg side for one. Just what Gujarat wanted, Powell of strike and Kuldeep on strike.
15.6 overs (0 Run) OUT! LBW! Rashid Khan strikes now and Delhi lose their seventh wicket now! It's a googly again that pitches on middle. Thakur looks to flick it but misses. The ball hits him on the pads and there is an appeal. The umpire raises his finger. However, Shardul Thakur decides to review it. The replays roll in and the UltraEdge shows no bat involved. The Ball Tracker rolls and it shows three reds so, Thakur has to walk back as the original decision stays. 38 needed now from 24 balls!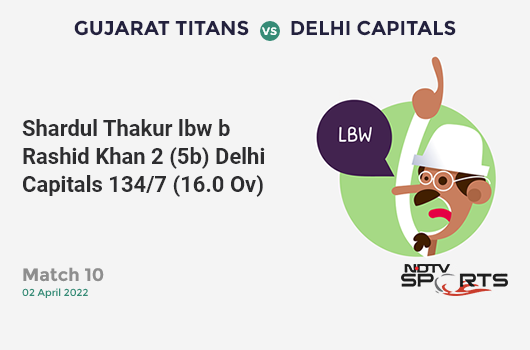 15.5 overs (2 Runs) A googly on middle and leg. Shardul Thakur works it to fine leg for a couple.
15.4 overs (0 Run) A googly on middle and leg. Shardul Thakur looks to clip it but misses. The ball brushes his pads and goes to the keeper. Wade fails to collect it cleanly again.
15.4 overs (5 Runs) FIVE WIDES! Bonus runs for Delhi! Full and down the leg side. Thakur looks to clip it but misses. Wade misses it too and the ball races away for a boundary.
15.3 overs (0 Run) A full delivery and outside off. Thakur pushes it to short third man.
15.2 overs (1 Run) Pushed quicker on middle and leg. Powell works it to deep square leg for a single.
15.1 overs (0 Run) A flatter and slightly shorter delivery on middle and leg. Powell looks to work it towards the leg side but gets hit high on the pads.
Match Reports
Topics mentioned in this article