Story Progress
Back to home
Gujarat Titans vs Chennai Super Kings: IPL 2022 Live Cricket Score, Live Score Of Today's Match on NDTV Sports
Live Updates of Today Match between Gujarat Titans vs Chennai Super Kings from Maharashtra Cricket Association Stadium, Pune. Check commentary and full scoreboard of the match.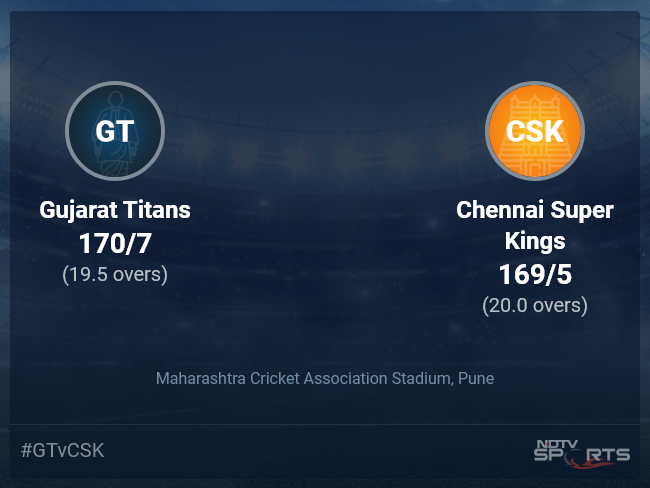 GT vs CSK Latest Score
A dedicated team of experts bring you live score, live cricket score, live match update on Sports.NDTV.com. After 19.5 overs, Gujarat Titans, chasing a target of 170, are 170/7. The live updates of Gujarat Titans vs Chennai Super Kings scorecard is also available. It is the perfect platform to follow your favourite teams in Indian Premier League 2022. Keep a track on your favourite batsmen and bowlers through Indian Premier League 2022 today match, ball by ball commentary, Gujarat Titans vs Chennai Super Kings, Gujarat Titans vs Chennai Super Kings live score, Gujarat Titans vs Chennai Super Kings scorecard. Follow the excitement of the Indian Premier League 2022 on Sports.NDTV.com as you can follow live match updates and live cricket score through our platform.
That concludes the proceedings for this exciting game and weekend. Saturday was not for the chasing teams but Sunday belonged to them. On Monday, Rajasthan will be facing Kolkata at 7.30 pm IST (2 pm GMT). You can join us in advance for the build-up. Until then, it's goodbye and cheers!
David Miller is the Player of the Match! Says that he has been working very hard on his fitness. Adds that this knock takes him back down the memory lane as he had won Punjab a game from a similar situation against Bangalore in the past. Shares that he sticks to his strength of seeing the ball and hitting the ball. Mentions that he wanted to express himself from the word go and that paid off. States that batting in the Powerplay allowed him more time. Praises the batting of Rashid Khan by saying that the Afghan's knock took the pressure off him. Miller further goes on to say that Rashid's knock was the game-changer. He is delighted that his team has won quite a few close games this season.
Rashid Khan, the stand-in skipper of Gujarat, says that it's an amazing feeling and this win is special and memorable. Adds that they just wanted to take the game deep and knew they have the firepower to chase down the target. Tells that they were a batter short but he has been working on his batting and he wants to play the role of an all-rounder. States that he backed his skills, stayed still and got the result. Feels that in the 18th over, he backed himself with the short boundary on the leg side and luckily Jordan bowled where he wanted him to.
A quick word with Abhinav Manohar. He says Miller played a blinder and he is pleased with the win. Mentions it was a great team effort and they did really well. Adds that Rashid handled the pressure well and was good with both bat and ball. Shares that he is enjoying his time and he is grateful for the opportunities he is getting
Ravindra Jadeja, the captain of Chennai, says when they were batting the wicket was gripping and they felt it was a good score but they did not execute their plans in the last 5 overs. Mentions Jordan is an experienced guy and that is why they went with him but he went for too many.
Stay tuned for the interviews...
Chennai will be shell-shocked. They did most of the things right in the field but in the end overs, they lost the plot. Something similar happened with their batting innings also. After being in a good position for a big score, they slipped in the last 6 overs and managed just 45 runs. All these factors also played a role. Still, Chennai should have won this game after a great start with the ball but they fell at the wrong end of David Miller.
David Miller was the lone warrior in this chase but one cannot undermine the contribution of Rashid Khan. The Afghan went bonkers in the 18th over, targeted Chris Jordan and Gujarat amassed 25 runs off it to bring the chase alive. The equation narrowed down after that and despite Rashid getting out, Miller was there to finish the job. In hindsight, that moment in the 17th over when Shivam Dube lost the ball in the lights and Miller survived proved to be the difference in a way. Those little moments always hurt you in this format.
Phew! What a turnaround! What a chase! Take a bow, Miller! Take a bow, Rashid Khan! This game was long gone from their grasp after early blows. The departure of Rahul Tewatia further pushed them on the back foot. But, David Miller refused to surrender. The South African rose to the occasion and justified his tag of 'Killer Miller'. 94 not out off 51 balls, 8 fours and 6 sixes and his knock has stolen this game right under Chennai's nose.
19.5 overs (2 Runs) NOT OUT! Lockie Ferguson is in! He is in! Gujarat have pulled a rabbit out of the hat! What a win, what a win that is. This is a full toss on off, Miller mistimes it down towards long off. Bravo runs to his left, picks the ball up and fires it to the bowler. Jordan takes it ahead of the stumps, to his right and then whips the bails off. Ferguson puts in the dive but nobody is sure if he is in or not. It is taken upstairs and the replays show that Ferguson is in. GUJARAT WIN BY 3 WICKETS!
Is Lockie Ferguson short of the crease? All happening out there. The appeal for a run out is taken upstairs. Lockie is safe, his big dive has saved him. That's that.
19.4 overs (4 Runs) FOUR! Just two needed now in two balls! Miller finds the gap. This is full, right in the slot again. Jordan misses his length. This is whipped through square leg and it races away to the fence.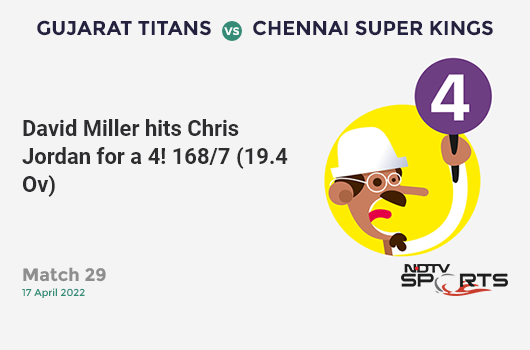 19.4 overs (1 Run) NO BALL IT IS! It is a bonus run and a Free Hit too! Just one big hit away now! A high full toss around off, Miller swings, it goes off the outside edge and is taken at short third man. Chennai are celebrating but it is taken upstairs to check. Replays show that it's above the waist and has not dipped enough.
Is that out? Miller has edged a high full toss and is caught at short third man. The umpires get together and send the decision upstairs. It's a no ball for height. Free Hit loading now! 6 needed off 3 balls.
Another meeting. This time Moeen and Bravo are discussing the plans with the bowler. Jordan is sweating. He is feeling the heat.
19.3 overs (6 Runs) SIX! That is the reason why he did not take the run, that is right in the slot, poor bowling from Jordan. This is full and on the pads, Miller loves it there, he flicks it well over the backward square leg fence. 7 needed in 3. Another hit like that will do it. Jordan is the one under pressure. He has already gone for 50 in the 21 balls bowled by him.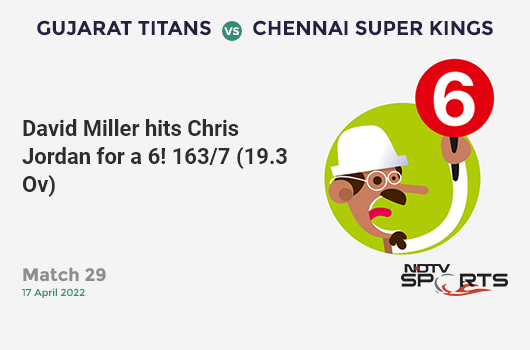 19.2 overs (0 Run) Two dots in a row! Really good stuff from Jordan! The length is perfect, really full and on middle, this is jammed down to long on and Miller does not run.
19.1 overs (0 Run) A dot to begin! This is full and on the pads, Miller misses out. He looks to flick but misses to get hit on the pads. Dhoni does brilliantly to dive to his right and stop it.
Who will bowl the final over? There is a confab going on with MS Dhoni calling the shots. 13 needed off 6 balls. Lockie Ferguson has walked in and is at the non-striker's end. Chris Jordan to bowl. Here we go...
18.6 overs (0 Run) OUT! Alzarri Joseph holes out! Doesn't matter much as David Miller will be on strike for the final over. This was a free hit for Joseph in a way, he tries his best but fails to clear the fence. Fuller and on off, Alzarri Joseph goes hard and lofts it towards long off. Chris Jordan speeds forward and takes a fine catch.
18.5 overs (0 Run) OUT! CAUGHT! Rashid is gone and it's a sigh of relief for Chennai. Change in pace, slower one and on a length around off, Rashid runs down the track for a big shot but skies it in the air off the bottom part of his bat. Moeen moves across to his left from mid on and takes the catch at mid off. End of a scintillating cameo from the Gujarat skipper. 13 needed off 7 balls.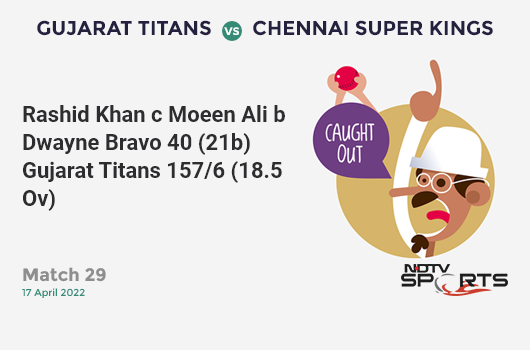 18.4 overs (2 Runs) Slower one, full and dipping in around leg, Rashid whips it to deep mid-wicket and picks up a couple. 13 needed off 8 balls.
18.3 overs (1 Run) Fuller in length and wide outside off, Miller drives it to deep cover for one.
18.2 overs (3 Runs) Heavy bottom hand this time! Too full, around off, Rashid flies the mini helicopter and sends it blazing down the ground. This time the long off fielder makes the stop and saves one run.
18.1 overs (4 Runs) FOUR! The Afghan is on fire! Picks the slower length ball around off early and smashes it over the bowler's head for a boundary, no chance for long off.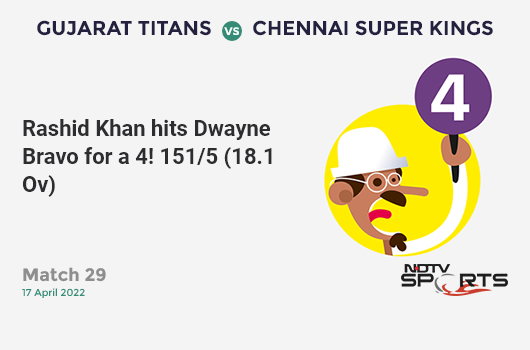 17.6 overs (2 Runs) Two more and that is 25 from the over! The game has turned on its head! Gujarat surely favouties now. The last ball is full and on the pads, this is worked through square leg for two.
17.5 overs (1 Run) Not sure what Rashid was trying to do there! A full toss outside off, Rashid looks to whip it over the leg side yet again, it goes off the top edge and it lands safely on the leg side. They take one.
MS Dhoni is having a word with Chris Jordan now.
17.4 overs (6 Runs) SIX! KABOOM! This one is over the fence too! What a shot, what wrist work! Absolutely brilliant! This is outside off, on a length, Rashid brings his wrists into play and clobbers it over wide long on. 26 needed now in 14. Game is now in Gujarat's favour.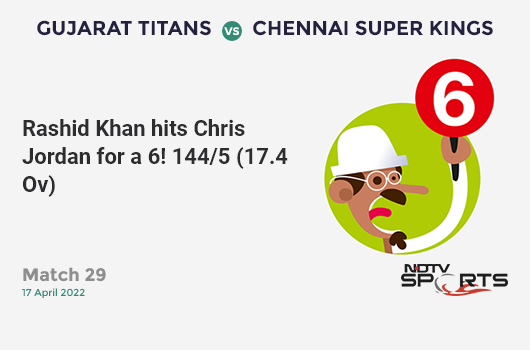 17.3 overs (4 Runs) FOUR! Over mid off now! 16 from the first three balls and just 32 needed now in 15 balls. This is a full toss and it is hit over the mid off fielder for a boundary.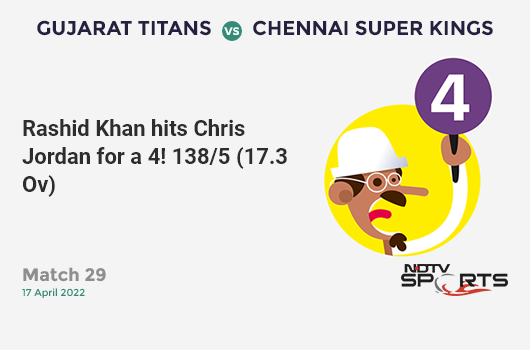 17.2 overs (6 Runs) SIX MORE! Rashid is now turning it on! 12 from the first two balls! This is an outrageous stroke! It is full and outside off, Rashid rockets it over point and it sails over the fence.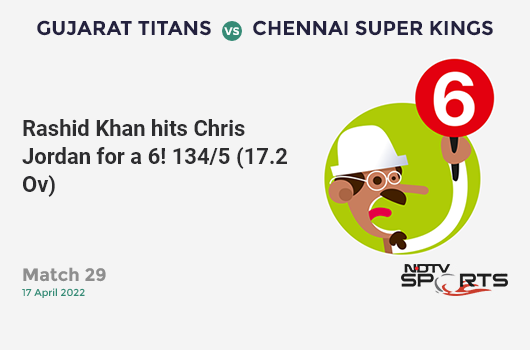 17.1 overs (6 Runs) SIX! BANG! This is what Rashid can do and this is what was needed from him! What a hit! This was right in the arc. Full and on middle, Rashid whips it over the mid-wicket fence. Jordan is under pressure now.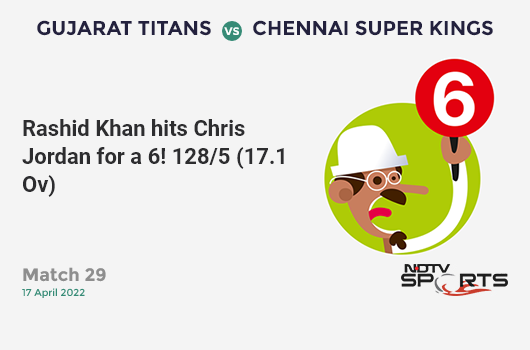 Change! Chris Jordan is back on.
16.6 overs (0 Run) In the end, it is a dot! A full toss, Miller was probably looking to carve it over short third man but misses. That is an outstanding over. 48 needed from 18 now. Rashid will face the first ball of the next over.
16.5 overs (1 Run) Just the one! A slower one on middle, this is swept through square leg for one. What will Miller look for now, will he go for a boundary or will he take a run?
16.4 overs (0 Run) A loud appeal but turned down! CHENNAI REVIEW! NOT OUT! It is off the bat! A yorker on middle, Rashid gets his bat down in time and jams it out. Bravo appeals as he feels it is off the pad. It is taken upstairs but Chennai end up losing a review. It is a dot though.
16.3 overs (1 Run) Just short! There should have been a better effort! Dube lost it in the lights! A slower one, on middle, this one holds in the surface. Miller looks to pull, it goes off the top edge, Dube at deep mid-wicket runs in but then stops. Takes it on the bounce, only one. Bravo is not pleased.
16.2 overs (1 Run) Almost drags it on! A slower one outside off, Khan looks to swing across the line, he gets an inside edge, it goes past the off pole and towards fine leg for one.
16.1 overs (1 Run) Miller gets off strike with a run! Just what Chennai wanted! Full and outside off, this is carved to deep point for one.
15.6 overs (1 Run) Wanted two but got only a run! A good comeback by Maheesh Theekshana! Shorter and on middle, this is pulled towards deep mid-wicket. Ravindra Jadeja fumbles, Miller thinks for the second run but is sent back. Never take any chance with Jadeja's bullet arm.
15.5 overs (1 Run) Just the one! Outside off, Khan slaps it through covers for one.
15.4 overs (0 Run) Right in the blockhole. Quick and straight at 103.7 kph, credit to Rashid for keeping it out safely. A dot now! Dots are gold!
15.3 overs (1 Run) Flatter and on off, Miller pushes it to covers for one. 8 from the first three.
15.2 overs (6 Runs) SIX! BANG! That is a nothing delivery! It is short and on middle, asking to be hit. David Miller rocks back and hammers it over the mid-wicket fence for a biggie.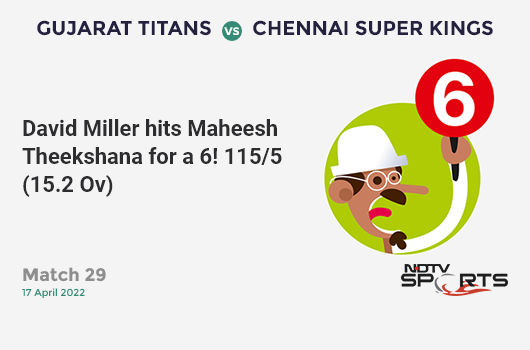 15.1 overs (1 Run) Flatter and shorter but outside off, this is dragged down to long on for one.
Match Reports
Topics mentioned in this article