Story Progress
Back to home
Gujarat Titans vs Chennai Super Kings Live Score Ball by Ball, IPL 2022 Live Cricket Score Of Today's Match on NDTV Sports
Live Updates of Today Match between Gujarat Titans vs Chennai Super Kings from Maharashtra Cricket Association Stadium, Pune. Check commentary and full scoreboard of the match.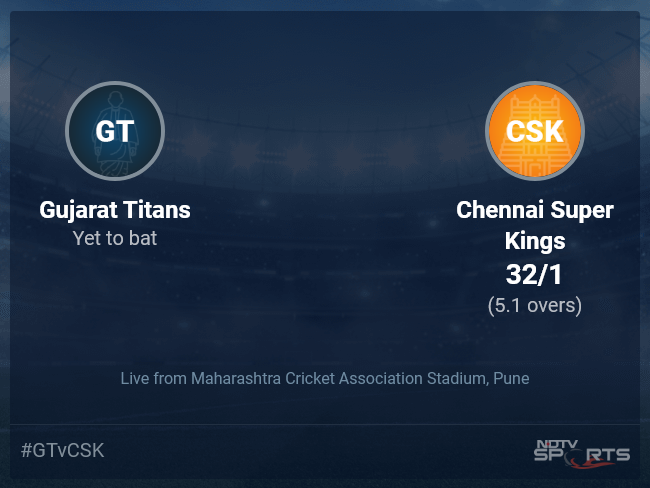 CSK vs GT Latest Score
Follow the Indian Premier League 2022 live cricket score on Sports.NDTV.com. After 5.1 overs, Chennai Super Kings are 32/1. Get live score, ball by ball commentary and much more. Keep track of Indian Premier League 2022 today match between Gujarat Titans and Chennai Super Kings. Everything related to Gujarat Titans and Chennai Super Kings match will be available on Sports.NDTV.com. Stay updated with Gujarat Titans vs Chennai Super Kings live score. Do check for Gujarat Titans vs Chennai Super Kings scorecard. You can get scorecard updates, match related facts. Get quick live updates with ads, Sports.NDTV.com, which is the perfect destination for live cricket score.
4.6 overs (0 Run) Delivers it on off, Ruturaj Gaikwad plays late but still finds the backward point fielder. 4 from the over, Shami is done with three overs - 1/16.
4.5 overs (0 Run) Keeps it on a shortish length around off, Gaikwad stays back and turns it towards mid-wicket.
4.4 overs (0 Run) Around off on a good length, it's punched off the back foot to covers.
4.3 overs (0 Run) Play and a miss! Shami goes short this time, around off at 139.2 kph, Ruturaj Gaikwad turns inside the crease to pull but misses.
4.2 overs (4 Runs) FOUR! Nicely timed! Shami aims for a yorker but ends up bowling a low full toss around leg, Ruturaj Gaikwad flicks it with sweet timing and the ball races away to the deep backward square leg fence.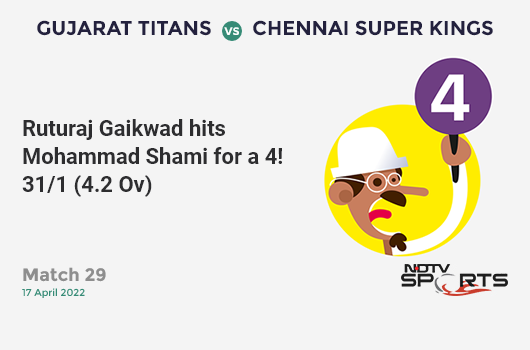 4.1 overs (0 Run) Short in length and outside off, Ruturaj Gaikwad cuts from the back foot but finds backward point.
3.6 overs (1 Run) Back of a length, around leg, Ruturaj Gaikwad glances it behind square leg and picks up a single. 11 from the over!
3.5 overs (4 Runs) FOUR! Slice of luck this time for Ruturaj Gaikwad!​ Yash Dayal attempts to hurry up the batter with a short ball, it's around middle and off. Gaikwad opts for the pull shot but it flies off the top edge and goes behind short fine leg for a boundary.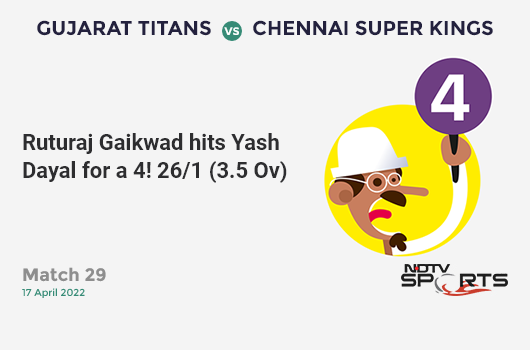 3.4 overs (0 Run) Around off, on a length, defended to covers.
3.3 overs (6 Runs) SIX! That's dismissed! Yash Dayal bowls it a bit short and around leg, Ruturaj Gaikwad dances down the track, picks it off his pads and deposits it over square leg for a biggie. This shot will make him feel better.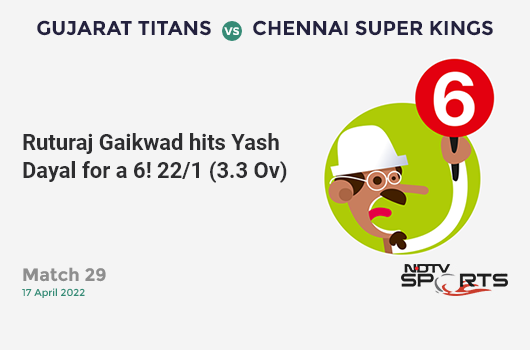 3.2 overs (0 Run) A touch short and outside off, Gaikwad tries to run it down but finds the point fielder again.
3.1 overs (0 Run) Angling away from the batter, Ruturaj Gaikwad plays it down from the back foot to point.
2.6 overs (1 Run) Short in length and outside off, at 137.6 kph, Ruturaj Gaikwad dabs it down to third man and keeps strike.
2.5 overs (2 Runs) Short and wide outside off, Ruturaj Gaikwad slaps it towards backward point where the fielder dives but only takes the pace off the ball. They take a couple of runs.
2.4 overs (4 Runs) EDGY FOUR! Unlucky for the bowler. Shami serves it on a length around off, and gets it to shape back in with extra bounce. Gaikwad is cramped for room, tries to defend by bringing his bat down but it takes the inside edge, beats the stumps and races away to the fine leg fence.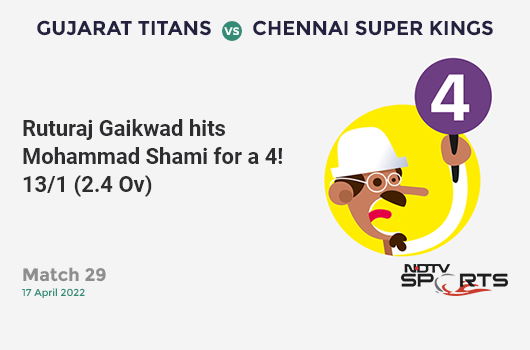 2.4 overs (1 Run) Wide! Shami fails to control his line. Sends a length ball down the leg side, the batter misses his flick and it has been wided.
2.3 overs (1 Run) Angles in a length ball around off, some extra bounce there, Moeen taps it down to mid-wicket and opens his account with a single.
Moeen Ali walks out to bat!
2.2 overs (0 Run) OUT! LBW! Shami strikes. He delivers it on a length and gets it to shape back in from around off. Uthappa attempts to heave it over the leg side but misses. He is struck on the back leg, they appeal but the finger stays down. Shami wants it referred and Rashid obliges. The UltraEdge detects no bat and the Ball Tracking shows that it's hitting the stumps. Great review from Gujarat and they have got rid of the in-form Uthappa.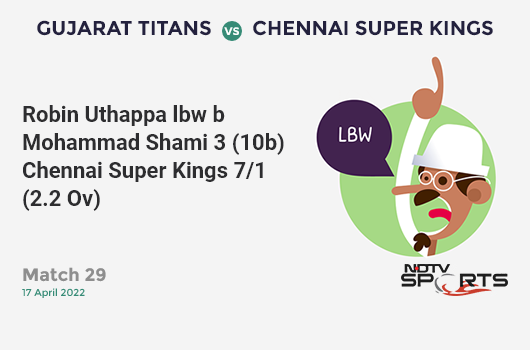 Review time! A huge appeal for an LBW has been turned down. It is reviewed. Looks close.
2.1 overs (0 Run) Swing and a miss! Angling in from a length around off, at 138.1 kph, Robin tries to heave but misses and is hit near the box.
1.6 overs (1 Run) Extra bounce on this occasion. Short and around off, Uthappa fends at it and it goes off his gloves to backward square leg. They cross.
1.6 overs (1 Run) Wide! Yash gets his inswinger going but the line is down the leg side. Robin tries to flick but misses.
1.5 overs (0 Run) Full again, wide outside off, Uthappa pushes at it gently with an angled bat but finds point.
1.4 overs (1 Run) Quick run. Fullish and on off, Gaikwad shows the full face of his bat and bunts it towards mid off.
1.3 overs (1 Run) Fuller and on middle, Robin Uthappa works it to the right side of the mid on fielder and collects a single.
1.2 overs (0 Run) Serves it on a good length and close to off, Robin Uthappa stays back and defends it towards the cover fielder.
1.1 overs (0 Run) Well stopped! Dayal pitches it up and outside off, Uthappa drives it square of the wicket on the off side but fails to beat the diving fielder at point.
Who will bowl from the other end then? Yash Dayal it is.
0.6 over (1 Run) Back of a length, outside off, Uthappa pushes inside the line and guides it down to third man for a run. He is off the mark as well. 3 from the first over!
0.5 over (0 Run) Perfect line and length from Shami. He keeps it on and around off, landing it on a good length and getting it to straighten off the seam, Robin Uthappa is solid in his defense.
0.4 over (0 Run) Full and around off, shaping away a bit, Uthappa defends it watchfully to the off side.
0.4 over (1 Run) Wide! Sliding down the leg side, on a length, Robin fails to flick.
0.3 over (1 Run) Slight width there outside off, Ruturaj Gaikwad plays late and uses the pace of the bowler to run it down to third man. He opens his account with a single.
0.2 over (0 Run) This one is angled in, around off and on a good length at 137.1 kph, Gaikwad defends it from the back foot.
0.1 over (0 Run) Movement straightaway for Shami. He serves it short and outside off, Ruturaj Gaikwad chases but hits it to backward point.
Time to set the ball rolling. The Gujarat players are spreading on the field after the customary huddle. Ruturaj Gaikwad and Robin Uthappa are the Chennai openers and it is going to be Mohammad Shami to begin proceedings with the ball. Here we go...
Stephen Fleming, the head coach of Chennai, comes up for a quick word. The Kiwi says that they are trying to stay calm as the start has not been ideal. Tells that they have worked hard and have a few new faces in the team. Feels that the last win was important which can drive them forward but they still have a lot of work to do. Adds that they certainly have the determination. Admits they have a lot of work still to do as there are teams that are looking better than them but he hopes they can do well from here on. On working with Jadeja, Fleming replies that MS Dhoni is still a big part of the leadership and his job is to provide the information and give freedom to the new captain.
Update - Hyderabad have registered an easy win against Punjab by 7 wickets with more than one over to spare. With four wins in a row, Hyderabad now enter the top four.
Ravindra Jadeja, the captain of Chennai, says that they would have bowled as well but the pitch looks good and they would now look to put a good total on the board and later defend it. Tells that the atmosphere in the team is positive and everyone is happy. Shares that they spent their off time practising and training. Informs that they are unchanged.
Rashid Khan, the stand-in skipper of Gujarat, starts by sharing that Hardik Pandya has a little bit of stiffness and they don't want to take risks with him. Hopes he will be back for their next game. Mentions it is like a dream captaining the side and he will give his 100 per cent. Informs about a couple of changes - Wriddhiman Saha comes in for Matthew Wade and Alzarri Joseph replaces Hardik.
Chennai (Unchanged Playing XI) - Ruturaj Gaikwad, Robin Uthappa, Moeen Ali, Ambati Rayudu, Shivam Dube, Ravindra Jadeja (C), MS Dhoni (WK), Dwayne Bravo, Chris Jordan, Maheesh Theekshana, Mukesh Choudhary.
Gujarat (Playing XI) - Shubman Gill, Wriddhiman Saha (WK) (In for Matthew Wade), Vijay Shankar, Abhinav Manohar, David Miller, Rahul Tewatia, Rashid Khan (C), Mohammad Shami, Lockie Ferguson, Alzarri Joseph (In for Hardik Pandya), Yash Dayal.
Toss - Big breaking! Hardik Pandya is unwell and RASHID KHAN IS LEADING GUJARAT! The Afghan is in the middle along with Ravindra Jadeja. Up goes the coin and it falls in favour of Rashid. GUJARAT ELECT TO FIELD!
Latest - Wriddhiman Saha and Alzarri Joseph are all set to make their debut for Gujarat.
Update from Match 28 - Hyderabad are comfortably placed in their chase against Punjab. They need another 55 runs in 7 overs to secure their 4th win in a row. Can they do it with ease or is there some drama in store? While we wait for the toss here, you can keep shuffling the tabs and follow that match as well.
At the moment, with the result of the ongoing game not out, Gujarat are the table-toppers and would be keen to keep their spot up top with a thumping show against Chennai. Their batting is one area that has shown some vulnerability and the Yellow team will look to exploit the loopholes. The 4-time champions, on the other hand, recently tasted their first success of the season after four flop shows and would like to build on that victory. Unlike their opponents, Chennai's bowling has been an area of worry and could be targeted by the big hitters of Gujarat. This is setting up to be a mouth-watering clash.
Welcome, folks! The first game of Super Sunday is still going on but it's time for us to shift our attention to the second match, coming up this evening in Pune. Hardik's Gujarat versus Jadeja's Chennai - that's the contest. Two of the best all-rounders in the country will be crossing swords, both new in their role as the captain of the ship, but one has taken it like a duck to water while the other is learning it the hard way. Individually, both Jadeja and Pandya can do wonders with both bat and ball, but let's see how they lead their troops this evening. Stay tuned for more...
Topics mentioned in this article