Story Progress
Back to home
Delhi Capitals vs Sunrisers Hyderabad Live Score Ball by Ball, IPL 2022 Live Cricket Score Of Today's Match on NDTV Sports
Live Updates of Today Match between Delhi Capitals vs Sunrisers Hyderabad from Brabourne Stadium, Mumbai. Check commentary and full scoreboard of the match.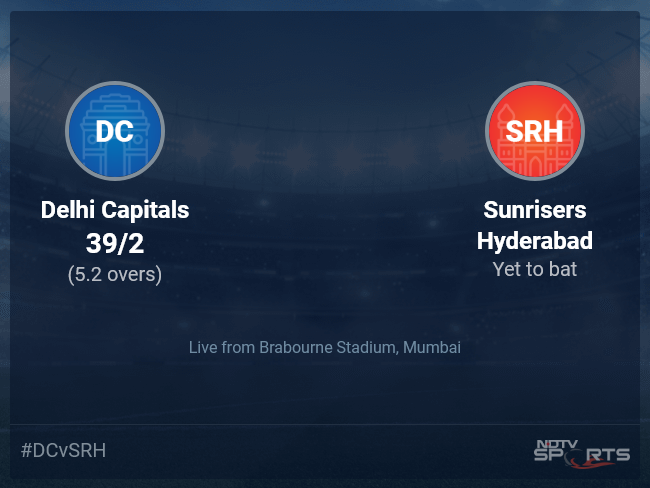 SRH vs DC Latest Score
Follow the Indian Premier League 2022 live cricket score on Sports.NDTV.com. After 5.2 overs, Delhi Capitals are 39/2. Get live score, ball by ball commentary and much more. Keep track of Indian Premier League 2022 today match between Delhi Capitals and Sunrisers Hyderabad. Everything related to Delhi Capitals and Sunrisers Hyderabad match will be available on Sports.NDTV.com. Stay updated with Delhi Capitals vs Sunrisers Hyderabad live score. Do check for Delhi Capitals vs Sunrisers Hyderabad scorecard. You can get scorecard updates, match related facts. Get quick live updates with ads, Sports.NDTV.com, which is the perfect destination for live cricket score.
4.6 overs (0 Run) No run.
4.5 overs (0 Run) Back of a length and on off, defended.
4.4 overs (0 Run) Fuller now and on middle, Warner pushes it to mid on.
4.4 overs (1 Run) WIDE! Had he got some bat on that one, would have been a boundary! Down the leg side, Warner looks to flick but misses. Pooran stops it well.
4.3 overs (1 Run) That was a big chance of a run out! A yes-no situation but no harm done in the end! Length and on off, Pant pushes it towards cover, he takes off initially but then sees the cover fielder run to his left and dive, sends Warner back who is halfway down the wicket. The cover fielder though does not collect it and Williamson at mid off picks it up and has a shy but misses. No backing up so the single is eventually taken.
Rishabh Pant, the skipper of Delhi, walks out to bat at number 4.
4.2 overs (0 Run) OUT! TAKEN! That is an outstanding delivery. The ball though seemed like it held in the surface! On a length and around middle, this one holds in the surface a touch as it was the slower one. Marsh does not pick it, he looks to go hard after it, however, the ball goes off the splice and it ends up being an easy catch for the bowler who leaps and takes it. Much-needed wicket as these two were really starting to look good. Marsh just has not got going in this tournament so far.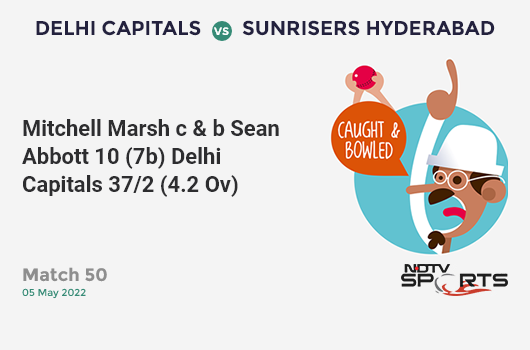 4.1 overs (4 Runs) FOUR! Shot! That is a very difficult shot to play and Marsh has played it with ease! Shorter and on off, Marsh stands tall, gets on top of the bounce and creams it through covers. This one races away to the fence.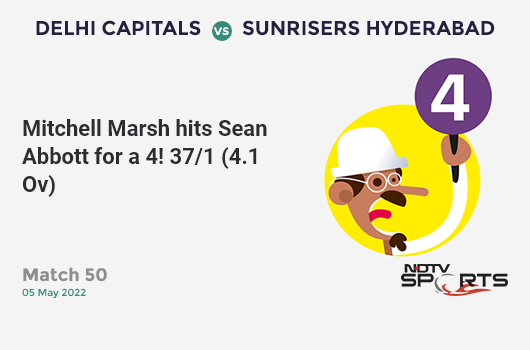 Change of ends for Sean Abbott!
3.6 overs (6 Runs) SIX! Over the fence! Malik is just not learning here. End of a very big over and just the kind of one Delhi needed. Malik goes short again, Warner is waiting for it, he pulls it hard and over the fine leg fence for a biggie. It was flat buut carries all the way.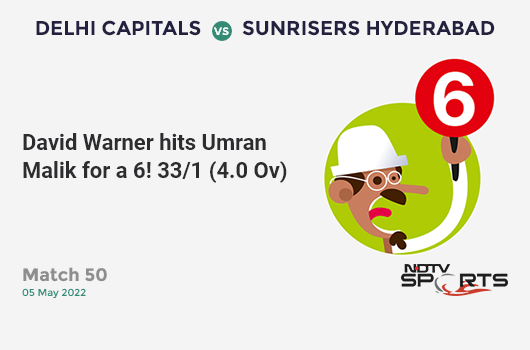 3.5 overs (0 Run) Gets it right this time, on a length and around middle, at 154 KPH. Defended.
3.4 overs (4 Runs) FOUR! Timed wonderfully! Not the best of starts for Umran Malik! This is on a length and around off, Warner shows the full face of the bat and times it through covers, this one races away.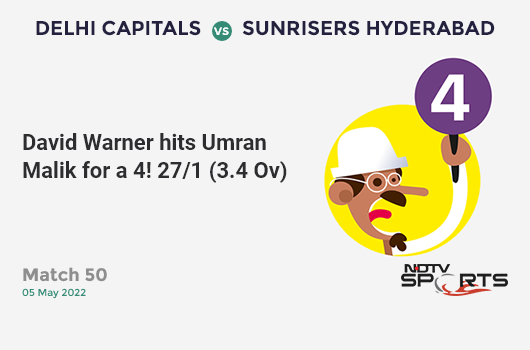 3.3 overs (4 Runs) FOUR! Warner will have no problems with the short ones. For someone who comes from a place where the pitches tend to have good bounce and pace, this won't trouble him. This is short and on the body, Warner pulls it through square leg for a boundary.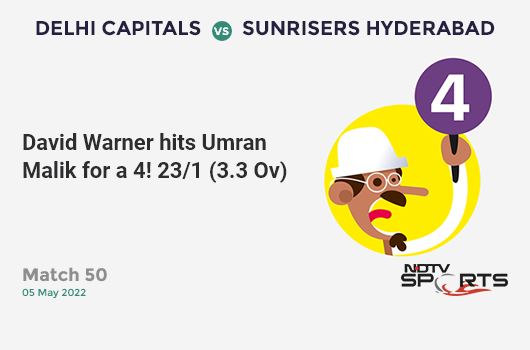 3.2 overs (1 Run) That has gone off the toe-end! Marsh swung way too early! He was waiting for the short ball and it came, seems to have come a little slow off the surface. Marsh looks to pull but it goes off the toe-end through covers for one.
3.1 overs (1 Run) Shorter and on the body, this is pulled through square leg for one.
3.1 overs (5 Runs) FIVE WIDES! Not the best of starts by Malik! Not seen him bowl with the new ball a lot so this is a new challenge for him! He begins with one down the leg side, swings away further. Pooran should have taken it but it sneaks under his glove and down to the fine leg fence.
Umran Malik comes into the attack.
2.6 overs (1 Run) Not a maiden as a single is taken on the last ball! Outside off, this is guided through point for one.
2.5 overs (0 Run) Can this now be two maidens in a row for Kumar? He goes fuller and on middle, this is pushed to mid on.
2.4 overs (0 Run) Another leave! Outside off, Warner watches the ball closely and leaves it alone.
2.3 overs (0 Run) Brilliant stuff! He is moving the ball both the ways and causing a lot of problems! The line though is a little too straight, Warner misses the flick and gets hit on the pads.
2.2 overs (0 Run) BEATEN! That is another beauty! Gets it to shape away from a length and after landing it on off. Warner looks to push at it but is beaten.
2.1 overs (0 Run) Warner was watchful there! This is an away swinger, outside off, Warner lets it go to the keeper.
1.6 overs (0 Run) A dot to end but an expensive start by Abbott! Angled into the pads, Marsh looks to flick but misses to get hit high on the pads. There is an appeal from the bowler but it is a rather optimistic one as it is clearly going down leg.
1.5 overs (1 Run) A little too straight, gets away with it, Warner only manages to work it towards fine leg for one.
1.4 overs (1 Run) Fuller this time and on middle, Marsh pushes it towards mid off for one.
1.3 overs (4 Runs) FOUR! That is smacked away! Trademark Marsh! This is slightly short, he just picks the length early on such deliveries, hammers it through square leg for a boundary.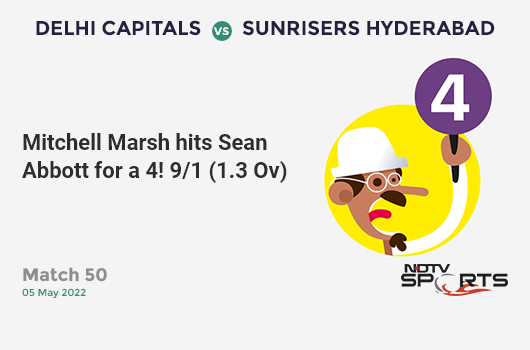 1.2 overs (1 Run) Now follows it with a run as he pushes this fuller one towards mid off.
1.1 overs (4 Runs) FOUR! Almost another wicket! That is a really good attempt in the cover region. This is wide outside off, fuller, Warner looks to hit it on the up, it goes uppishly but just wide of the diving cover fielder and into the fence. Off the mark with a boundary are Delhi and Warner.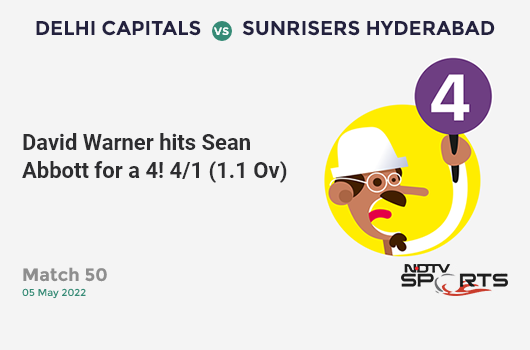 Sean Abbott will bowl from the other end.
0.6 over (0 Run) End of a brilliant first over by Kumar. A wicket maiden! On off, this is defended.
Mitchell Marsh walks out to bat at number 3.
0.5 over (0 Run) OUT! EDGED AND TAKEN! There is the early wicket Hyderabad wanted. Mandeep Singh had no clue about which way the ball was moving, he was struggling on the previous deliveries and finally falls. Not a good return back into the team for him. This is now the away swinger, shapes away after landing on off. Singh lunges out to defend but it goes off the outside edge and it is taken by the keeper, Nicholas Pooran safely.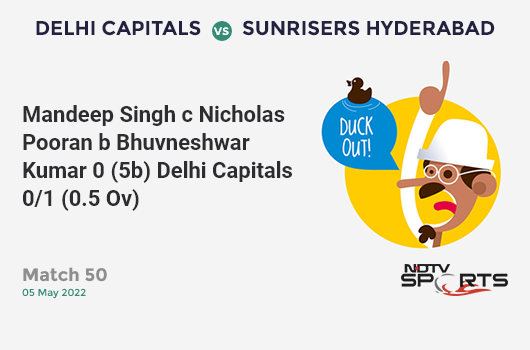 0.4 over (0 Run) Good swing again but this is a little too down the leg side. This one tails back in from middle, hits the pad of Mandeep as he tries to flick.
0.3 over (0 Run) Really good bowling! Got the last two to go away, this time gets it back in from outside off. Singh looks to flick but is late on the shot. Misses to get hit high on the pads.
0.2 over (0 Run) Yet again not the right line, well outside off, shaping away. Left alone.
0.1 over (0 Run) Nice away swing for Kumar to begin with! Length and around off, this shapes away. Easy leave.
We are ready for action! The players are out in the middle. David Warner and Mandeep Singh will open the batting for Delhi. Bhuvneshwar Kumar will begin the proceedings with the ball. Here we go...
Mitchell Marsh is down for a chat. He says that it was good to get a few off the middle in the last game but getting a win will be important. Mentions that they have a great team but it's just about clicking as a team and they have had close games, also it will be good if one of our top-four go big. Mentions that he has loved batting at number 3 and Ricky Ponting and Shane Watson's support have been helpful. Informs that bowling is coming along well, and if Rishabh is listening to this, he is ready to go!
Rishabh Pant, the skipper of Delhi, says that they have no problem with batting first. Informs that they have made four changes in their team. Tells that some changes are forced as Axar got injured and few changes are tactical changes because of the wicket. Mentions that they can learn from their mistakes and keep improving.
Kane Williamson, the skipper of Hyderabad, says that he will bowl first, maybe the dew will play a factor and they are looking forward to chase. Mentions that their losses in the previous games have been different, but still a few positives. Informs that they have three changes, three debutants will play tonight, and Marco Jansen, T Natarajan and Sundar are the players who will miss out. Adds that the new players are excited and pumped for today's game. Concludes by saying that they need to keep moving forward and execute their plans.
Delhi (Playing XI) - Mandeep Singh (In place of Prithvi Shaw), David Warner, Mitchell Marsh, Rishabh Pant (C) (WK), Rovman Powell, Lalit Yadav, Ripal Patel (In place of Axar Patel), Shardul Thakur, Kuldeep Yadav, Khaleel Ahmed (In place of Chetan Sakariya), Anrich Nortje (In place of Mustafizur Rahman).
Hyderabad (Playing XI) - Abhishek Sharma, Aiden Markram, Kane Williamson (C), Rahul Tripathi, Nicholas Pooran (WK), Shashank Singh, Sean Abbott (In place of Marco Jansen), Shreyas Gopal (In place of Washington Sundar), Bhuvneshwar Kumar, Kartik Tyagi (In place of T Natarajan), Umran Malik.
TOSS - The coin goes up and lands in favour of Hyderabad. They have elected to BOWL first.
Kevin Pietersen is down near the pitch. He says that the outfield is like a carpet here, one side is short while the other side is long. Adds that Kuldeep Yadav has had some success here, and he has bowled slower on this wicket. Tells that batters will enjoy on this pitch. Further adds that there are chances of dew which means the captain winning the toss will bowl first.
Sean Abbott, Shreyas Gopal and Kartik Tyagi are seen getting their caps in the Hyderabad huddle. So expect at least three changes in the Hyderabad XI.
UPDATE - Prithvi Shaw has not made it to the ground due to some illness and he will miss the game tonight. Who will open alongside David Warner?
David Warner is up against his former team, the team that he has captained to the title win in 2016. He surely knows a lot about this Hyderabad team and its management and it was quite a bitter end to his stay in the Hyderabad camp last year. Will all those things bring any impact on Warner's performance and the overall result of this game? Warner will surely be eager to go out there in the field and make a statement. Let's see how things pan out. Toss and team sheets coming up.
Games are moving along quickly as we welcome you to the coverage of the 50th game of this year's Indian T20 League and it is a clash between two sides in desperate need of a win, Hyderabad and Delhi. The former began brilliantly but now are on a losing run. Delhi on the other hand, have lacked consistency so far in this tournament. Both enter this game on the back of a defeat and will be eager to get to winning ways. Who will do so?
Topics mentioned in this article