Story Progress
Back to home
Delhi Capitals vs Mumbai Indians: IPL 2022 Live Cricket Score, Live Score Of Today's Match on NDTV Sports
Live Updates of Today Match between Delhi Capitals vs Mumbai Indians from Brabourne Stadium, Mumbai. Check commentary and full scoreboard of the match.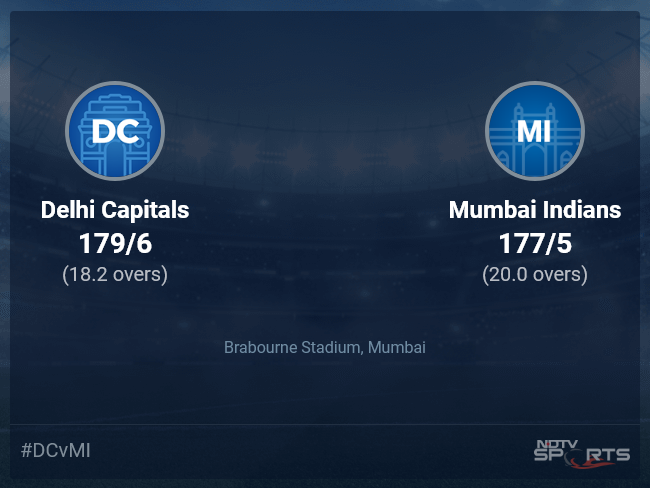 DC vs MI Latest Score
A dedicated team of experts bring you live score, live cricket score, live match update on Sports.NDTV.com. After 18.2 overs, Delhi Capitals, chasing a target of 178, are 179/6. The live updates of Delhi Capitals vs Mumbai Indians scorecard is also available. It is the perfect platform to follow your favourite teams in Indian Premier League 2022. Keep a track on your favourite batsmen and bowlers through Indian Premier League 2022 today match, ball by ball commentary, Delhi Capitals vs Mumbai Indians, Delhi Capitals vs Mumbai Indians live score, Delhi Capitals vs Mumbai Indians scorecard. Follow the excitement of the Indian Premier League 2022 on Sports.NDTV.com as you can follow live match updates and live cricket score through our platform.
That is all we have from this game. The second game of the double-header between Punjab and Bangalore is underway so you can switch the tabs and join us there. From here, it is goodbye!
Kuldeep Yadav is adjudged as the Player of the Match.
Delhi were three down inside the Powerplay but it was their deep batting that helped them. Once, Rovman Powell fell it looked like they will come second best here but the cameo from Shardul Thakur and the 75-run partnership between Lalit Yadav and Axar Patel proved to be the winning stand and they won the game with 10 balls to spare. Yadav was going run-a-ball at one time but he played an anchor role throughout and then launched big when it mattered. A superb win for Delhi and they are off to a fantastic start.
Mumbai didn't have the best of starts as both the openers had a go against them but Murugan Ashwin took two wickets and Tymal Mills got one to help them close the Powerplay on a high. Basil Thampi got two wickets and all of a sudden it was looking like a good win for Mumbai but they failed to take the wickets in the backend. Mumbai were hurt with Bumrah's spell mostly. He mostly finds a way to get a wicket and be economical but it was not the case this time around. He went for 43 runs while Daniel Sams did not have a debut to remember as he gave away more than 50 runs in his spell.
Delhi bat deep, really deep and their fire-power was shown here. Delhi are off to this new campaign with a hard-fought win, all thanks to Axar Patel and Lalit Yadav. It always looked like Mumbai were 15-20 runs short and it turned out the same as well. Mumbai fail to win their opening game since 2012, some streak...
18.2 overs (4 Runs) FOUR! That's it, Axar Patel finishes off things in style and what a partnership this has been between him and Lalit Yadav. Full and on the pads, flicked away past the short fine leg fielder for a boundary. DELHI WIN BY 4 WICKETS!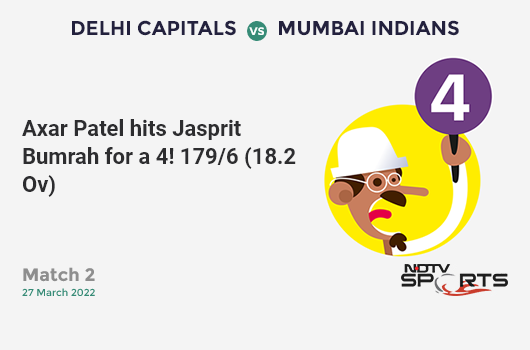 18.1 overs (1 Run) Bumrah nails the yorker on middle. Yadav manages to squeeze it past leg stump for a single.
17.6 overs (6 Runs) SIX! Daniel Sams will be hiding for cover after that bowling display! A low full toss, on middle and leg. Axar Patel waits for it and slogs ity over the square leg fence for a maximum. Delhi are a hit away now from a famous victory.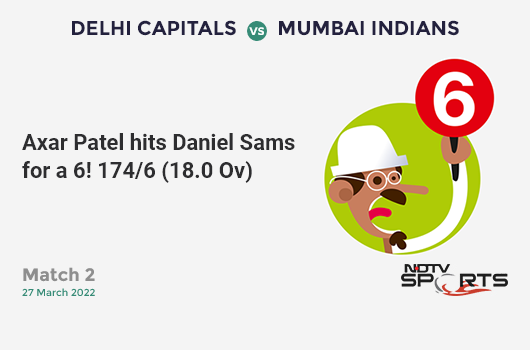 17.5 overs (1 Run) Seam up this time from Sams and on the pads. This is tucked away leg side for a single.
17.4 overs (4 Runs) FOUR! This might be the defining blow from Lalit Yadav and what an innings it has been from him! Full and wide, creamed through extra cover for a boundary. 11 needed now off 14 balls.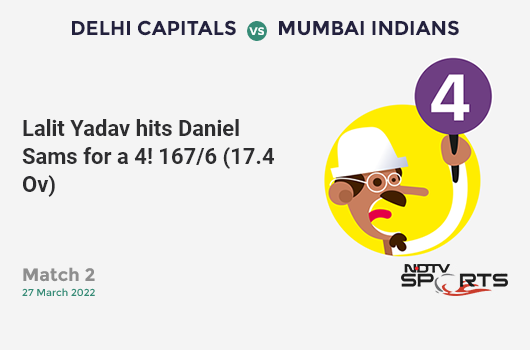 17.3 overs (6 Runs) SIX! Mistimed for a maximum by Lalit Yadav and Delhi might have just done the unthinkable here. Another slower ball, in the slot. Yadav goes through with the big shot and it comes off the toe end, still manages to clear the wide long on fence with ease.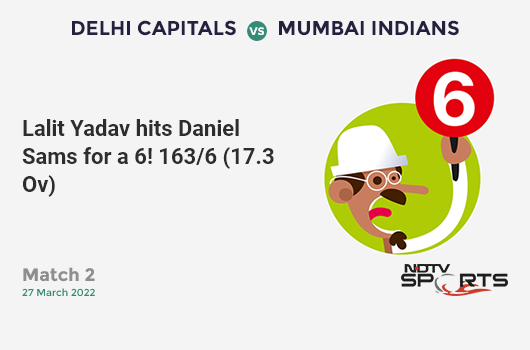 17.2 overs (1 Run) Full and straight, pushed down to long on for a single.
17.1 overs (6 Runs) SIX! Axar Patel is making up with the bat for his below-par bowling display! Sams starts off with a slower short ball, going down leg. Patel waits for it and pulls it a long way over the backward square leg fence for a huge hit. 22 needed now off 17 balls.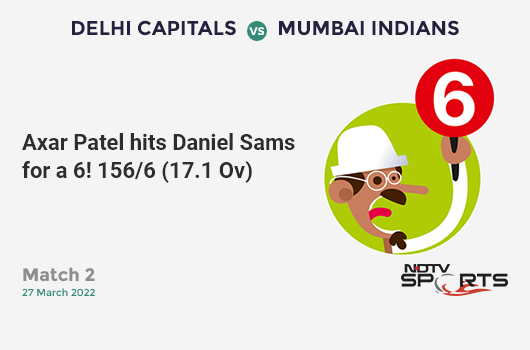 Daniel Sams is back into the attack.
16.6 overs (4 Runs) FOUR LEG BYES! Just it has been in the last 6-7overs, Delhi get a boundary off the final delivery of the over. Full and on the pads, Yadav misses the flick and the ball goes off the pads, past a diving Ishan Kishan and runs away into the fine leg fence. 28 needed now off 18 balls.
16.6 overs (1 Run) WIDE! This is poor bowling from Thampi and he seems under pressure now. Full and well down leg. Wided.
16.5 overs (1 Run) Gets away with that one does Thampi. A full toss, on leg stump. Patel gets low and slogs it straight towards the man at the mid-wicket fence. Single taken.
16.4 overs (4 Runs) FOUR! Thampi comes 'round the wicket and serves a length ball on off stump. Axar Patel hangs deep and creams it right back over the bowler's head for a boundary. 34 needed now off 20 balls.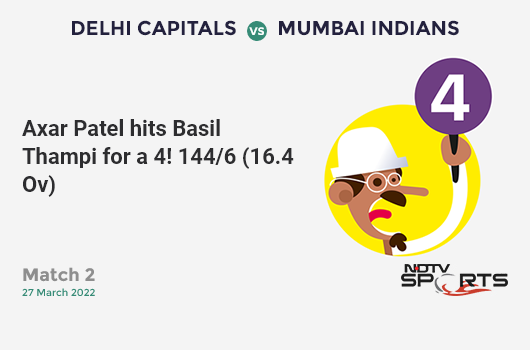 16.3 overs (1 Run) Gets the yorker perfect this time does Basil Thampi, right on leg stump and cramping the batter. Lalit Yadav jams it out towards long on for a single.
16.3 overs (1 Run) WIDE! Thampi goes searching for the toe-crushing yorker but spills it down leg. Wide called.
16.2 overs (0 Run) Excellent from Thampi. Full and at the toes, Yadav fails to flick it away and gets hit on the pads.
16.1 overs (1 Run) DROPPED! Could this be the match dropped for Mumbai? A full toss, on middle. Axar Patel steps out and flat-bats it hard towards Tim David at long on. Davis comes in quickly and the ball just pops in and out of his palms. The batters get a single as well.
Basil Thampi (3-0-26-3) comes back in to finish his spell.
15.6 overs (1 Run) Full and on the pads, flicked away to fine leg for a single. 41 needed off 24 balls.
15.5 overs (2 Runs) Excellent bowling but even better running. Bumrah sees Patel advancing and fires it in at the toes. Patel manages to squeeze it into the gap around mid-wicket and races back for the second.
15.4 overs (1 Run) Bumrah goes full and on off, Yadav drills it down to long off for a single.
15.3 overs (4 Runs) FOUR! Lalit Yadav getting his groove on now. A length ball, not much wide of the off stump. Yadav watches it all the way and guides it behind point for another boundary. 45 needed now off 27 balls.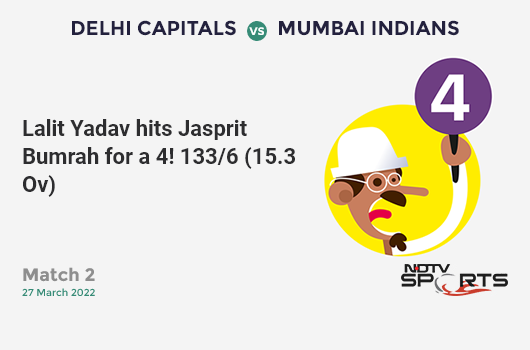 15.2 overs (1 Run) Slower one, around the hips. This is tucked away on the leg side for a single.
15.1 overs (6 Runs) SIX! Jasprit Bumrah is having a torrid time out there and Axar Patel makes it even worse for him. Right in the slot, around off. Patel hangs deep and hits through the line, dispatching it over the long on fence.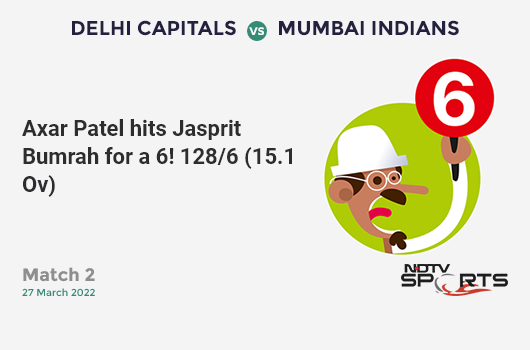 Match Reports
Topics mentioned in this article