Story Progress
Back to home
Delhi Capitals vs Kolkata Knight Riders: IPL 2022 Live Cricket Score, Live Score Of Today's Match on NDTV Sports
Live Updates of Today Match between Delhi Capitals vs Kolkata Knight Riders from Wankhede Stadium, Mumbai. Check commentary and full scoreboard of the match.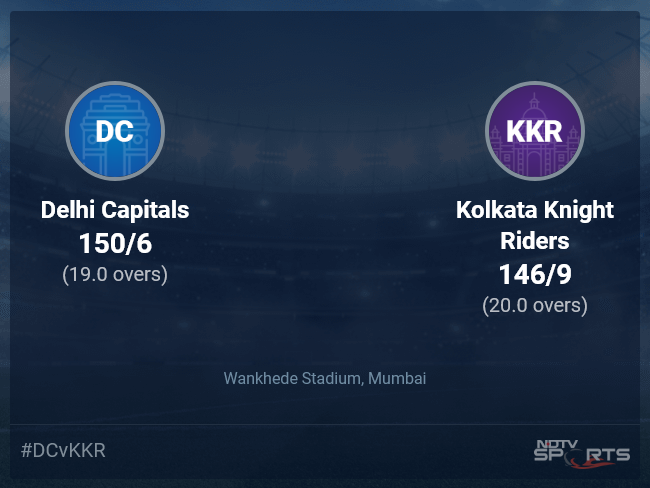 DC vs KKR Latest Score
A dedicated team of experts bring you live score, live cricket score, live match update on Sports.NDTV.com. After 19.0 overs, Delhi Capitals, chasing a target of 147, are 150/6. The live updates of Delhi Capitals vs Kolkata Knight Riders scorecard is also available. It is the perfect platform to follow your favourite teams in Indian Premier League 2022. Keep a track on your favourite batsmen and bowlers through Indian Premier League 2022 today match, ball by ball commentary, Delhi Capitals vs Kolkata Knight Riders, Delhi Capitals vs Kolkata Knight Riders live score, Delhi Capitals vs Kolkata Knight Riders scorecard. Follow the excitement of the Indian Premier League 2022 on Sports.NDTV.com as you can follow live match updates and live cricket score through our platform.
That concludes the proceedings for this match. On Friday, Punjab will be facing Lucknow at 7.30 pm IST (2 pm GMT). You can join us in advance for the build-up. Until then, it's goodbye and cheers!
Kuldeep Yadav (3-0-14-4) is the Player of the Match! Smiles and says that he has become very strong mentally. Adds that when you fail in life, you get to know where you went wrong. Mentions that he is no longer scared of failure. Picks the wicket of Andre Russell as his favourite, as he set him up. Feels that this is his best season in the Indian T20 League and he has backed his skill. Tells that his focus has been to keep it in the right areas. Calls Yuzvendra Chahal his big brother and tells us that there is no competition with him.
Rishabh Pant, the captain of Delhi, starts by saying that it got close but they knew if they take it deep, they will cross the line. Tells that it's good to have Marsh back and once Khaleel will be back from his injury, they will be at full strength. On Rovman Powell, Pant replies that he has been given the role of a finisher and he has been doing really well. Further says that they don't want to think too much about the points table at the moment. Wants his players to be clearer with their plans and show a bit more energy on the field. Regarding Kuldeep not bowling his full quota, Pant says that he was not given the fourth over as the ball got really wet.
Rovman Powell (33* off 16 balls) comes up for a quick chat. The West Indian starts by sharing that the plan was to finish the game in the 19th over as it was bowled by a part-timer and that was the talk with Shardul Thakur. Shares that it was a good wicket and it was not spinning much. Mentions that he just trusted his skills. States that at the halfway stage, they knew if they don't lose early wickets, they will keep the momentum. Powell also says that he is in good form and he keeps trusting himself. States that a lot of bases have been covered and they are putting together a very competitive team on the park.
Shreyas Iyer, the captain of Kolkata, says that they started very slow and then lost a couple of wickets. Mentions the wicket was holding up a bit and they fell short by a few runs. Adds that there are no excuses and they have to go back and assess where they are going wrong. Tells there is a lot of chopping and changing happening and they are unable to find the right combination. Mentions that they need to stick with what they got and play some fearless cricket. Further says that they need to play their heart out in the remaining games. Praises Umesh Yadav for his bowling and he is pleased with his performance this season.
Not just with the bat, Delhi made a near mess with the ball too. Chetan Sakariya and Kuldeep Yadav didn't finish their respective quotas and the part-timer Lalit Yadav was given an over at the death. That nearly cost them as he went for 17 runs and handed the momentum to Kolkata at the backend. Had the chase not gone in Delhi's favour, this would have been a big talking point. It still will be in the team meeting. Stay tuned for the presentation...
Credit should go to Kolkata for fighting till the very end. The quick knock of Axar Patel hurt them after they made a comeback. The lack of a proper fifth bowler also proved costly. When the chase got close, Andre Russell and Venkatesh Iyer gifted easy runs and Delhi eventually got out of jail.
It was a perfect start for Kolkata with the ball as they picked up two quick wickets. The presence of David Warner and his 65-run alliance with Lalit Yadav though wrestled the momentum back in Delhi's favour. After this partnership, it was a straightforward chase for them with the required rate around 6. Just when it appeared that they will cruise to the target, their chase nosedived. David Warner's wicket led to a collapse and they slipped from 82/2 to 84/5 in no time.
Victory in the end for Delhi but they had to sweat hard to achieve the target. Almost made a mountain out of a molehill. Rovman Powell once again showed his value in this team and for a change, this time around, he helped Delhi in crossing the line. This is now Kolkata's fifth straight loss and they are staring down the barrel.
18.6 overs (6 Runs) SIX! Rovman Powell hits the winning runs. Tossed up, full and on leg. Powell clears his front leg and powers it well over long on for a maximum. Delhi win by 4 wickets.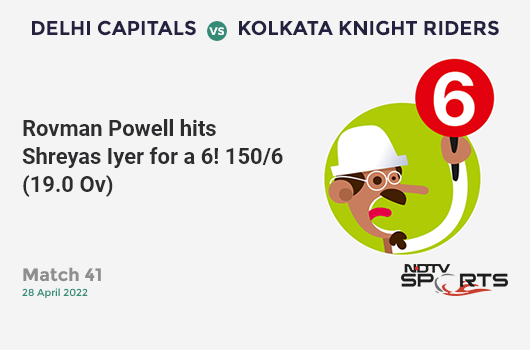 18.5 overs (1 Run) A single taken as Thakur chops this length ball to deep point.
18.4 overs (0 Run) Make it four! Floated and on off, Thakur wrists it to mid-wicket.
18.3 overs (0 Run) Flatter and outside off. Thakur looks to drive but gets an outside edge to point. Three dots in a row!
18.2 overs (0 Run) Quicker, fuller and on middle. Shardul tucks it to mid-wicket.
18.1 overs (0 Run) Shreyas Iyer has introduced himself into the attack. Serves a tossed-up delivery, around off. Thakur drives it to covers. Good fielding there.
17.6 overs (1 Run) On middle, it is hit to deep square leg for a single. 4 runs are needed now.
17.5 overs (1 Run) Angling on the pads, flicked to square leg for one more.
17.5 overs (1 Run) Wide! Length ball, spilled down the leg side. Powell misses his glance. Delhi are one big hit away now.
17.4 overs (6 Runs) SIX! Rovman Powell is in a hurry! Short of a length and on off. Powell muscles it over square leg for a maximum. 7 needed now. Can he finish the game in this over itself?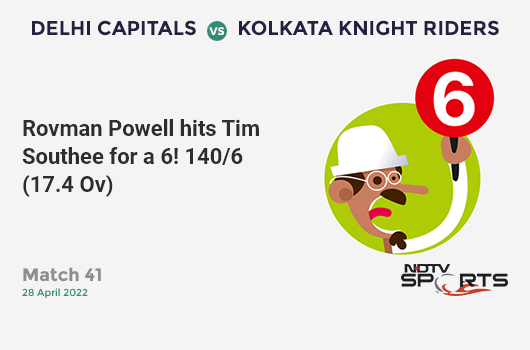 17.3 overs (1 Run) On a length and on middle. Thakur works it to deep square leg for a single.
17.2 overs (0 Run) On a length, outside off, this one skids through. Thakur goes for a full-blooded pull but misses.
17.1 overs (2 Runs) Length ball, outside off. Thakur pushes it wide of deep cover and comes back for the second run quite easily.
Tim Southee (3-0-19-0) to bowl his last.
16.6 overs (1 Run) Fuller and on leg, it is pushed to long on for a single. 14 runs coming off the over. 16 needed now.
16.5 overs (1 Run) On the pads, it is flicked behind square on the leg side for a single.
16.4 overs (4 Runs) FOUR! Edgy! Short of a length and on middle and leg, Powell goes for the pull shot and it flies off the top edge. Beats short fine leg and finds the fence.
16.3 overs (1 Run) In the air but falls safely! A full toss angling down the leg side. Thakur closes the face of the bat too early and gets a top edge. The ball goes in the air and falls in the vacant mid-wicket region safely. They cross.
16.2 overs (1 Run) Full again, wide outside off. Powell reaches out and lofts it over covers for a single.
16.1 overs (6 Runs) SIX! Clears the fielder! Fuller ball, on middle. Powell hits it through the line and all the way over long on for a biggie.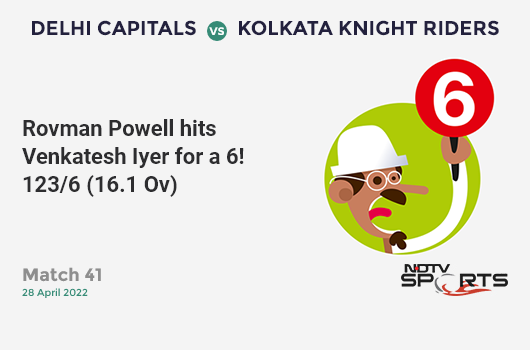 Venkatesh Iyer to bowl the 17th over.
15.6 overs (0 Run) Straight on the stumps. Thakur defends it out solidly. 30 needed in 24 balls.
15.5 overs (1 Run) Touch short, outside off. Rovman stays back in his crease and knocks it to sweeper cover for a single.
15.4 overs (2 Runs) Tossed up, on off. Powell sweeps it to deep backward square leg for a brace.
15.3 overs (0 Run) This one spins back in, slower and around off. Powell hangs back to defend.
15.2 overs (1 Run) Flatter and outside off. Punched through covers for a single.
15.1 overs (0 Run) Tossed up, on off. Blocked out.
Match Reports
Topics mentioned in this article