Story Progress
Back to home
Chennai Super Kings vs Punjab Kings: IPL 2022 Live Cricket Score, Live Score Of Today's Match on NDTV Sports
Live Updates of Today Match between Chennai Super Kings vs Punjab Kings from Brabourne Stadium, Mumbai. Check commentary and full scoreboard of the match.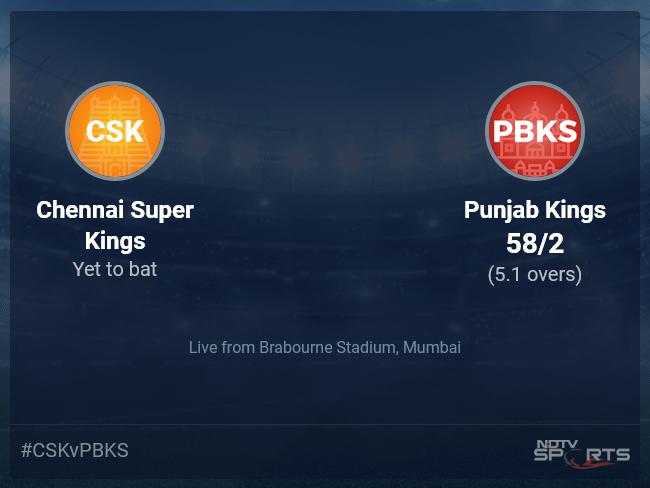 CSK vs PBKS Latest Score
A dedicated team of experts bring you live score, live cricket score, live match update on Sports.NDTV.com. After 5.1 overs, Punjab Kings are 58/2. The live updates of Chennai Super Kings vs Punjab Kings scorecard is also available. It is the perfect platform to follow your favourite teams in Indian Premier League 2022. Keep a track on your favourite batsmen and bowlers through Indian Premier League 2022 today match, ball by ball commentary, Chennai Super Kings vs Punjab Kings, Chennai Super Kings vs Punjab Kings live score, Chennai Super Kings vs Punjab Kings scorecard. Follow the excitement of the Indian Premier League 2022 on Sports.NDTV.com as you can follow live match updates and live cricket score through our platform.
4.6 overs (6 Runs) Six!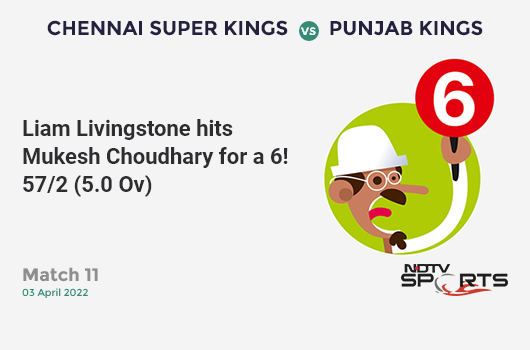 4.5 overs (4 Runs) FOUR! A bit lucky this time but make it 20 runs off the over with a ball still to go. A wide yorker, Livingstone opens the face of the bat to make sure the edge flies over short third man and goes into the fence. 50 is up for Punjab as well.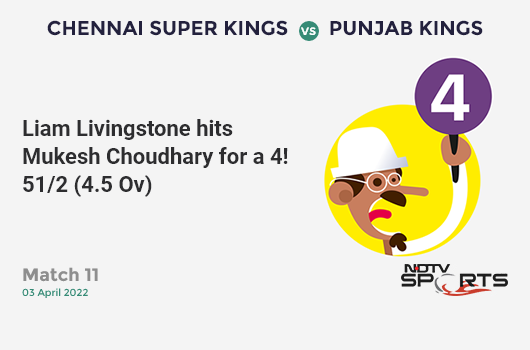 4.4 overs (4 Runs) FOUR! Liam Livingstone is punishing Mukesh Choudhary now. Full and wide again, Livingstone lifts it over extra cover and collects yet another boundary.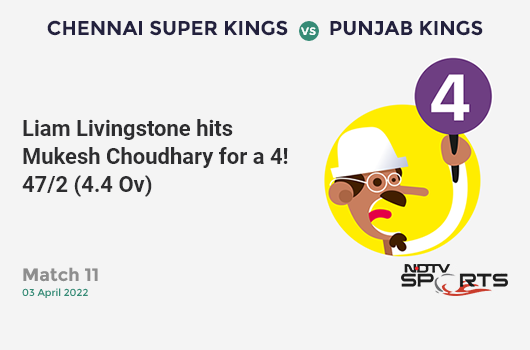 4.4 overs (1 Run) WIDE! Full and wide again, a bit too wide though.
4.4 overs (1 Run) WIDE! Choudhary sees Livingstone advancing and pushes it full and wide, close to the tramline. Wide called.
4.3 overs (4 Runs) FOUR! Brute power! Full and straight, Livingstone makes room leg side and drills it over the head of the man at mid off for a boundary. He seems in the mood tonight.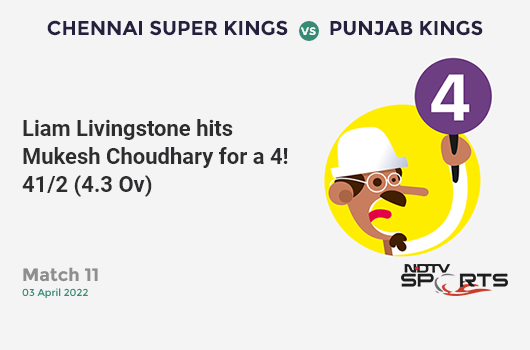 4.2 overs (0 Run) Good comeback from Choudhary. It's the off-cutter this time, going across the right-hander. Livingstone looks to run it fine but misses.
4.1 overs (6 Runs) SIX! Monster hit from Liam Livingstone and he has put everything in this shot! A length ball, around off. Livingstone drags it high and long over the mid-wicket fence for a biggie and the ball travels a massive 108 meters.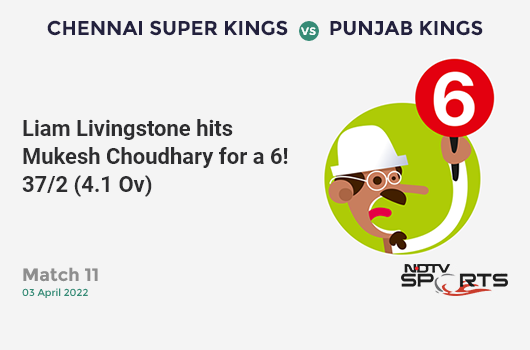 3.6 overs (0 Run) A bit fuller and closer to the off pole, pushed towards short cover.
3.5 overs (0 Run) On a good length this time and Dhawan can't get it past the fielder at point again.
3.4 overs (0 Run) A length ball, slanting across off stump. Dhawan plays it towards the point region.
3.3 overs (2 Runs) This is pushed wider, Shikhar Dhawan steps out and hammers it towards cover-point where Dwayne Bravo does extremely well to get a hand on it. The batters get a couple of runs and Bravo seems to be in some pain. It was hit really hard to be honest.
3.2 overs (1 Run) Angling into middle and leg, flicked away to square leg for one more.
3.1 overs (1 Run) Back of a length, around off. Dhawan hangs back and dabs it down towards backward point for a single.
2.6 overs (4 Runs) FOUR! Crunched! Choudhary bangs it in short and Liam Livingstone just walks toward him. Livingstone then absolutely slaps the ball over extra cover and hits the advertising cushion on the full. Well, the ball just bounced before hitting the cushion and it is given as a boundary.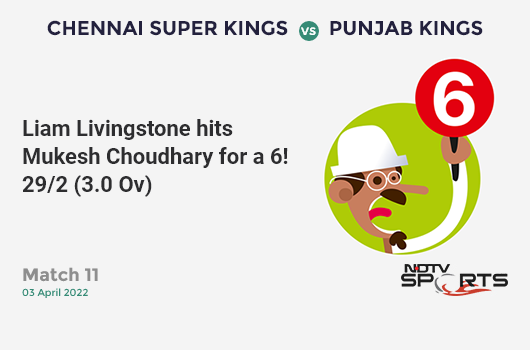 2.5 overs (0 Run) A length ball, around off. This is pushed towards extra cover.
2.4 overs (6 Runs) Flat-batted for SIX! Banged in short, around leg stump. Livingstone pulls it over the fine leg fence for a maximum with ease.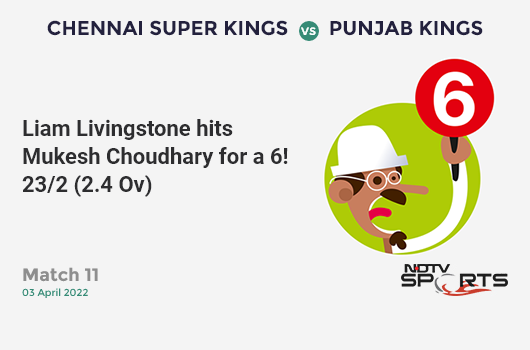 2.3 overs (0 Run) Good-length, on off. Livingstone hangs back and dabs it back onto the deck.
2.2 overs (0 Run) Livingstone will feel he missed out there. A half-volley outside off and this is driven on the up but straight to the man at cover.
2.1 overs (0 Run) Full and wide, angled across the right-hander. Livingstone leaves it alone.
1.6 overs (0 Run) The batters think about the quick single but decide against it. On the pads, tucked away towards square leg.
1.5 overs (0 Run) Around the top of off, Dhawan stands tall and taps it towards cover.
1.4 overs (3 Runs) Brilliant effort in the deep from Dwaine Pretorius and he saves a boundary. On the pads, picked up by Livingstone and hit aerially towards the long backward square leg fence. Pretorius runs around from the fine leg fence and just about pushes it back in. The batters get three runs.
1.3 overs (0 Run) A length ball, slanted into middle. Livingstone keeps it out.
Liam Livingstone walks out to the middle now.
1.2 overs (0 Run) OUT! RUN OUT! Punjab is dire straits early on and what a costly mix-up this could prove to be! On a good length over middle stump. Rajapaksa pushes it out towards short mid-wicket and wants the single. At first, Shikhar Dhawan responds to the call but sees Chris Jordan onto it in a flash. Dhawan turns back but Rajapaksa is stranded halfway. Jordan has a pop at the batter's end but misses. MS Dhoni does extremely well to dive to collect the ball and throw it onto the stumps. The decision is taken upstairs and Rajapaksa isn't even in the frame.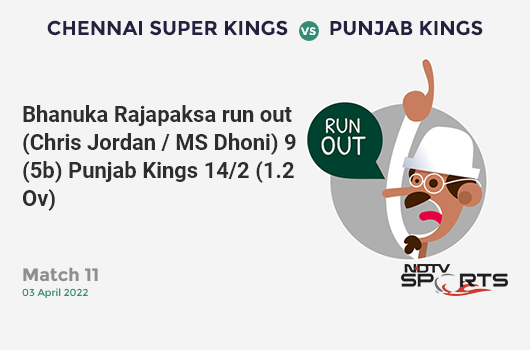 1.1 overs (6 Runs) SIX! Just a little one-hander from Bhanuka Rajapaksa! Jordan starts off with a shortish ball around the hips. Rajapaksa looks to pull but one hand comes off the handle and the ball flies off the top edge all the way over the fine leg fence for a biggie.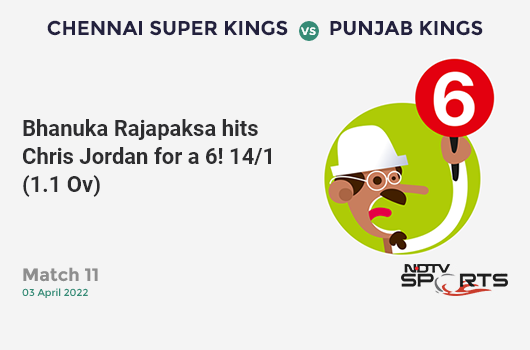 Chris Jordan to share the new ball with Mukesh Choudhary.
0.6 over (0 Run) Nicely bowled! This is a bit fuller and angled into off stump. The ball shapes away a bit but straightens as well. Dhawan plays inside the line of the ball. 8 runs and a wicket off an eventful first over!
0.5 over (1 Run) Full and wide, shaping away. Rajapaksa just opens the face of the bat and slices it down to third man for a single.
0.4 over (2 Runs) Good running! Angled into middle and leg, pushed through the mid-wicket region for a couple of runs. Rajapaksa is off the mark.
0.3 over (0 Run) Length this time, outside off. Rajapaksa looks to cut but edges it well in front of a diving MS Dhoni.
0.3 over (1 Run) WIDE! Trying to attack the pads but spilled down the leg side. Rajapaksa misses the flick and a wide is called.
Bhanuka Rajapaksa walks in at number 3.
0.2 over (0 Run) OUT! CAUGHT! Mayank Agarwal's poor run of form continues as he falters in the first over itself. A bit wider and this isn't a half volley. Agarwal looks to drive on the up and does so away from his body. There is a bit of extra bounce as well and the ball goes off the bottom part of the bat towards Robin Uthappa at covers. Robin Uthappa takes a sharp catch and Mukesh Choudhary has given Chennai a dream start.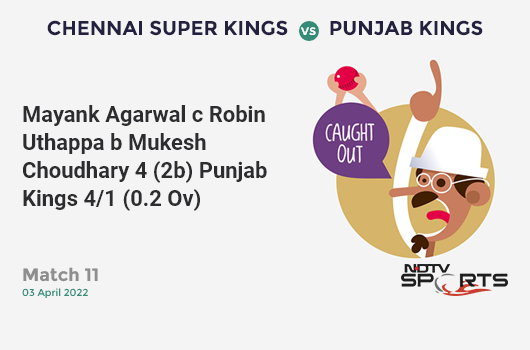 0.1 over (4 Runs) FOUR! Mayank Agarwal and Punjab are up and running right away. Mukesh Choudhary serves a length ball, on the pads and there is a bit of movement inwards as well. Agarwal tucks it off his pads and the ball races away into the fine leg fence.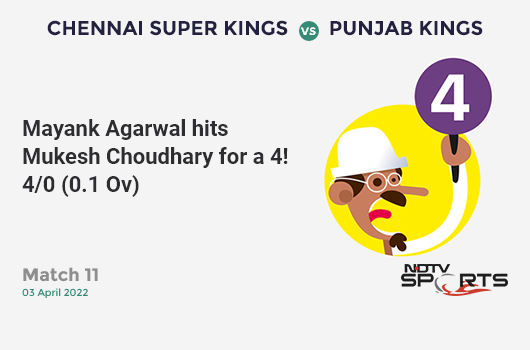 We are all set to begin! The umpires walk out to the middle. Chennai players follow them now. Shikhar Dhawan and Mayank Agarwal are the openers for Punjab. Mukesh Choudhary, the left-arm seamer will start with the ball for Chennai. Mayank Agarwal will take the strike. Here we go...
Punjab have a strong batting lineup but they faltered in the last game when they batted first. Can they put up a better performance in this game? Also, Chennai have boosted their bowling attack as Chris Jordan with all his experience and death bowling skills replaces Tushar Deshpande. It will be an interesting battle, let's see how things pan out.
Mayank Agarwal, the skipper of Punjab, says that it looks like a good batting wicket and it will be nice to put runs on the board. Tells that it was an off day in the last game but they did not need to ponder a lot about that. Mentions that they need to learn from that game though. Tells that they have couple of changes as Vaibhav Arora comes in for Harpreet Brar and Jitesh Sharma comes in for Raj Bawa.
Ravindra Jadeja, the skipper of Chennai, says that they will bowl first. He adds that they try to keep things very simple and back each and every player. Mentions that they have experienced players who know how to perform when under the pump. Informs that they have one change as Chris Jordan comes in place of Tushar Deshpande.
Punjab (Playing XI) - Mayank Agarwal (C), Shikhar Dhawan, Bhanuka Rajapaksa (WK), Liam Livingstone, Shahrukh Khan, Odean Smith, Jitesh Sharma (In place of Raj Bawa), Rahul Chahar, Kagiso Rabada, Arshdeep Singh, Vaibhav Arora (In place of Harpreet Brar).
Chennai (Playing XI) - Robin Uthappa, Ruturaj Gaikwad, Moeen Ali, Shivam Dube, Ambati Rayudu, Ravindra Jadeja (C), MS Dhoni (WK), Dwaine Pretorius, Dwayne Bravo, Chris Jordan (In place of Tushar Deshpande), Mukesh Choudhary.
TOSS - The coin goes up and lands in favour of Chennai. They have elected to BOWL first.
The live pictures show that Vaibhav Arora and Jitesh Sharma are getting their caps in the Punjab huddle. So expect at least two changes in the Punjab lineup today.
PITCH REPORT - Matthew Hayden is pitchside. Haydos mentions that there is an anti-dew agent that is being sprayed onto the pitch to counter the dew a bit. He adds that the side towards the ocean is much longer and the boundaries are about 80 meters but the wicket is an absolute cracker. Reckons it will be a batting paradise and the team batting first will have to post a mammoth total.
Chennai, on the other hand, put together a strong batting performance in the last game and with Moeen Ali back in the fold, the batting looks quite formidable. MS Dhoni has truly turned back the clock at the start of the tournament and is set to play his 350th T20 match tonight. However, the bowling looks quite inexperienced and that will remain a big concern against a strong batting lineup of Punjab. Except for Dwayne Bravo and Dwaine Pretorius in the last game, everyone else struggled and it remains to be seen how they go about their business tonight. Their skipper, Jadeja surely needs to contribute more than he has done so far. Can they bring their A-game onto the table and register their first win of the season? Or will Punjab overpower them? We shall find out. Toss and team sheets in a while.
Punjab have one of the strongest teams on the paper with some tremendous firepower in their batting unit. If they get going with all their might, we might see plenty of big scores from this Punjab batting lineup this season. Their batting will be boosted further tonight with Jonny Bairstow now available for the selection. The bowling is led by Kagiso Rabada and he has some able bowlers to support him like Rahul Chahar, Arshdeep Singh. However, the biggest positive for them is the presence of hard-hitting all-rounders like Odean Smith and Liam Livingstone and we can expect this power-packed lineup to come out all guns blazing tonight.
Our daily dose of some mouth-watering T20 action continues as the defending champions, Chennai go head-to-head against Punjab at Brabourne Stadium, Mumbai. Punjab started on a bright note with a win in the first game but failed to deliver the goods in their second game. Chennai, on the other hand, were better in the second game but ended on a losing note yet again, thus failing to open their account in the two games so far.
Topics mentioned in this article