Story Progress
Back to home
Chennai Super Kings vs Mumbai Indians: IPL 2022 Live Cricket Score, Live Score Of Today's Match on NDTV Sports
Live Updates of Today Match between Chennai Super Kings vs Mumbai Indians from Wankhede Stadium, Mumbai. Check commentary and full scoreboard of the match.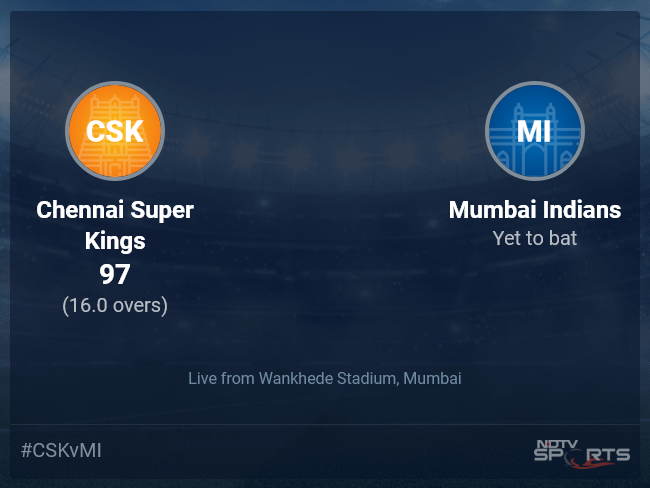 CSK vs MI Latest Score
A dedicated team of experts bring you live score, live cricket score, live match update on Sports.NDTV.com. After 16.0 overs, Chennai Super Kings are 97. The live updates of Chennai Super Kings vs Mumbai Indians scorecard is also available. It is the perfect platform to follow your favourite teams in Indian Premier League 2022. Keep a track on your favourite batsmen and bowlers through Indian Premier League 2022 today match, ball by ball commentary, Chennai Super Kings vs Mumbai Indians, Chennai Super Kings vs Mumbai Indians live score, Chennai Super Kings vs Mumbai Indians scorecard. Follow the excitement of the Indian Premier League 2022 on Sports.NDTV.com as you can follow live match updates and live cricket score through our platform.
Not a big total and Mumbai should definitely fancy a win here. Chennai need a miracle to win this one and also to keep their playoff hopes alive. The chase is coming up soon.
Riley Meredith is up for a chat. He says that it was a terrific effort and everyone bowled well. Tells that the ball was swinging in the 7-8th over and that is unusual but he is not complaining. Mentions that the ball before the wicket ball of Rayudu was a loose delivery and he got lucky in the next ball to get an inside edge. Tells that the pace on deliveries were troubling the batters so he did not ball many off-pace deliveries today.
A really sub-standard batting from Chennai. No doubt they will be disappointed with it. It was filled with poor shot selections and not building a partnership in the middle. They were 5 down inside Powerplay and it was always what Dhoni does from thereon. He and Bravo did well to calm things down but Bravo never looked settled. He fell and the pressure was on Dhoni who did his best to help his team reach a below-par total, their bowlers have a tough job in hand now.
This is Mumbai at its best! What a bowling display it was from the five-time champions. The surface was assisting the seamers and Mumbai used it with utmost perfection to bundle out Chennai for just 97. They started well and build the pressure early on and got the reward quickly. Rohit Sharma shuffled the pack quite nicely and apart from Hrithik Shokeen, everyone was in the wickets column. Daniel Sams was the pick with three wickets. A superb display from Mumbai!
15.6 overs (0 Run) OUT! RUN OUT! Ohh...in a bid to keep Dhoni on the strike in the next over, Mukesh Choudhary charges towards the bowler's end to steal a bye but fails to make it as Ishan Kishan nails a direct hit at the batter's end. It is a short ball on middle. Dhoni ducks under it and the batters try to steal a bye but Ishan Kishan who is aware nails a direct hit and Chennai are bowled out for 97!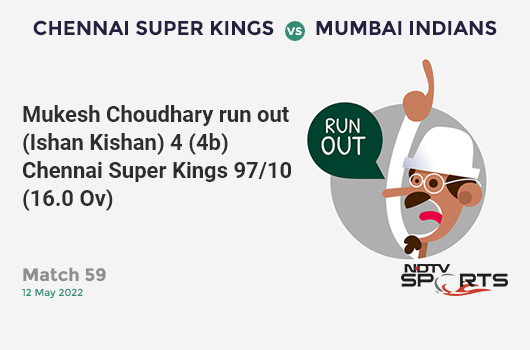 A run out appeal! Looks like Mukesh Choudhary is in danger and a single frame is enough to make the decision.
15.5 overs (0 Run) Back of a length again, around off. Dhoni cuts it to point this time.
15.4 overs (6 Runs) SIX! Dhoni with a biggie! Riley Meredith is not learning and bowls it short on middle. Dhoni pulls it over deep square leg for a maximum. This is vintage Dhoni, team is staring down the barrel and MSD delivers!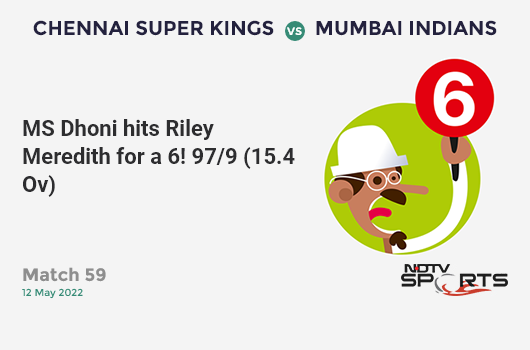 15.3 overs (0 Run) Back of a length, on off. Dhoni goes back and blocks it calmly.
15.2 overs (0 Run) On the shorter side again, around off. Dhoni punches it to point.
15.1 overs (4 Runs) FOUR! Chennai are on the back foot but Dhoni is making sure that they have at least something to bowl at. A shorter delivery on middle and leg. Dhoni is ready for that pulls it towards deep backward square leg for a boundary.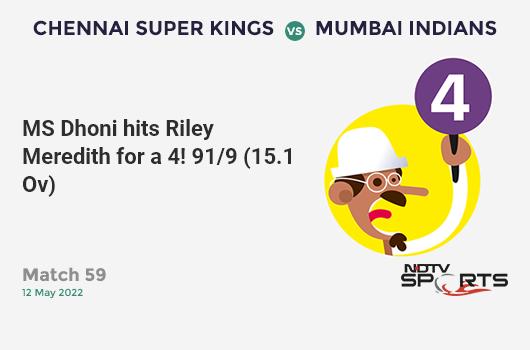 Match Reports
Topics mentioned in this article