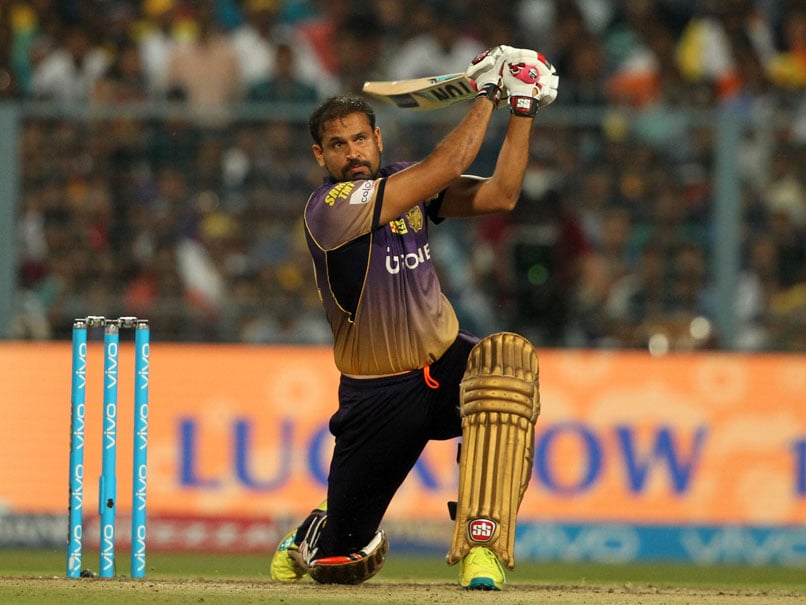 Yusuf Pathan is the second fastest centurion in the history of Indian Premier League.
© BCCI
Yusuf Pathan has been in the headlines for all the wrong reasons of late. But India's hard-hitting all-rounder is gearing up to take part in the cash-rich Indian Premier League (IPL) starting from April 6. Pathan, who has played for Rajasthan Royals and Kolkata Knight Riders in IPL, is among the 578 players who will go under the hammer on January 27 and 28 at the IPL auction in Bengaluru. Speaking exclusively to NDTV.com, Pathan spoke about his batting form and also shed light on his dope ban. "I still go to the crease with the mindset of hitting the ball out of the park," Pathan said.
"I don't know which team will opt for me but I am open to play for any franchisee whoever goes for me. I will play with same enthusiasm and attitude, the way I have been for years," a confident Pathan added.
The Baroda cricketer played for Rajasthan Royals for first three seasons (2008, 2009 and 2010) of the cash-rich league before he was bought by Kolkata Knight Riders in 2011. He went on to represent KKR till 2017 before the franchisee released him last season.
"I have played a lot of cricket with both teams but majorly with KKR. When you spend a lot of time with a team, you get attached and that's what happened with me. I am really attached to both teams," Pathan said.
After KKR retained Sunil Narine and Andre Russell, the Kolkata outfit are left with three right-to-match (RTM) cards. A right-to-match card gives the franchise the opportunity to buy back its player during the auction by matching the highest bid made for the player by another franchise once the bidding is over.
Pathan said he will be really happy to go back to his team where he spent seven seasons.
"I will be really happy if KKR buy me using RTM. I am ready to join the KKR force any day. I have spent seven seasons at KKR. I will be happy to go back with the team where I have spent seven seasons. This team has given me a lot," Pathan said.
"This IPL will see a different Yusuf Pathan. That's a promise," the Baroda cricketer said.
Apart from Pathan, star players Gautam Gambhir, Kuldeep Yadav, Manish Pandey, Suryakumar Yadav and Umesh Yadav will also be in KKR's radar during the auction.
With 2904 runs in 149 matches, Pathan is 12th overall highest-run getter in the history of the IPL. He also has 146 sixes to his name in the cash-rich league.
Record-holder Pathan
Pathan has several IPL records to his name. He scored a half-century off just 15 balls (against Sunrisers Hyderabad in 2013), a record which stayed for three seasons before his compatriot Sunil Narine equalled in May 2017.
With his sheer power to send the ball out of the ground with ease, Pathan has carved a niche for himself.
Pathan is the second fastest centurion in the history of IPL. Playing for Rajasthan Royals in 2010, Pathan took just 37 balls to score a mind-boggling century against Mumbai Indians. His swashbuckling knock was studded with nine boundaries and eight sixes.
The match-winning knock against Mumbai remains close to Pathan's heart.
"It's a different feeling altogether when you hit a century. And when you single-handedly take your team to a win, then the feeling is beyond words. Century against Mumbai Indians will always be close to my heart," Pathan said.
Age, Just a number for Pathan
The 35-year-old said age is just a number for him and his hunger for scoring runs has increased more and more.
"Age is just a number for me. I am playing the way I have been. I will not disappoint my fans. If given chance, I will entertain everyone the way I started my career," Pathan said.
Pathan also spoke about his five-month doping suspension, which ended on January 14.
Pathan said that a medication containing Terbutaline was mistakenly given to him, instead of the medication prescribed for him, which did not contain any prohibited substance.
"It's a big mistake. I don't have any explanation. I took it by mistake. I just wish to thank the BCCI for allowing me to plead my case in a fair and reasonable manner. I am proud that I have played in national colours. I don't want to do anything that can spoil my career. I will be more careful now," Pathan signed off.