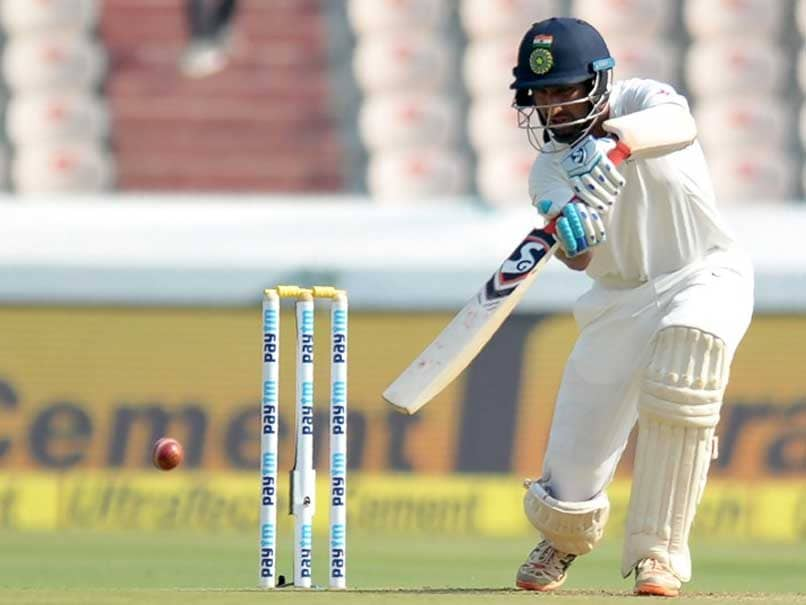 Cheteshwar Pujara wants to play an aggressive brand of cricket
© AFP
Known as a Test match specialist, Cheteshwar Pujara is keen to change the perception of the people. With a quick-fire half-century in the second innings of the one-off Test match against Bangladesh, Pujara now feels that he has more shots in his armoury that in turn is helping him to change his game in the limited overs format. Pujara scored more than run-a-ball at one stage of his innings and his strike-rate was more than his captain Virat Kohli at one point.The Indian top-order batsman remained unsold at the last IPL auction but his recent form might help get a team in this year's auctions.
With the auctions slated next Monday, Pujara revealed, "I am very hopeful that perception (Test player) will change. I have
recently got a T20 hundred in a DY Patil tournament and probably I am batting more freely now. I have added few shots in my game, which is helping me. Even in Test format, the way I am striking the ball, the way I am batting, few series, I have changed my game which is helping me in T20 and ODI game. In near future, I think things will change."
Talking about his aggressive brand of cricket in the second innings, Pujara said, "As I said, we wanted to accelerate and bat for a session. There is a perception that I can't play too many shots. If you look at domestic cricket and overall that I have played, this was one of the occasions that gave me an opportunity to express myself and I did that. It was a situation, where I could play freely, take some risks and play my shots. Because when it comes to Test cricket, you still have to put a prize on your wicket and when you are playing in first innings, you don't want to play any rash shot, get out and put the team in trouble. This was an opportunity where we had to bat for one session and even if I get out, we had batsmen who can come in and accelerate."
Bangladesh were bundled out for 388 in the first innings that gave India the opportunity to enforce the follow-on. But the Indian team decided against it. Speaking about the decision, Pujara added, " "Since we fielded for more than 100 overs, the idea was to give bowlers a break for a session so that they can recover and come back fresh. When I went into bat, we planned to score as many as runs as possible. We were looking at 150 to 200 runs on the board. We wanted to express ourselves. I was batting freely. I knew that I will have to keep hitting the ball and ultimately I am happy with the way things went."
(With PTI Inputs)