Story Progress
Back to home
West Indies vs India Live Score, Over 16 to 20 Latest Cricket Score, Updates
Live Updates of Today Match between India vs West Indies from Greenfield International Stadium, Thiruvananthapuram. Check commentary and full scoreboard of the match.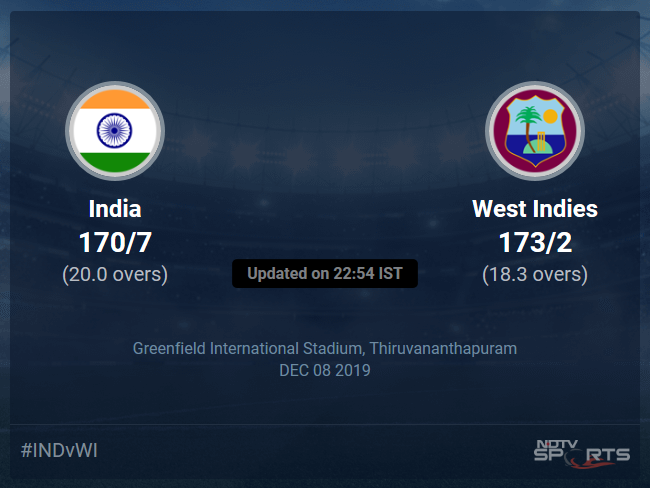 WI vs IND Latest Score
Follow the India vs West Indies 2019/20 live cricket score on Sports.NDTV.com. After 18.3 overs, West Indies, chasing a target of 171, are 173/2. Get live score, ball by ball commentary and much more. Keep track of India vs West Indies 2019/20 today match between India and West Indies. Everything related to India and West Indies match will be available on Sports.NDTV.com. Stay updated with India vs West Indies live score. Do check for India vs West Indies scorecard. You can get scorecard updates, match related facts. Get quick live updates with ads, Sports.NDTV.com, which is the perfect destination for live cricket score.
So that is it from this game! The series is all level heading into the decider and it is all to play for. The third T20I will be played in Mumbai at 1900 local (1330 GMT). Till then, take care and goodbye!
MAN OF THE MATCH, Lendl Simmons, says he enjoys playing against India, it is good to be back in form at the international stage with a fifty. States his innings did not start how he wanted it to but the batters around him took the pressure off and in the end it worked well for him. Reckons his job is to go hard in the Powerplay but it did not come off, it though got easier to bat as the game progressed. Ends by saying it is easy to bat once you get in.
West Indies skipper, Kieron Pollard, credits the guys for the way they played, their bowlers did really well to restrict them to 170. Admits the over he bowled changed the momentum in India's favor but his bowlers did brilliantly to pull them back. Further adds the batters executed their plans brilliantly and took them over the line. States the youngsters are very talented, they have done really in the domestic league and have a very exciting future. Also says the team is a mixture of experienced guys and youngsters where the latter shows the way and the fomrer enjoys the game. Mentions he has always been aggressive, captaincy does not matter, his will to win is very strong and since he is leading the Windies, it is even stronger now. Ends by saying they though will need to improve and stop bowling extras and their batting could be a little more clinical.
Indian skipper, Virat Kohli, says you can probably say batting first is an issue but they were very good till the first 16 overs however, they could not finish well. States Dube's knocked took them in a good position but the Windies bowlers were very good, they assessed the conditions and executed their plans nicely. Admits their fielding was disappointing, the dropped catches cost them and it is an area they need to improve and be a lot brave in a do or die game in Mumbai. On demoting himself in the batting order he says they knew they would get the spinners in and they thought of sending Shivam in and hoped he could attack the spinners.
Nicholas Pooran says there wasn't a lot of pressure, they did not want to panic, just build partnerships and they knew they would get over the line. States they are just trying to get better as a team and they give their best in all the games. Mentions he has been working really hard and it seems to be working now. Ends by saying cricket for him is all about having fun and he loves playing the sport.
Earlier in the day, courtesy of Dube and Pant India put up a total which one felt would be enough on this ground. However, they could have scored a lot more but lost momentum towards the end of their innings. The Windies carried forward that momentum in the chase and efforts from their top order saw them get over the line. Now, one of Windies' stars of tonight, Nicholas Pooran is giving an interview.
India looked out of sorts tonight with the ball and in the field! Misfields, dropped catches and poor bowling eventually saw them finish second best. Only Sundar had figures to remember, he though got no support from the rest. Overall, it is a performance India would like to forget.
India though will rue the opportunities they let go! The two dropped catches in one over itself has cost them the game here. Both the openers laid the foundation for the chase by giving the ideal start before Lewis was dismissed. Simmons though continued with Hetmyer and both added yet another handy stand. However, it was the partnership between Pooran and Simmons which took them over the line. The former played an exceptional cameo and the latter was probably the best batter, the game-winner one can say for the Windies.
SO WE WILL HAVE A DECIDER! We saw a clinical chase by India in the first T20I and now West Indies return the favor. Never did they seem in trouble during the second innings and this is one win which should take their confidence to another level. The wicket was termed to not be easy, the target was deemed as one which is well above par but the Windies batters have done it quite easily.
18.3 overs (4 Runs) FOUR! Crunched! That made a cracking sound of the bat to wrap up a cracking win for the visitors. Shorter and on off, Pooran stays back and hammers it through mid-wicket for a boundary. All smiles in the West Indies camp as THEY HAVE WON BY 8 WICKETS!
18.2 overs (1 Run) 2 needed now as this yorker is jammed out towards short third man for one.
18.1 overs (0 Run) A yorker on off, Simmons jams it out towards the keeper.
17.6 overs (6 Runs) SIX! This guy is some player! Nicholas Pooran you beauty! Brings the 50-run stand up in style and it is the match-winning partnership. A short one and on the body, NP pulls it over the backward square leg fence for a biggie. Just the three runs needed.
17.5 overs (1 Run) A yorker and on the pads, this is worked through square leg for one.
17.4 overs (1 Run) On off, it is hit down to long off for one.
17.3 overs (1 Run) Shorter and on middle, Simmons pulls it through square leg for one.
17.2 overs (1 Run) A slower one and on the pads, it is worked through square leg for one.
17.1 overs (4 Runs) FOUR! Creamed! West Indies want to end this in a hurry! This is full and wide outside off, Pooran caresses it past the cover fielder and it races into the fence. 13 more needed.
16.6 overs (6 Runs) SIX! Just over! A flat six and the runs needed is less than the balls to be bowled! 17 needed in 18. This is fuller and on off, Simmons smashes it over the long off fence for a biggie. The extra ball costs Chahar and probably India the game.
16.6 overs (1 Run) WIDE! A yorker just outside the tramline! Simmons tries to jam it out but misses. Chahar sees signaling that the batsman had shuffled across but the umpire feels different.
16.5 overs (1 Run) Another single as this is worked through mid-wicket for one.
16.4 overs (1 Run) A full toss outside off, Simmons hits it towards deep cover for one.
16.3 overs (1 Run) The batsman flicks it away with a wristy shot. One run added to the total.
16.2 overs (2 Runs) NOT OUT! Pooran is well in! However, that is a very good effort in the deep by Iyer. A slower one on middle, Pooran looks to go downtown but only hits it high up in the air down the ground. Iyer from long on runs to his right and then dives but fails to get to it. Long off does the mopping up job and fires it to the keeper who whips the bails off and appeals. The umpire takes it upstairs replays show Pooran is safe. Two taken.
A run out appeal has been taken upstairs. India do not seem that excited.
16.1 overs (0 Run) Good length and on off, Pooran pushes it to covers. A dot. India need a lot more.
Deepak Chahar is back on!
15.6 overs (4 Runs) FOUR! Up and over! Third boundary in the over and the game is now Windies' to lose. Simmons comes down the track and it is a length ball around off. LS lofts it over mid off and bags a boundary. 15 from the over. 29 needed in 24.
15.5 overs (1 Run) A single now as this is eased down to long off. Nothing fancy needed.
15.4 overs (2 Runs) Now two! Works it through mid-wicket with soft hands and takes an easy two. Excellent placement.
15.3 overs (4 Runs) FOUR! Caressed! Lovely, lovely batting! We saw power a couple of balls ago and now finesse. This is a length ball on off, Pooran hits it wide of mid off and it races away. 8 from the first three balls.
15.2 overs (0 Run) A slower one on off, Pooran pushes it towards cover.
15.1 overs (4 Runs) FOUR! Just over! That is a brilliant attempt by Jadeja though. It was stuck so fiercely. Shorter and on middle, Pooran pulls it hard towards deep mid-wicket. Jadeja there is a few yards inside the ropes. It is going over him, he leaps with a hand stretched out but it goes over and bounces just inside. Good start to the over. Kumar under huge pressure now.
Match Reports
Topics mentioned in this article