Story Progress
Back to home
West Indies vs India Live Score, Over 41 to 45 Latest Cricket Score, Updates
Live Updates of Today Match between India vs West Indies from Dr. Y.S. Rajasekhara Reddy ACA-VDCA Cricket Stadium, Visakhapatnam. Check commentary and full scoreboard of the match.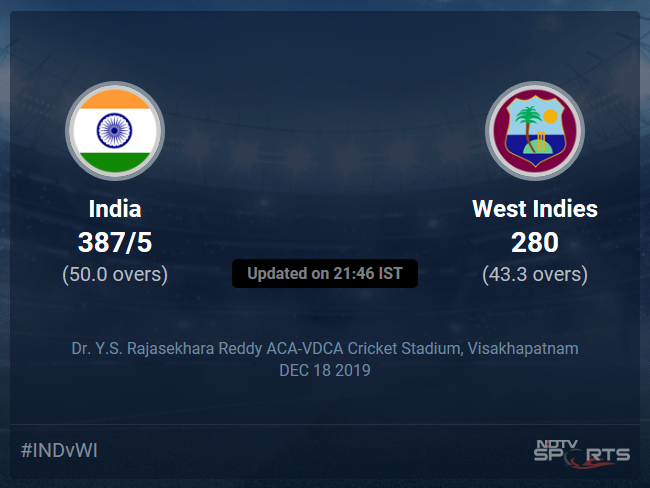 WI vs IND Latest Score
Follow the India vs West Indies 2019/20 live cricket score on Sports.NDTV.com. After 43.3 overs, West Indies, chasing a target of 388, are 280. Get live score, ball by ball commentary and much more. Keep track of India vs West Indies 2019/20 today match between India and West Indies. Everything related to India and West Indies match will be available on Sports.NDTV.com. Stay updated with India vs West Indies live score. Do check for India vs West Indies scorecard. You can get scorecard updates, match related facts. Get quick live updates with ads, Sports.NDTV.com, which is the perfect destination for live cricket score.
So that is it from this game! We do have a decider which will be the third ODI. It will be played on the 22nd of December at 1330 local (0800 GMT). Till then, goodbye and take care!
Man of the Match, Rohit Sharma, says it was a much-needed victory for them after losing the first game, they wanted to be at their best and it all went good. The partnership with Rahul was important, he was taking his own time and Rahul allowed him to do so. Overall it was a complete performance. On Rahul, the Indian vice-captain says that he is a good talent and he makes it look very easy and he is a solid player who is growing in confidence. The running between the wickets between the two is not up to the mark but they will work on it. Says that he takes time to assess the pitch and then takes it from there. On the long innings, Rohit feels that once you get past the ton, it is about being mentally strong to go on and bat for a longer time and as long as the set batter is out there, he can score as many runs as possible. Ends by saying that having played 200 ODIs, he feels that it is his responsibility to take the team in a commanding position.
India skipper, Virat Kohli, says what has been good is, if you see the last three games, they have done well batting first. Feels that batting second has never been an issue and this is something they needed to be good at. Happily adds that they are happy to be able to get 40-50 runs extra which is exceptional. On batting of Iyer and Pant, Kohli says that they were brilliant. Also mentions the centuries of Rohit and Rahul at the top. The more they get confident in T20 cricket while batting first is much better, they are more focused on expressing themselves in the 50-over format as there is not a big tournament which is around the corner. Tells that no. 4 was not an issue but it was made an issue. Feels that Iyer has done well in the recent past and has grabbed the opportunity which came to him and they are happy a youngster is taking responsibility and doing well. On the lost review, the Indian skipper says that reviews are left upon the bowler and the keeper, they thought the ball did not turn a lot and hence he went for the review. Adds that he was really unhappy the way they ended up taking it. On the dropped chances, Kohli feels that catching has been poor and they should be a lot better on the field and it is very important to live up to the standard they have maintained. Says that they are one of the best fielding sides in the world and probably the wish of wanting the ball to come to them will help them.
West Indies skipper, Kieron Pollard, says that they gave it away in the last 20 overs and they could not execute their plans. They needed to be disciplined but they could not be so. The small areas cost them and they need to execute their plans a lot better, in the batting department, they are confident and back themselves to do well, maybe 30-40 runs less and it would have been different. There are some talented youngsters in the squad and it is just a matter of putting the pieces together and execute well. There is still one game to go and they need to look forward to doing well there. On both the captains scoring ducks, he says they did not last for long out there, Virat hasn't scored a lot in both the games and they're expecting him to come back hard in the next game.
Starts by saying that it has been a perfect day for him. Yadav says that he does not have words to describe the second ODI hat-trick. On his return to the ODIs, Kuldeep says that he has been working really hard. Tells that he has been bowling on proper lines and length and says that it is a very satisfying performance. Reckons that the score was a massive one and mentions that they knew that the Windies batters will come hard at them. On the hat-trick ball, Kuldeep says that he was confused about which ball to bowl. Tells that he eventually ended up bowling the wrong'un with the second slip and luckily got the outside edge. Thanks the crowd for coming in large numbers and says that he will try to perform well again in the final ODI.
The Indian bowling was decent overall! They started off well but had no answers to the carnage by Pooran and Hope in the centre. That partnership did get them worried a little and that showed as there were a few misfields and also a dropped catch which did not help their cause. However, Shami's double-wicket over and Kuldeep's hat-trick killed the game completely. Those two were easily the pick of the bowlers for tonight. Stay with us for the presentation. Before that, Kuldeep Yadav is chatting with Sanjay Manjrekar.
The Windies needed something special to chase this down. Hope and Pooran did exceedingly well to keep them in the game for a while but to keep that going was always going to be difficult. They were the only two who showed some fight. Both scored in the 70s but a mammoth effort was needed from them which they failed to deliver. Nothing else to talk about in this West Indian batting line-up. Except for Lewis amongst the genuine batters, nobody crossed the 20-run mark. Paul though played a handy cameo right at the end but the game till then was dead and burried.
A comfortable win in the end for India and that was pretty obvious after the efforts from their batters. Hundreds from the openers and scintillating knocks from Pant and Iyer set the tone for them early on. Their bowlers then ensured there was no upset on the cards as they restricted the Windies to well below than what they needed.
43.3 overs (0 Run) OUT! Hits the timber and it's all over! Shami bowls a brilliant yorker on middle, Paul is backing away to slash it through the off side. He misses and Shami hits the base of the middle stump. India win by 107 runs and go 1-1 in the 3-match series.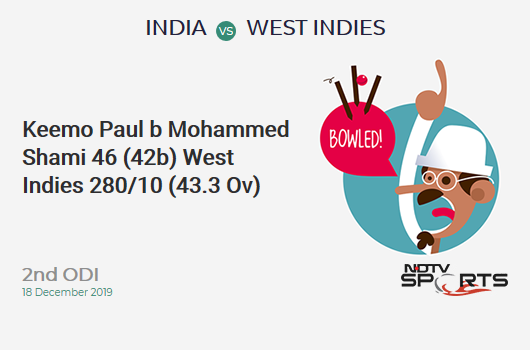 43.2 overs (0 Run) Full and on middle, slammed hard but straight to long on.
43.1 overs (0 Run) Shortish ball just outside off, Paul punches it off the back foot towards deep cover but no single.
Mohammed Shami is back on.
42.6 overs (0 Run) Shortish and around off, Cottrell blocks it off the back foot.
42.5 overs (0 Run) Beaten! Good length ball just outside off, Cottrell pokes at the ball to get beaten.
42.4 overs (1 Run) Short ball on middle, Paul pulls it to deep mid-wicket for a single.
42.3 overs (4 Runs) FOUR! Back of a length ball around off and middle, Paul goes for the pull but gets a top edge. It flies over Pant and into the fence.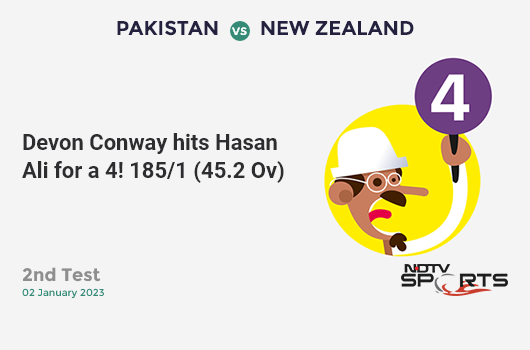 42.2 overs (0 Run) Full and just outside off, Paul carves it through the covers and once again does not go for the run. Should've got a couple of them there.
42.2 overs (1 Run) Slower bouncer! Paul pulls but is early in the shot. Wided by the umpire for height.
42.1 overs (0 Run) Good length ball around off, it is defended.
Deepak Chahar is back into the attack! Can end things in this over?
41.6 overs (0 Run) Fires this full and on middle, Cottrell keeps it out.
41.6 overs (1 Run) Fuller but down the leg side. Called wide.
41.5 overs (1 Run) Dropped! Flighted ball around middle, Paul checks his shot and it lobs to the right hand side of Iyer. He throws his right hand but cannot hold on. A single as the ball goes towards cover.
41.4 overs (0 Run) Full and around off, Paul drills it to long off and denies a single.
41.3 overs (4 Runs) FOUR! Short and around off, Paul hammers it to the long on fence.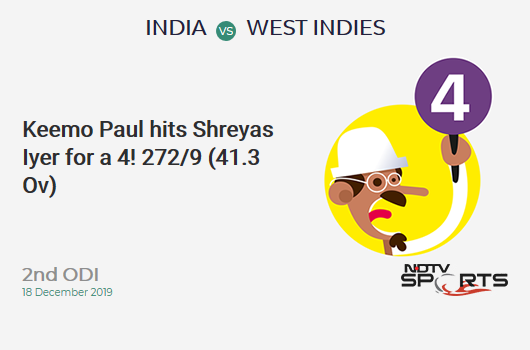 41.3 overs (1 Run) WIDE! Fires this one outside off, Paul lets it be.
41.2 overs (0 Run) Flighted ball outside off, Paul hammers it to long on and does not take a single.
41.1 overs (6 Runs) SIX! And he is welcomed with a biggie. A flighted ball around off, Paul goes back and slams it to deep square leg for a maximum.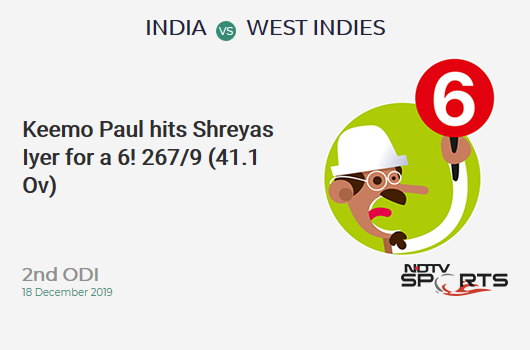 Shreyas Iyer to bowl. Yes, you read that right.
40.6 overs (1 Run) On middle, Paul pushes it through mid on for a single.
Sheldon Cottrell is the last man in.
40.5 overs (0 Run) OUT! Caught! No. 9 goes down now. Flighted ball on middle, Pierre goes for the slog sweep but the timing is not there. It goes as far as Kohli at deep mid-wicket who takes the catch easily to end this frustrating stand.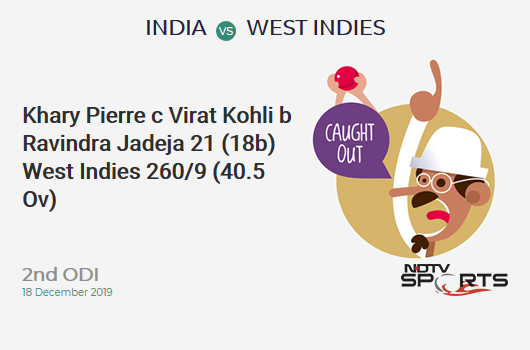 40.4 overs (1 Run) Full and around middle, Paul eases a single through mid on. The single brings up the 50-run stand between the two.
40.3 overs (0 Run) Shortish and outside off, tapped to Kohli at covers.
40.2 overs (1 Run) Darts it full on the pads, Pierre flicks it towards mid-wicket for a single.
40.1 overs (1 Run) Quicker one on the pads, on a shortish length too. Punched to long on by Paul.
Match Reports
Topics mentioned in this article