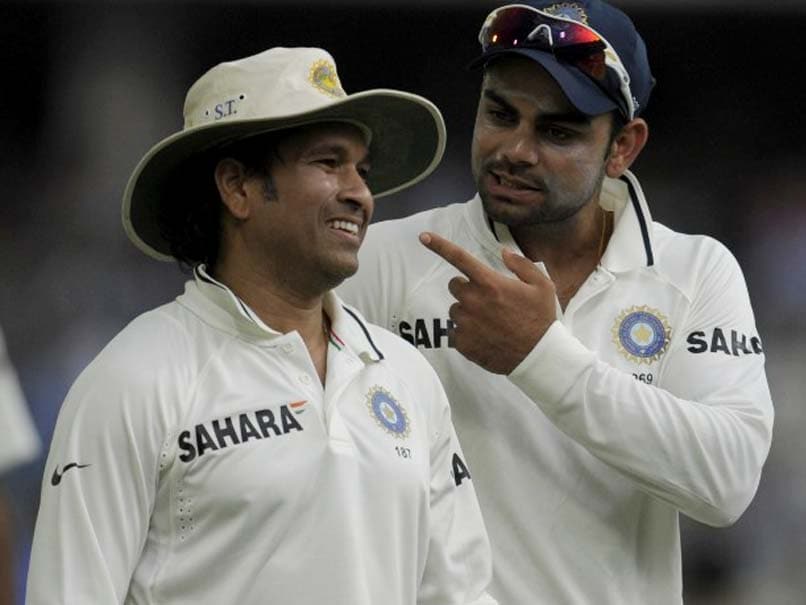 Virat Kohli has made it clear that he does not wish to be spoken in the same breath as Sachin Tendulkar.
© AFP
Virat Kohli kicked off the new year with a bang, cracking the 27th One-day International century of his career to set up a famous win for India against England in the 1st ODI at Pune. Kohli's 122-run knock helped him equal Sachin Tendulkar's record of 17 centuries while chasing. Going by 28-year-old's recent form, several other achievements of the Master Blaster could be usurped in the near future. With the Delhi batsman dominating all forms of the game, comparisons with Tendulkar have become par for the course.
Kohli however, has made it clear that he does not wish to be spoken in the same breath as his idol and comparisons were unfair to Tendulkar. The Delhi batsman reiterated that point while speaking to former England captain Nasser Hussain on bcci.tv ahead of the India-England ODI series.
"I might not play that long (24 years). 200 Tests, 100 international centuries. Those are incredible numbers and will be impossible to achieve. But yes, I want to make a difference and always believe that I must leave the game on a better note," said Kohli.
The Indian cricket captain also added that the secret to his stupendous success is "not having too many close people" in his life which add hindrances such as "distractions" and "time management" on the path of glory.
"Luckily, I don't have too many people in my life that I am close to. I think that helps. If you have too many people and too many friends you speak to, you get distracted and your time management becomes impossible," Kohli said.
One of world's premier batsmen, Kohli feels that one should not limit his ambition.
"I think, somewhere as sportsmen, we somehow already limit ourselves to what we do without even knowing how much we can do. That's something I never put a limit on. I always love to explore my maximum ability as far as my intensity in the field is concerned. And even with managing time, the day I get burnt out is the day I start cutting down on things. I never put any limitations on what I want to do in life.
"You just got to create a good balance and move forward. It's been fine till now. I am able to maintain a balance as of now I can say."
Sachin's tips for Kohli
Kohli also said that the forward movement was something that the legendary Tendulkar also advocated.
"There Sachin helped as he told me that I have to approach a fast bowler (forward press) just like you approach a spinner. One has to get on top of the ball not worry about pace or swing, you got to get towards the ball and give the ball lesser chance to move around and trouble you. Those advice helped me and became my second nature."
At the beginning of his career, he was primarily an on-side player with only cover drive as his pet scoring shot. But then he made slight adjustment to his grip and things changed.
"Bat speed has been natural to me more towards on-side as I have been a bottom hand player. I worked on my off-side play a lot more. I used to hit past covers a lot and straight but the shot I hit past point is helping me a lot now. It's a very minor adjustment to my grip.
"I know bowlers are hesitant to bowl on my pads as I can whip them so I know they would bowl a bit wide and I get deep into my crease, open the bat face and hit the bowler past point. Once you do that, he can either move fielder towards right or left, but they won't understand its a minor adjustment."
(With inputs from PTI)