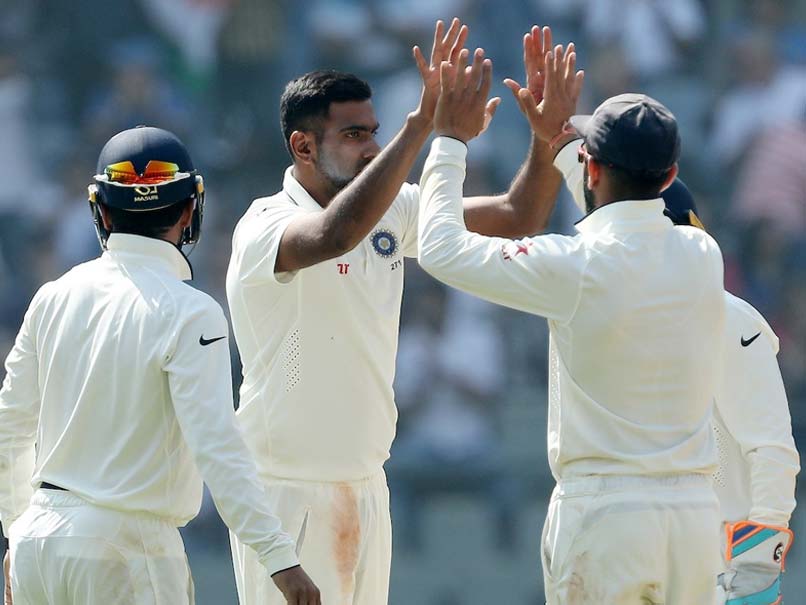 Ravichandran Ashwin picked up 12 wickets in the fourth Test in Mumbai vs England.
© BCCI
Every captain in the cricketing fraternity will give his right arm to have Ravichandran Ashwin in his side. His match haul of 12 for 167 in India's innings and 36-run win over England in the fourth Test in Mumbai was just another day in the office for the off-spinner as he scripted a series win for his side.
It wasn't always like this. In fact, there was a time when there were questions about his selection to the Indian Test team.
He began with quite a bang, snaring nine West Indies batsmen over two innings on debut in New Delhi in November, 2011. But with all due respects to the West Indies, they aren't exactly the kind of opposition that generates awe any longer.
He was, after all, a member of the Chennai Super Kings stable, which had the board boss N. Srinivasan at the helm, with India skipper Mahendra Singh Dhoni in the ranks. So the cynicism was not just probable, it was inevitable.
But he has answered them all in the best possible manner. A haul of 247 wickets at an average of 24.22 and an economy of 2.91 off just 43 Tests is phenomenal, any way you look at it.
He has 24 five-wicket hauls in 80 innings and seven 10-wicket match hauls. His contribution to the Indian cause is immense.
"We are running out of words to describe Ashwin," India skipper Virat Kohli said after the series-deciding win over England in Mumbai on Monday. "The impact he has had on this team. The batsmen have played second fiddle to his performances. Any team would love to have him. It's very difficult to get past him."
Ashwin's contribution hasn't been restricted to bowling. His acumen to score important runs in the lower order and stitch crucial partnerships has given Kohli another telling arrow in his quiver.
The series! Ravichandran Ashwin takes another 5-wicket haul as India win the 4th Test by an innings and 36 runs #IndvEng pic.twitter.com/1YoDLg4NNA

— ICC (@ICC) December 12, 2016
Four centuries and nine half-centuries and a total of nearly 1800 runs are quite a record, which only promises to get better over the years.
Among Ashwin's distinctions is the Number One ranking on the ICC bowling chart, a position that he is unlikely to relinquish in a hurry.
At 30 years of age, Ashwin is at the pinnacle of his career. In a sport where you can't win unless you take 20 wickets, irrespective of how many runs you score, his contribution will be the one that decides how many matches India gets to win.