Story Progress
Back to home
KL Rahul Says Pressure of Double Hundred Got to Him, After Getting Out on 199
KL Rahul was dismissed by England's Adil Rashid while batting on 199 on the third day of the fifth Test in Chennai. The cricketer is only the second Indian batsman after Mohammed Azharuddin to be out on 199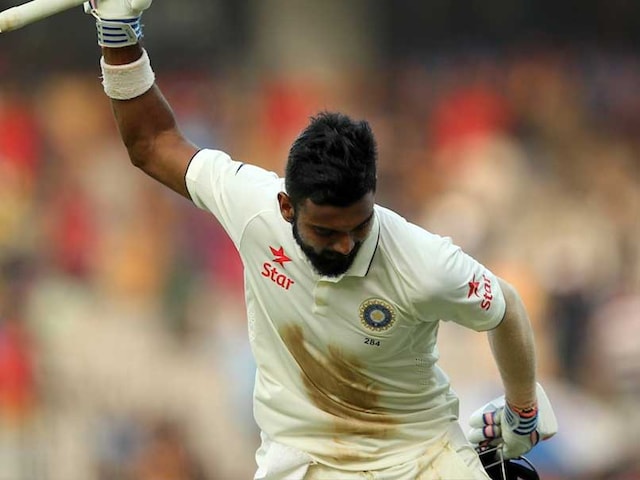 KL Rahul reacts after getting out on 199 during India vs England fifth Test in Chennai.
© BCCI
Highlights
KL Rahul was out on 199 on third day of fifth Test vs England

He is the ninth batsman in the world to be dismissed at 199

India trail England by 86 runs at stumps on Day 3
KL Rahul fell just one run short of his maiden double hundred on the third day of the fourth Test against England in Chennai on Sunday. The India batsman said it was the pressure of reaching the milestone that became his undoing.
"It was a good day till I got out. I was looking to play positively, everything was going my way. I was hitting the ball off the middle and the chances that I took came off. Everything was looking good but just unfortunate that the pressure of getting a double hundred got to me," Rahul said.
"I am very happy at the end of the day. 199 runs is not easy to get but yeah missing out on a double hundred obviously hurts. But I will go back home happy that I got a 199 crucial runs for my team," the talented opener added.
Asked about his current state of mind, Rahul admitted that there is some amount of sadness.
"Obviously, right now it is me missing out on the 200 took some time to sink in. I was really disappointed. 200 for a batsman is a big landmark and I have never been somebody, who has chased landmarks but getting a 200 will always be a proud moment for a batsman. I am gutted that I missed out.
"But like I mentioned, it has been a tough couple of months for me, a few injuries, and I just have to be grateful that I wen out there and got a 100 under my name," the soft-spoken Mangalore lad said.
Talking about his strategy on the day, Rahul said: "Look it is very important for us. If we have to make a match out of this, to get a good lead and the wicket is kind of playing really good so far. Our aim was to bat five or six sessions and get as many runs as we can.
"You never know what happens on the fifth day, if we get a good lead of 100-150 runs and put the England batsmen under pressure again and hoping that the wicket will break and something might happen on the fifth day. My plan was to go out there and play sessions and play to the merit of the ball. The field was spread out and I had to keep my calm, keep rotating the strike and be happy with the singles."
Skipper Virat Kohli's joy at him reaching milestones was visible to one and all.
"Everbody enjoys each other's success. We are always pushing each other to get better on the field and off the field, helping each other out in the nets or in the gym. That's the most important thing. That's why I think we are the No. 1 team in the world.
"Virat obviously being the leader sets a great example. You will obviously see if somebody is getting a hundred, somebody is taking a great catch or somebody is getting a wicket, he feels more excited than athe player who has actually got a hundred or a wicket. That is how the atmpsophere in the dressing room is right now. We're enjoying the success as a team and individual success as well."
Rahul said that he had just shut himself off for sometime after coming back to the dressing room.
"I was just shut off. I couldn't hear what was being said. There were a lot of boys who came up to me and said something but I was just disappointed. It is hard, it's never easy to on 199. I got my first international duck in Vizag and now getting out on 199. So I am going through a lot of emotions in this Test series. Like I said, I have to be just happy with the way I batted."
Rahul was delighted that his close friend Karun Nair shared a fruitful partnership (161 runs).
"Myself and Karun have played our cricket together since we were 11. His family was here watching the game and both our families will be proud watching us both play together. It was their dream when we started playing cricket. We have done things together.
"I am very happy that he (Karun) is still batting after getting his 50. He has looked confident and it was important for him to get these runs as well. He was looking in good touch and hopefully he and Vijay can carry on."
Rahul termed this track as one of the best that he has played in this series so far.
"The wicket has played well so far. It is the best wicket we have played on so far in this series. Wankhede was a good wicket as well. I was enjoying batting at Wankhede but I think I missed out there.
"When we get a wicket like this, we want to make full use of it. Hopefully, it would start turning late tomorrow or early fifth day. It's important for us to get back tomorrow and get some runs."
Rahul did not deny that the fear of getting injured was there at the back of his mind at the start.
"I came back after one month and than again missed the third Test, so it plays on your mind. After I missed out post Vizag test, my mind was thinking more about getting injured again than to focus on batting.
Promoted
"When I reached Mumbai, I changed my approach and thought that if I get injured I get injured and it doesn't really matter and so its tough to tell your self that you wont get injured again. I was important to get out there and not think about my pain and just do what I have been doing in the last 6-8 months."
(With inputs from PTI)
Topics mentioned in this article