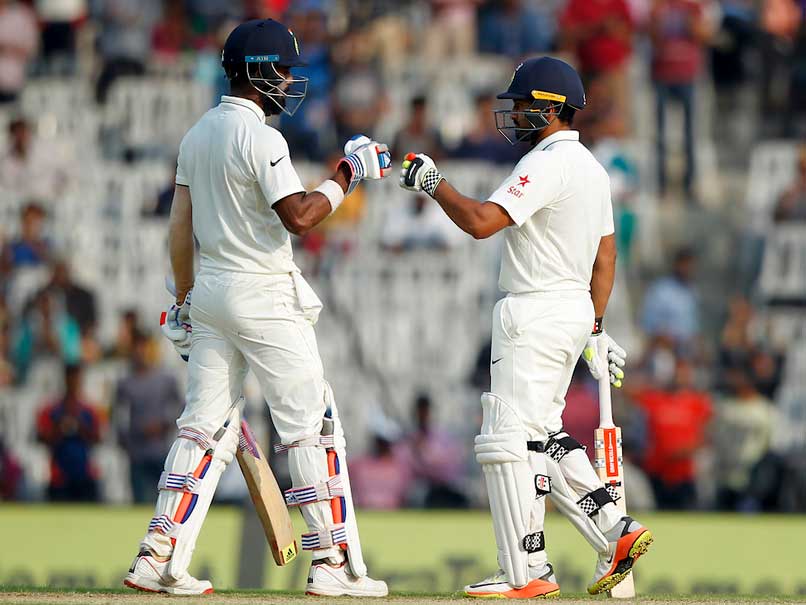 Karun Nair and KL Rahul performed brilliantly in India vs England fifth Test in Chennai.
© BCCI
Before him another Karnataka batsman KL Rahul scored 199 as the Indian Test cricket team saw the emergence of two young cricket players.
Sunil Gavaskar was effusive in his praise for Nair and Rahul. He said the duo showed glimpses of Rahul Dravid and Gundappa Viswanath.
"Karnataka has two benchmarks in batsmanship. One is Gundappa Viswanatah and the other is Rahul Dravid. I think Nair and Rahul's innings were a combination of the two," Gavaskar told NDTV.
"We saw the discipline and temperament of Rahul Dravid and the flair and stroke play of Gundappa viswanath in both the innings."
He added that Nair's success would add to India's options in batting. "When Ajinkya Rahane comes back it will be a tough call for the selectors. Anyways having more options is always good. Ajinkya Rahane may not have got runs in the series but he has been consistent before that. So, it's always good to have replacement ready," Gavaskar said.
The former India captain added that it is good time for Indian sport. "I would like to congratulate the hockey team for winning the Junior World Cup. Vijender Singh also defended his boxing title before that. It has been awesome three days for Indian sport," he said.