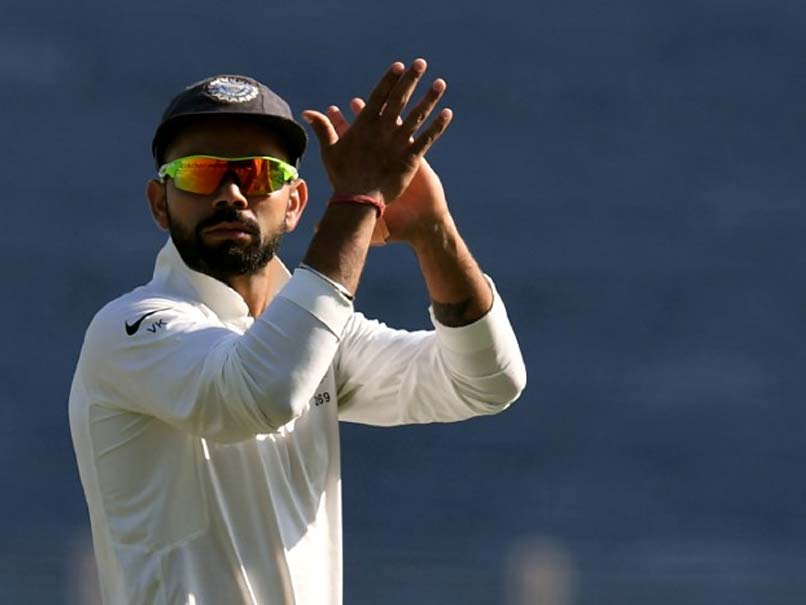 Virat Kohli is optimistic about India's chances in the second Test
© AFP
After losing the first Test in Pune by 333 runs India captain Virat Kohli on Friday assured that the Indian team will never repeat that kind of performance. India were bowled out for 105 and 107 in the two innings in Pune as the hosts losing seven wickets for 11 runs in the first innings. Left-arm spinner Steve O'Keefe was instrumental in giving the visitors a crucial 1-0 lead in the series and Kohli attributed the defeat to lack of intent on the home team's part.
"You will not see such a bad performance again, I will assure you that," said the feisty captain in a pre-match press conference.
The defeat was more of a reality check for the hosts who were undefeated in 19 Test matches before losing the Pune Test.
"It is important to accept defeats. We lost the Pune match because of lack of intent. Australia played better cricket. It is important to accept defeat, if you go by your ego or ignore it, it will affect you only. It doesn't mean losing in Pune would result in us losing the other matches also," he added.
Kohli said it was a rare collective failure for the Indians.
"Sometimes such defeats are necessary. This gave us a platform to understand where we lacked. It happens very rarely that the whole team does not perform, this is what happened in the last match. We learned a lot from that loss," Kohli said.
"Even if we win or lose, our preparation remains the same. The intensity remains the same even if we lose or win a match. Basically, you don't change the practice depending upon the result," he added.
Talking about the team combination, the 28-year-old said, "We have a combination in mind and we will finalise it when we sit together this evening. There are all kinds of possibilities tomorrow (Friday) there could be few surprises," he said.
The Australians have already spoken about Mitchell Starc and how he is their main weapon but Kohli refused to give any importance to it and added, "I don't think there will be any extra sort of variation added to his bowling suddenly. He is the bowler he is. We have to accept that and face him the best way as a batsman."
Speaking about mind games which the Aussies are so good in playing, Kohli revealed, "It is better we focus on our skills rather than what Australia is saying. I know these are mind games that they come up during press conferences. We still have to play cricket as we are doing for the last few years."
(With PTI Inputs)