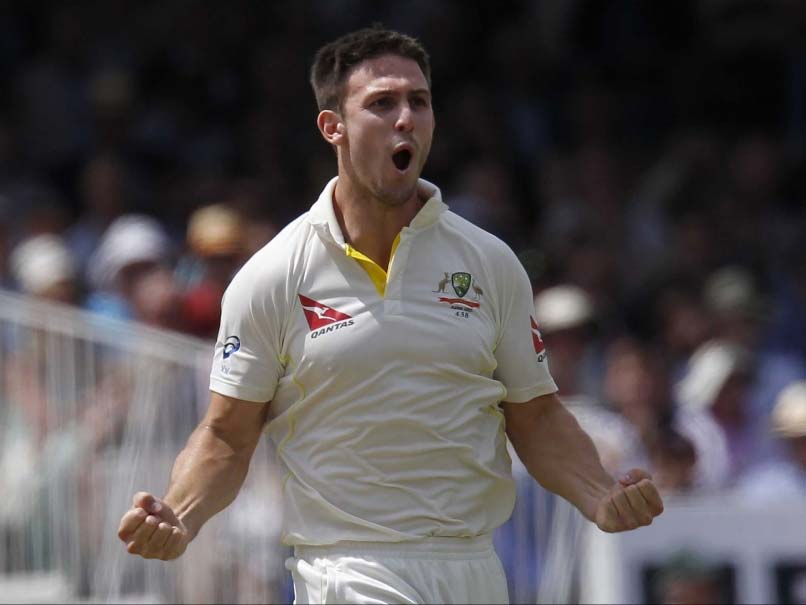 Mitchell Marsh reckons Mitchell Starc is their biggest weapon.
© AFP
Australia fast bowler Mitchell Starc was right in the money in the first Test match against India in Pune on a pitch that was assisting spin bowlers. Starc removed Cheteshwar Pujara and the in-form Virat Kohli early on in the first innings that helped Australia restrict India to a paltry total of 105. Heaping praise on his teammate, Mitchell Marsh said that Starc has the ability to trouble the Indian batsmen with the new and old ball. Starc is also a great exponent of reverse swing and in these conditions, he can really test the batsmen.
"It's great if he (Starc) is in the Indians' heads, hopefully he can take a few wickets for us. He's one of the best bowlers in the world, if not the best bowler in the world. In these conditions, whilst all the talk has been about the spinners he's still our biggest weapon, I think," Marsh told reporters here ahead of second Test against India.
Josh Hazlewood also does his bit with the old ball by getting it to reverse and both he and Starc make a potent pair to keep the Indians on their toes.
"In Pune, the wicket itself did a lot of work for us, it's not necessarily the square here. These balls scuff up well early on. Reverse swing will be huge for us. If we can get it going, we have got two of the best reverse swing bowlers in the world. They will still be huge weapons for us," Marsh said.
The younger of the Marsh brothers, Mitchell played 76 balls on a rank turner and it's about playing with soft hands, he indicated.
"It was about learning to play with soft hands, so that it takes the fielders around the bat out of the game as much as possible," he said.
"It's a big part of playing well over here, and it's something all our batsmen have worked on," the 25-year-old said.
"In these conditions you've got to earn the right to attack and that's by having a solid defence. That's what I've been working on."
Even as the International Cricket Council has rated Pune wicket as "poor" following an adverse report by match referee Chris Broad, Marsh didn't want to comment on the pitch.
"I don't have a take on it. We play on the 22 yards, and that is the case for both the teams. The pitch is prepared and we just play. The Pune victory was one of the best I have played in, in my 20 Tests. It was fantastic."
(With PTI Inputs)