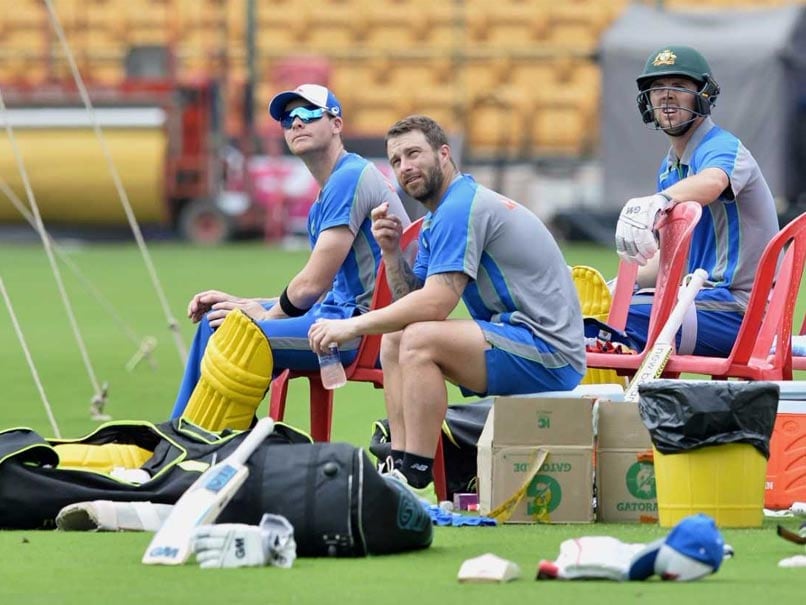 Steve Smith and his team will look to win the remaining two matches.
© AFP
Rain may have a say in the 4th One-day International between India and Australia at Bengaluru on Thursday. The Men in Blue, after inflicting a five-wicket defeat to Australia at Indore, have already bagged the five-match ODI series as they lead 3-0. While India will look to script history by whitewashing the Aussies for the first time, Steve Smith and his team's effort to win the remaining two matches may come to grief it the rain gods don't relent.
Bengaluru has been receiving heavy rain since the past 48 hours and, as per the weathermen, moderate to heavy rain may continue.
Following the prediction, the curators at the M. Chinnaswamy Stadium are taking every step to keep the pitch dry to avoid a shortened game. The stadium has cutting-edge technology to deal with wet conditions. The technology helps umpires to resume the match quickly even after heavy rain.
India were forced to cut short their training session, while Australia cancelled it altogether as light rain kept the Chinnaswamy ground under covers. The Indian team had got just about two hours at the nets in the afternoon before rain forced an early wrap. Soon after arriving at the stadium, the Indian team did some warm-up exercises and started their training session with captain Virat Kohli, Rohit Sharma, Manish Pandey and Yuzvendra Chahal, going through their batting routines. The Australian team had arrived in the morning but skipped training.
Rain has been chasing both India and Australia since the series began. During the first ODI at Kolkata, both teams had to practice indoors due to heavy rain. The second ODI at Chennai was reduced to 21-overs-a-side. The third ODI at Indore, also had witnessed inclement weather, but fortunately, rain stayed away.
While the likes of Virat Kohli and former captain Mahendra Singh Dhoni being consistent with their performance, Hardik Pandya's growth as an all-rounder has added a new dimension to the team.
He slammed a fluent 78 as India comfortably chased down 294 in the last game at Indore. Rohit Sharma and Ajinkya Rahane played their part to perfection, each scoring half centuries in a 131-run opening partnership.
(With PTI inputs)