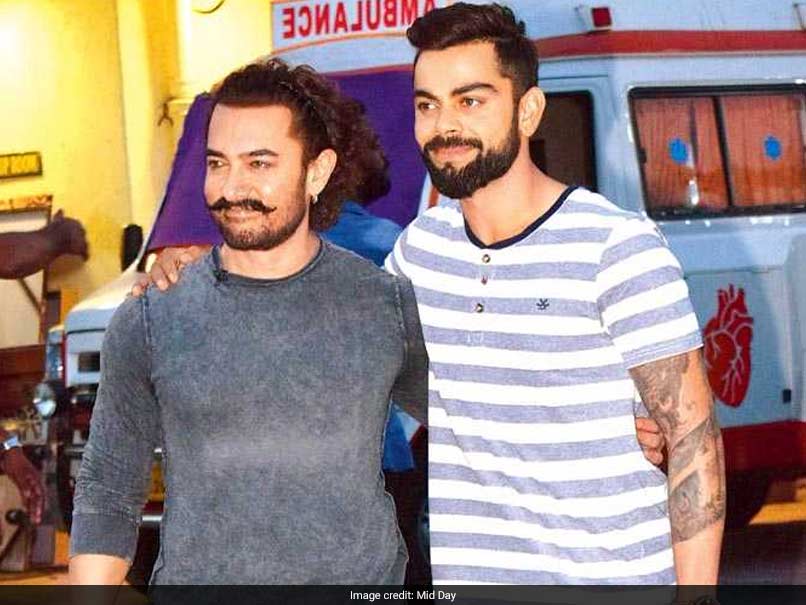 As a momento, Kohli gave the Indian cricket team jersey to Aamir.
© Mid-Day
As Virat Kohli and his men in blue walk down to the pitch later this evening to battle it out in the third T20 match in the ongoing Australia tour of India, the Indian captain will have an unlikely cheerleader in the stands - Aamir Khan. mid-day has learnt that the ace cricketer specially invited Khan for the Hyderabad match when they shot for a Diwali episode of a popular TV chat show together.
While they have known each other socially, it was during the shoot on October 2 that the two developed a warm camaraderie. As a memento, post the recording, Kohli gave the Indian cricket team jersey to the star, who, in turn, showed him the trailer of his upcoming film, Secret Superstar. The new friends parted on the promise of meeting again during the cricket match.
Says a source, "When Virat invited Aamir to the match, he instantly included it in his schedule. He will be seen attending it with Zaira Wasim." The source adds that arrangements have been made such that Khan and his team will be staying at the same hotel as the cricket squad. "Aamir will meet the team before the match. He is also carrying his blue jersey that Virat gifted him."
The two luminaries have known each other over the last three years, given Kohli's proximity to Khan's PK co-star, Anushka Sharma. The cricketer had dropped in during the Udaipur schedule of PK (2014) to surprise his ladylove. Not just that, Kohli was one of the first to watch the Rajkumar Hirani-directed film and had told the actor that he "loved it more than 3 Idiots [2009]".
However, it was the recent shoot that brought them close. "They bonded big time. Virat is usually media-shy, but he fed off Aamir's energy on the show. Both of them were at their candid best."
(Except for the headline, this story has not been edited by NDTV staff and is published from a syndicated feed.)