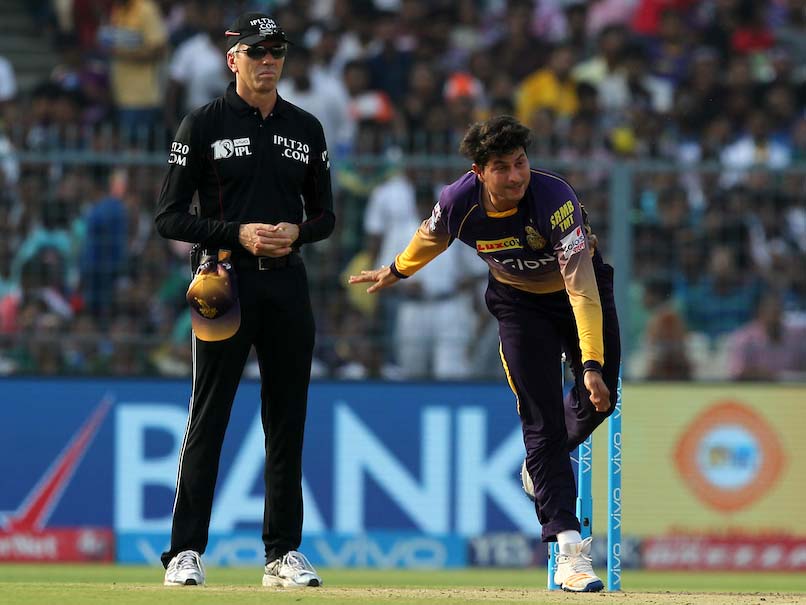 Kuldeep Yadav can be a great inclusion in the squad for India in Champions Trophy
© BCCI
Kuldeep Yadav has not had the best of IPL's so far, having been inconsistent with his performance for the Kolkata Knight Riders but former Aussie spinner Brad Hogg feels that the Indian spinner should be included in the squad for Champions Trophy that is to be played in England starting June 1. A Chinaman bowler himself, Hogg has an edge over other experts while analysing Kuldeep's abilities, which he feels will help India if he is picked for the Champions Trophy in England.
Hogg has been Yadav's teammate in the Kolkata Knight Riders franchise of the Indian Premier League.
"Yes, Kuldeep can be effective in England. The best cricketers are the ones who can adapt to foreign conditions," Hogg told PTI during an interaction.
"Great thing about the sport is no two countries are same. There is always something different that adds to the variety of the different individuals. One of his (Kuldeep) next job will be to bowl on different wickets."
The 46-year-old Hogg, who has played 123 ODIs for Australia apart from 7 Tests and 15 T20 Internationals, is in the country as ESPNcricinfo Match Day's expert panelist.
Hogg, one of the sought after chinaman bowlers in limited overs cricket, had a word of advice for Kuldeep -- gain more control over the stock ball before expanding his variety.
"He is a different bowler for sure. There aren't too many chinaman bowlers in world cricket at the moment. Kuldeep has great variety and strength of any spinner is his variations. You may know all the tricks in the trade but no point using the tricks if you haven't yet mastered a stock delivery," said Hogg.
Asked how a spinner can decide on the kind of stock delivery (his go-to ball), he wants to bowl, Hogg explained it would depend on the format one plays.
"If you are playing 50-over cricket, a leg-spinner can be a bit more slower and use his leg-break. In Test cricket, it's entirely different where you have to be very patient. Coming to T20, one needs to be a bit more quicker through the air," he said.
He then gave the example of Samuel Badree, one of the successful spinners in the shortest format.
"Someone like Badree skids deliveries into pads a little bit more so that batsmen don't free their arms. In T20 cricket, one needs to be a little bit quicker so that the batsmen don't come out of their crease.
"You can't bowl good length in T20s as a batsman would hit you out of the park," he reasoned.
Hogg said consistency is the key for a spinner.
"T20 is more about regularly building pressure and not allowing batsmen to score. Try and build on the dots. Limit the ones and engage one batsman who's going after you."
Imran Tahir and Rashid Khan have been very successful leg-spinners in this edition of the IPL and Hogg is impressed with how captains have used their attacking options wisely.
"Leg-spinners can be operational in Powerplays and some have been used in the middle period when the ball gets scuffed. It's about utilising at right times. All captains have used leg-spinners wisely. That's the biggest factor. When exactly are you using them," Hogg said.
Quizzed on the possible teams for the Play-offs, Hogg said RCB, Gujarat Lions, Daredevils and Kings XI Punjab are likely to miss the bus.
(With PTI Inputs)