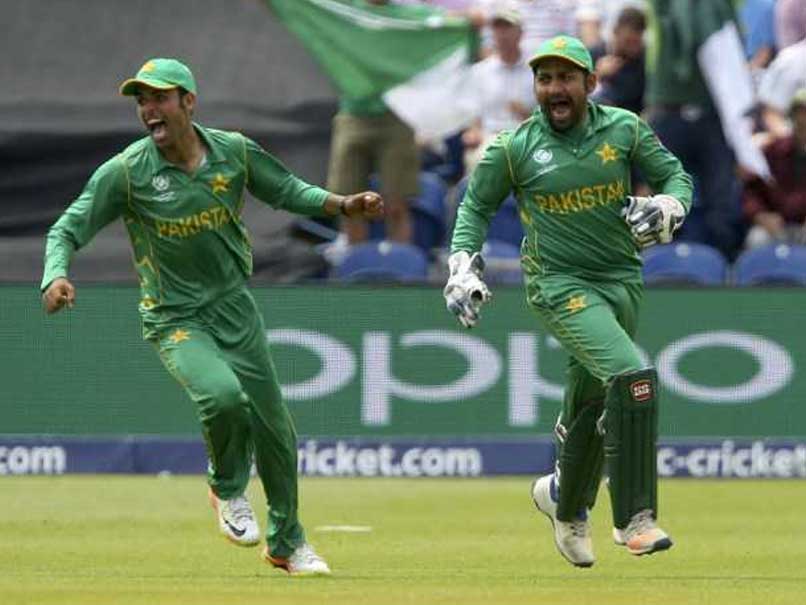 Pakistan defeated England in the semis to advance to the Champions Trophy final.
© AFP
Former Pakistani cricketer Aamer Sohail alleged that Pakistan skipper Sarfraz Ahmed and his team of being helped by 'external factors' in their victories in ICC Champions Trophy 2017 and not due to their cricketing abilities. During a panel discussion on a Pakistani news channel , Samaa TV, which included former captain and coach Javed Miandad, Sohail said that Sarfraz needs to be told that he hasn't done anything great and he was gifted the matches and there is no reason for the skipper to be happy.
"Sarfaraz needs to be told that you have not done anything great. Someone has won you these matches. You don't have to be too happy, we all have know what happens. Don't ask me who helped in winning these games, I will say that prayers of the fans and God have won them the games. I will not take the name of the source. They need to be told that you have not done anything special, you have been brought here for some reason. Keep calm, don't let success get to your head. We know of your abilities, please keep quiet and play cricket."
"If you do wrong, we will condemn it. If you do the right thing, we will appreciate you. And if you try to do the right thing in a wrong manner I will condemn that too. The players need to be focused now and play cricket, he added.
Irked by Sohail's comments, former Pakistani cricketer Basit Ali told Pakistani news channel ARY News that the only reason Pakistan reached the final was Sarfraz's captaincy.
"I don't know why he (Sohail) has made the comments, but I want to tell him that this was not the time to make such comments. His comment that there was an agenda or an external factor behind Pakistan making it to the final, is false and baseless.
"It was due to the captaincy of Sarfraz that Pakistan won their matches. If Pakistan have defeated England, it is only due to his captaincy. If there has been a captain who has made me happy after Younis Khan in 2009, it is Sarfraz.
Basit Ali also added that Sarfraz was not rattled by the claims made by Sohail.
Sohail backtracks on match-fixing allegations
The former national team captain had made the claim after Pakistan defeated Sri Lanka in their last match in Group B on June 12 to qualify for the semi-finals of the Champions Trophy.
But on Friday, Sohail claimed that he never accused the national team of fixing matches and was only criticising Pakistan captain Sarfraz Ahmed for not dedicating the win over Sri Lanka to legendary batsman Javed Miandad, whose birthday fell on that day.
"Sarfraz was asked after the Sri Lanka match whether he wanted to dedicate the win to Miandad. But I heard reports that he refused to do so and said Miandad criticises the team too much.
"What I meant was that Sarfraz has become captain only recently and Miandad is a very big name in Pakistan cricket. He should not have said such things. If Miandad says something, it is only for the improvement of Pakistan cricket," Sohail told Samaa TV.
"The other thing I said was that the facilitators of the win cannot be named; however I said nothing about match-fixing or any other foul play -- my statement was misunderstood.
"If Pakistan is winning, then why bring up references to match-fixing? I don't know what agenda people who make such allegations are following," he added.
The former head of the Pakistan Cricket Board's (PCB) selection committee also asserted that he always praised Sarfraz's talent and wanted him to achieve more success as the Pakistan captain.
"I never said that Sarfraz follows someone else's agenda. I alone supported Sarfraz since 2015 and recommended him for taking on the captaincy of the Pakistan team.
"What I meant that day on your programme was that people should stop confusing Sarfraz otherwise we will see a good talent go to waste," Sohail insisted.
(With IANS Inputs)