Story Progress
Back to home
Mercedes Consider Replacing Nico Rosberg With Fernando Alonso
Fernando Alonso could end up partnering Lewis Hamilton at Mercedes for the 2017 season of Formula 1.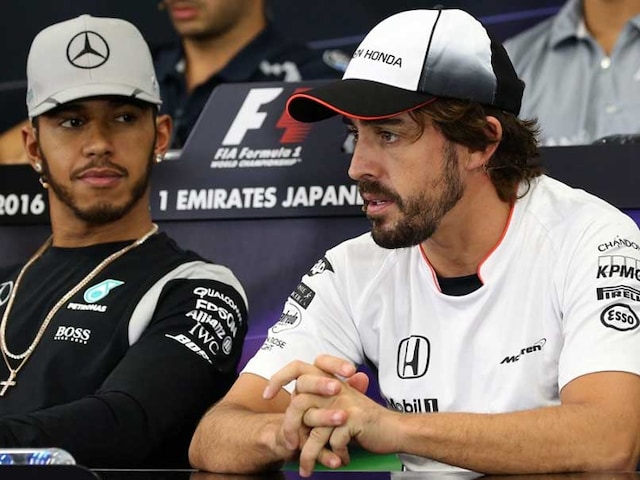 Fernando Alonso (R) partnered Lewis Hamilton at McLaren in 2007.
© AFP
Highlights
Fernando Alonso is a former two-time World Champion

He won both his F1 titles with Renault in 2005 and 2006

Mercedes' Nico Rosberg won the 2016 F1 drivers' title
Formula 1 veteran driver Fernando Alonso could replace reigning World Champion Nico Rosberg, who retired last week after winning the title, at Mercedes next year.
The Spaniard has a contract with British team McLaren for next season but if things can be worked out, the 35-year-old could well end up partnering three-time World Champion Lewis Hamilton at the 'Silver Arrows'.
"You have to consider Fernando. He is a driver I respect a lot. He combines talent, speed and experience. It's all there," Mercedes boss Toto Wolff told Sky Sports in an exclusive interview.
"But he is in a contract with McLaren-Honda at the moment and we just need to weigh all the other options up."
Rosberg, who drove for Mercedes from 2010 to 2016 - eventually winning the drivers' championship this season, partnered Hamilton 2013 onwards. But the Briton was the more dominant driver by winning the championship in 2014 and 2015.
Germany's Rosberg, who clinched the 2016 title at the year-ending Abu Dhabi Grand Prix on November 27, said his mission was accomplished and that he will retire from the pinnacle of motorsport with immediate effect.
A former two-time World Champion, Alonso has partnered Hamilton earlier. The Spaniard switched from Renault to McLaren in 2007 as the reigning two-time World Champion but both missed out on the title, which eventually went to Ferrari's Kimi Raikkonen.
The duo had a tumultuos 2007 with Alonso moving back to Renault next season while Hamilton continued at the Woking-based team till 2012.
Alonso then had a five-year stint at Ferrari from 2010 to 2014, where he finished second in the championship thrice, before moving back to McLaren in 2015.
Mercedes would want to replace a driver of Rosberg's calibre as soon as possible before the start of pre-season testing.
However, new McLaren chief Zak Brown has reiterated to Sky Sports that Alonso won't be departing to fill Mercedes' vacancy.
Promoted
"We have a contract with Fernando and he is very happy. Obviously he wants to be winning races, as do we, but I am not worried about that scenario," Brown said.
With most drivers having already signed contracts for the 2017 season, Mercedes, who are the reigning three-time constructors' champions, have a task at hand to replace Rosberg.
Topics mentioned in this article