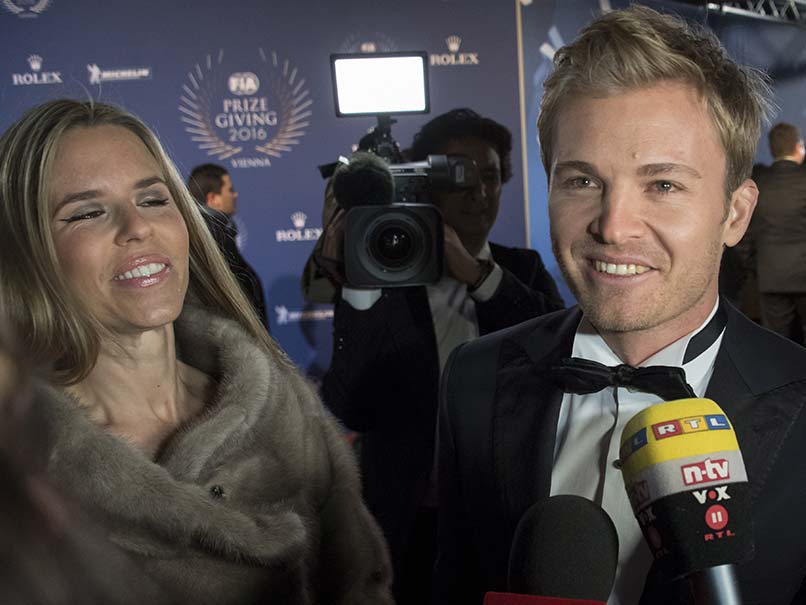 Nico Rosberg edged Lewis Hamilton to the title but he paid generous tribute to the Briton.
© AFP
The 31-year-old paid tribute to longtime friend and Mercedes teammate Lewis Hamilton, the outgoing world champion, as well as his father Keke Rosberg who won the F1 title back in 1982.
"It's mission accomplished as far as I am concerned," the German told the FIA prize giving ceremony at a star-studded event in Vienna.
"I'm so proud to be here. It's been a pretty intense period but it was my childhood dream.
"When I saw this trophy for the first time today, I immediately went and found where my dad's name was on it. It's very special and emotional to share with him what he did 34 years ago."
Rosberg admitted that had he come up short in the championship this year, he would have carried on in 2017.
"When I was six, I wanted to be world champion and I have done it. Now on to other things -- family first, see what the future holds and just follow my heart."
Rosberg edged Hamilton to the title but he paid generous tribute to the Briton.
"Lewis was awesome so to take the title away from him is very special," added Rosberg who admitted that winning the title was the second most intense thing he has done.
"Well, watching my wife give birth, that was pretty intense."
Dutch driver Max Verstappen won the award for FIA Personality of the Year and FIA Action of the Year.
The colourful Red Bull driver became the youngest winner of a Grand Prix when he triumphed at the Circuit de Catalunya in Spain at the age of 18 years and 228 days.
It was one of only two races not won by a Mercedes driver in 2016 -- the other went to Verstappen's team-mate Daniel Ricciardo in Malaysia.
Meanwhile, the world rally championship trophy was presented for the fourth successive time to Sebastien Ogier and co-driver Julien Ingrassia.
But it was an emotional night for Ogier whose Volkswagen team revealed last month that 2016 was to be their last season in the championship.
"The whole story of the last four years has been amazing -- the time of our lives," said Ogier.
"It has come to an end and we are looking to the future and thinking about new challenges. We are confident that we can still be part of the next championship."
Ogier was cheekily asked if he'd be interested in filling the vacancy created by Rosberg at Mercedes in next year's Formula One world championship.
"Well, my heart's in rallying and I'd need to get a super-licence," he said. "But it would be a great story, no?"