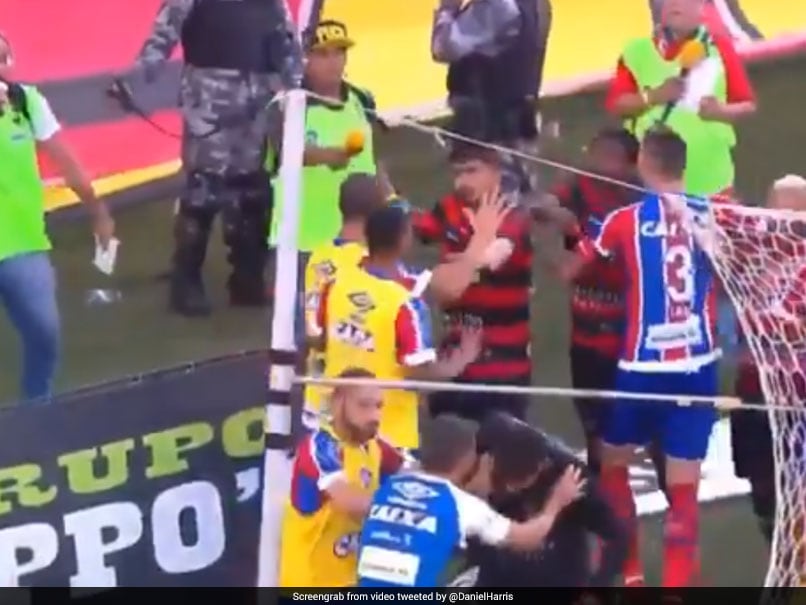 Nine men were sent off as Vitoria vs Bahia Brazilian derby was abandoned
© Twitter
In one of the most bizarre incidents to take place during a football match, a Brazilian derby between Vitoria and Bahia was abandoned with 11 minutes remaining after the hosts had six men sent off in a game marked by a mass brawl between players from both sides. The score in the Bahia state clash was 1-1 when Bruno Bispo became the ninth player in all, and the fifth from Vitoria, to be shown the red card. With teams requiring a minimum of seven players, the referee was forced to end the game.
The ugly scenes soon unfolded following Bahia's celebrations after their player Vinicius levelled the scoreline at 1-1 with a penalty kick, cancelling out Denilson's earlier strike.
Bahia player scores penalty, celebrates in front of Vitoria fans. There follows a row, EXACTLY what NO ONE wants to see, there follows six red cards pic.twitter.com/mqqQ9nHoIw

— Daniel Harris (@DanielHarris) February 19, 2018
A provocative dance in front of the Vitoria supporters evoked an angry reaction from the home players and punches were thrown from both sides.
Initially, five players were given red cards, three from Bahia and two from Vitoria.
Two more players, one from each side, were sent off a couple of minutes later, as tempers flared.
Brazil's sporting court will now decide on the course of action to take over the indiscipline and the result.