New York :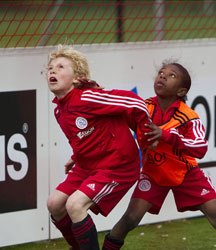 The youth academy of the famed dutch soccer club Ajax is grandiosely called De Toekomst -- The Future. Set down beside a highway in an unprepossessing district of Amsterdam, it consists of eight well-kept playing fields and a two-story building that houses locker rooms, classrooms, workout facilities and offices for coaches and sports scientists. In an airy cafe and bar, players are served meals and visitors can have a glass of beer or a cappuccino while looking out over the training grounds. Everything about the academy, from the amenities to the pedigree of the coaches -- several of them former players for the powerful Dutch national team -- signifies quality. Ajax once fielded one of the top professional teams in Europe. With the increasing globalization of the sport, which has driven the best players to richer leagues in England, Germany, Italy and Spain, the club has become a different kind of enterprise -- a talent factory. It manufactures players and then sells them, often for immense fees, on the world market. "All modern ideas on how to develop youngsters begin with Ajax," Huw Jennings, an architect of the English youth-development system, told me. "They are the founding fathers."
In America, with its wide-open spaces and wide-open possibilities, we celebrate the "self-made athlete," honor effort and luck and let children seek their own course for as long as they can -- even when that means living with dreams that are unattainable and always were. The Dutch live in a cramped, soggy nation made possible only because they mastered the art of redirecting water. They are engineers with creative souls, experts at systems, infrastructure and putting scant resources to their best use. The construction of soccer players is another problem to be solved, and it's one they undertake with a characteristic lack of sentiment or illusion.
The first time I visited De Toekomst happened to coincide with the arrival of 21 new players -- 7- and 8-year-olds, mainly, all from Amsterdam and its vicinity -- who were spotted by scouts and identified as possible future professionals. As I came upon them, they were competing in a series of four-on-four games on a small, artificial-turf field with a wall around it, like a hockey rink, so that balls heading out of bounds bounced right back into play. It was late November and cold, with a biting wind howling off the North Sea, but the boys skittered about in only their lightweight jerseys and baggy shorts. Their shots on goal were taken with surprising force, which kept the coaches who were serving as goalkeepers flinching and shielding themselves in self-defense. The whole scene had a speeded-up, almost cartoonish feel to it, but I certainly didn't see anyone laughing.
After a series of these auditions, some players would be formally enrolled in the Ajax (pronounced EYE-ox) academy. A group of men standing near me looked on intently, clutching rosters that matched the players with their numbers. One man, Ronald de Jong, said: "I am never looking for a result -- for example, which boy is scoring the most goals or even who is running the fastest. That may be because of their size and stage of development. I want to notice how a boy runs. Is he on his forefeet, running lightly? Does he have creativity with the ball? Does he seem that he is really loving the game? I think these things are good at predicting how he'll be when he is older."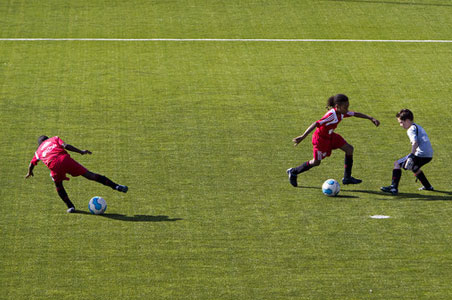 Like other professional clubs in Europe and around the world, Ajax operates something similar to a big-league baseball team's minor-league system -- but one that reaches into early childhood. De Jong, a solidly built former amateur player, is one of some 60 volunteer scouts who fan out on weekends to watch games involving local amateur clubs. (He works during the week as a prison warden.) His territory includes the area between The Hague and Haarlem -- "the flower district, which is also a very good hunting ground for players" is how he described it. He'll observe a prospect for months or even years, and players he recommends will also be watched by one of the club's paid scouts, a coach and sometimes the director of the Ajax youth academy. But for some families, the first time they realize their boys are under serious consideration is when a letter arrives from Ajax requesting that they bring their sons in for a closer look, an invitation that is almost never declined. To comprehend the impact of a summons from Ajax, imagine a baseball-crazed kid from, say, North Jersey arriving home from school one day to learn that he has been asked to come to Yankee Stadium to perform for the team brass.
One player there was de Jong's discovery, an 8-year-old who, he said, had "talent that is off the charts." But if this boy were to be accepted into the academy, it would mean he had completed just the first of a succession of relentless challenges. Ajax puts young players into a competitive caldron, a culture of constant improvement in which they either survive and advance or are discarded. It is not what most would regard as a child-friendly environment, but it is one that sorts out the real prodigies -- those capable of playing at an elite international level -- from the merely gifted.
About 200 players train at De Toekomst at any given time, from ages 7 to 19. (All are male; Ajax has no girls' program.) Every year, some in each age group are told they cannot return the following year -- they are said to have been "sent away" -- and new prospects are enrolled in their place. And it is not just the children whose performances are assessed. Just before my second trip to Amsterdam in March, several longtime coaches were informed that they had not measured up and would be let go. One of them was the coach of a boy I had been following, Dylan Donaten Nieuwenhuys, a slightly built, soft-featured 15-year-old who began at Ajax when he was 7.
Dylan's father, Urvin Rooi, served as a sort of guide for me. Gregarious and opinionated, he introduced me to other parents, made sure I came inside for hot drinks at the cafe and even gave me lifts on his scooter from the training grounds back to the transit station. He was particularly useful in translating a culture that was nothing like I had ever seen in many years of reporting on American sports. When I observed that for all the seriousness of purpose at De Toekomst, I was surprised that the players did not practice more hours or play more games, Rooi said: "Of course, because they do not want to do anything to injure them or wear them out. They're capital. And what is the first thing a businessman does? He protects his capital."
When the boys start at the youth academy, Rooi said, they are attached to the ideal of Ajax, whose senior team packs in 50,000-plus fans for its home games and still occupies a mythic place in world soccer because of the innovative style it established in the 1960s -- a quick-passing, position-shifting offensive attack that became known as Total Football. "The little boys drink their tea out of Ajax cups," he said. "They sleep in Ajax pajamas under Ajax blankets." As spring approaches, he continued, they get nervous about whether they will be permitted to stay for another year. "This is when they sometimes start to get bad school grades. They don't sleep. They wet their pants."
Over time, though, the a