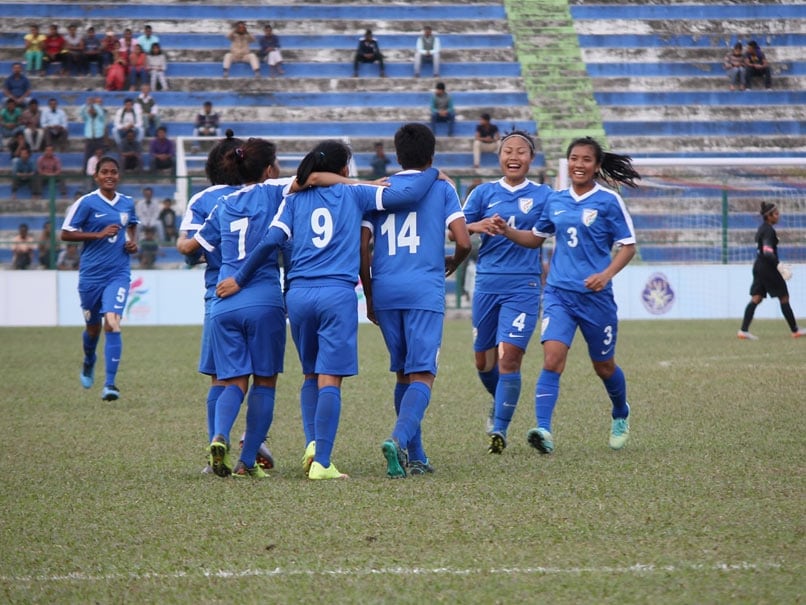 India cruised to a 3-1 win over Nepal in the SAFF Women's Championship semifinals.
© AIFF
India put on a dominant display as they defeated Nepal 3-1 in the semifinals of the SAFF Women's Football Championship at the Kanchenjunga Stadium in Siliguri on Monday, to book a berth in the tournament's title clash.
After a goal by Kamala Devi in the dying stages of the first half, India extended their lead through Indumathi in the 58th minute. Nepal got a goal back through Sabitra Bhandari in the 75th minute from a penalty, before Sasmita Malik scored India's third and final goal in the 83rd minute of the match.
The first-half was totally one-sided with India dominating and setting the pace of the match. However, India were made to wait and Kamala Devi's strike at the stroke of interval was perhaps most sweetly timed.
It allowed India to plan the proceedings in the second half. The second goal came in the 58th minute when Indumathi followed a long ball from Bala, beat the off-side trap and placed it into the Nepal goal.
The last goal came in the 83d minute. Nepal goalkeeper Anjila, who impressed with her interceptions and reflexes, fumbled to collect a routine corner from Sasmita and saw the ball helplessly roll into the net.
India coach Sajid Dar described the win as a "team effort".
"It is hard to single out any single player. Right from the goalkeeper to our defenders to the midfielders to the strikers, everyone played their part. It was a team effort," Dar said at the post-match press conference.
(With inputs from PTI)