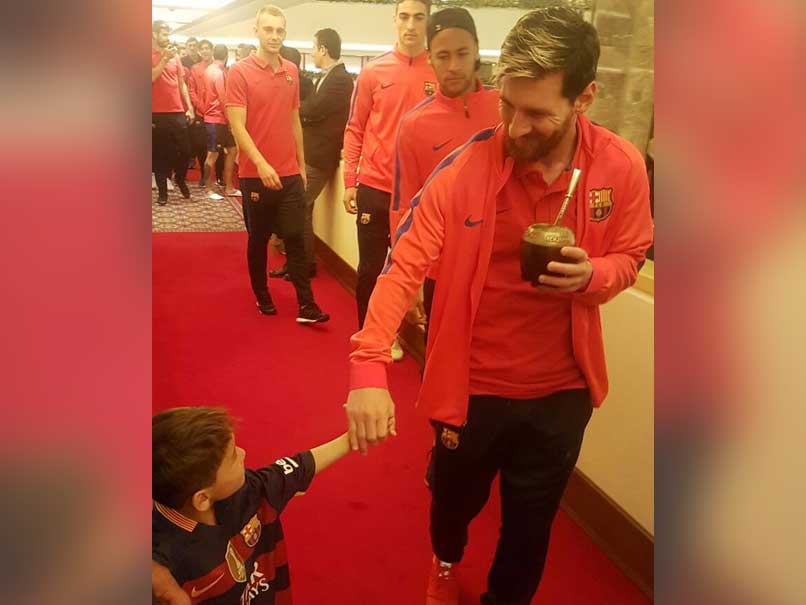 Lionel Messi met Murtaza Ahmadi in Doha during Barcelona's match with Al Ahli.
© roadto2022
Murtaza Ahmadi, the Afghan boy who became a hit on social media earlier this year, finally met his hero Lionel Messi in Doha.
The world took note of Murtaza after a picture of him, wearing a shirt made from a striped blue plastic bag with Messi's number 10 written on the back, became viral.
This powerful image touched the hearts of millions of football lovers across the globe, as soon as it first surfaced on the Internet.
He was eventually identified as Murtaza Ahmadi from Afghanistan's Ghazni province, thanks to the efforts of his uncle, Azim Ahmadi, who lives in Australia.
The six-year-old then received a signed shirt from the Barcelona superstar.
"I want to meet Messi, spend time with him, I love the way he plays football. I love him very, very much," he told AFP at the time.
Soon after this gesture from Messi, Murtaza's family was forced to leave Afghanistan amid constant telephone threats and the fear of Murtaza being kidnapped.
His dream of meeting Messi finally came true when Barcelona arrived in Qatar to play a friendly match against Al Ahli.
Six year old Afghan boy Murtaza finally meets #Messi. pic.twitter.com/ujA2wa81UB

— Road to 2022 (@roadto2022) December 13, 2016
The image the world wanted to see. The six year old boy who dreamed of meeting his hero, #Messi, finally comes true. #FCBinDoha pic.twitter.com/58FWn17b9A

— Road to 2022 (@roadto2022) December 13, 2016

Murtaza Ahmadi, menino afegão que teve sua foto correndo o mundo, conheceu seu herói Messi, e não quis largá-lo mais!#TudoPeloFutebol pic.twitter.com/QmIqGeWbwW

— Mundo ESPN (@ESPNagora) December 13, 2016