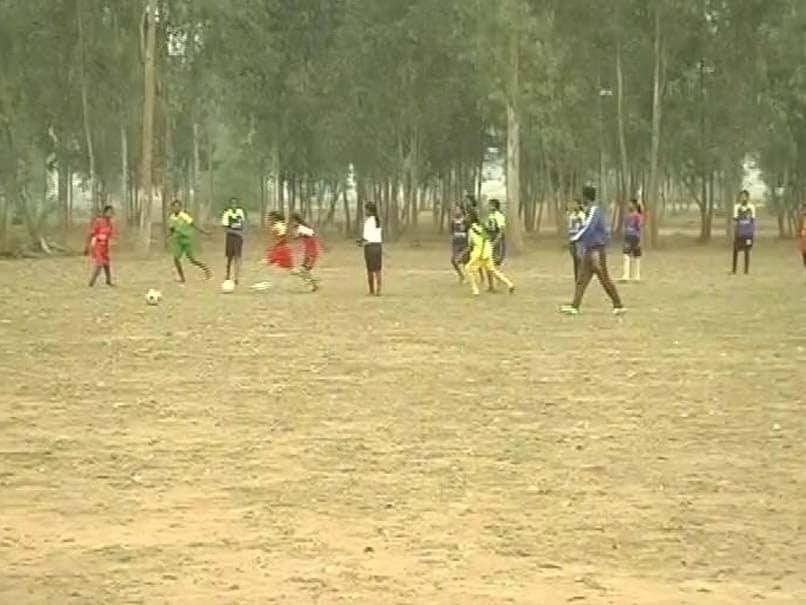 The girls could be playing at the national level some day.
© NDTV
Joypur village in the Rajnagar block of Birbhum district is a beautiful place in spring. There is still a trickle in the river before summer sets in and the 'palash flowers' are blooming with their colour lighting up almost the entire village. Spring, along with the burst of colour has also brought life altering opportunities for its young girls who often fall prey to early marriage and exploitation.
Like any other backward tribal region, Rajnagar block on the Jharkhand Bengal border around 260 km from Kolkata has witnessed girls being married of early without the opportunity to pursue a career or decide their own destinies. But one Kolkata-born engineering graduate hopes to change that. US based Shiv Shankar Dasgupta has set up an academy to train young tribal girls to play football and use that as a tool to make them self reliant women. 44 women have signed up and are now practising at what is called the Shreeja Sports Academy under the keen watch of coaches from Kolkata and local coaches trained by them.
The village is remote, difficult to access and barely touched by development. For the women life is even more difficult as most of them are married of early and spend their lives doing household chores and working as labourers. Football for the girls might just turn out be their ticket to a bright future which they could not even have dreamt off.
20-year-old Sangeeta Marandi says football has given her hope or else she would have ended up taking a labourer's job like other women in the village. But now she is pursuing her first love, football. "I love football. I took every chance to watch it on TV. I have watched Ronaldo and Messi. I watch the Kolkata clubs too and I love goal keeping," she tells NDTV while taking a short break from practice in a field which is a short distance away from the village.
But there are many in the village are yet to come to terms with women becoming independent. The girls who play football are often sneered at even as mindsets are beginning to change. "People don't say anything on our face but they talk about it in our absence. They say it doesn't suit us and women should not play football," adds Anjali Soren who wants to play football and learn how to use computers so that she can find a job too.
While the academy is now focused on basics like a changing room, a toilet at the field where the girls practice, the plan is to also set up a computer centre were the footballers can learn other skills. The 44 girls will be taught self development, rural entrepreneurship, character building to help them sustain themselves.
"In rural India early marriage, domestic violence and human trafficking have often forced women to accept gender inequalities. Football can be a wonderful women's empowerment tool. Along with football we also have designed programmes on self esteem, leadership and team building, says Shiv Shankar Dasgupta, the Director of Shreeja Sports Academy"
The girls could be playing at the national level some day as they or football could be a stepping stone to bigger dreams. If that happens, Dasgupta would have achieved what has set out to do.