Story Progress
Back to home
Michael Vaughan Pokes Fun At Manchester United's Marouane Fellaini, Gets Egg On The Face
Jose Mourinho threw on Juan Mata and Marouane Fellaini in the 63rd minute but bizarrely took Fellaini off just seven minutes later.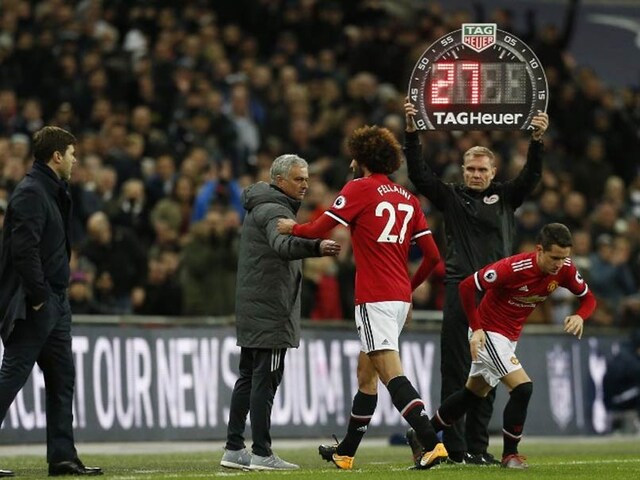 Marouane Fellaini was substituted just seven minutes after coming on.
© AFP
Highlights
Michael Vaughan tried to troll Fellaini

Michael Vaughan made an error while trying to make fun of Fellaini

Fellaini was substituted just 7 minutes after coming on
Manchester United were completely outplayed and outclassed by Tottenham Hotspur on Wednesday night as they fell 15 points behind Premier League leaders Manchester City. Jose Mourinho's men put in a tepid performance and lacked any kind of intent as they went 0-2 down to the Londoners. Christian Eriksen scored for the Spurs within 11 seconds to overshadow Alexis Sanchez's Premier League debut for Manchester United. However, there was another incident during the match that got everyone talking -- Marouane Fellaini's substitution.
With things looking dire for United after the hour-mark, Mourinho made two substitutions. The Portuguese manager threw on Juan Mata and Fellaini in the 63rd minute in a bid to salvage things.
However, bizarrely Fellaini was taken off just seven minutes later, replaced by Spanish midfielder Ander Herrera. Despite getting a pat from Mourinho, the Belgium international didn't look to impressed, and took off his shirt and marched straight down the tunnel.
Former England cricket captain Michael Vaughan follows football quite passionately and regularly tweets during live matches. He didn't miss on the chance to troll Fellaini, however, the cricketer made a small mathematical error.
Fellaini has 3hrs 30 mins for his agent to get him a move........

— Michael Vaughan (@MichaelVaughan) January 31, 2018
Fans quickly caught on to the error and started trolling Vaughan instead.
It's 1 hr 30 closes at 11pm

— DAVID CAIN (@wellinglion) January 31, 2018
Good maths

— Darren Ansell (@Ansell_4) January 31, 2018
#TransferWindow closes @ 11pm better stick 2 cricket #FakeTyke

— Mike Jones (@JonesMike19668) January 31, 2018
Maths not a strong point

— Andrew Christy (@Andyandrach) January 31, 2018
Pretty sure he has 1 hour 30 mins....

— Adam Savoury (@Saves1990) January 31, 2018
Soon after, Vaughan apologised for his faux pas.
Apologies he has 90 mins ........

— Michael Vaughan (@MichaelVaughan) January 31, 2018
The painful defeat for United realistically ends any lingering hopes they may have harboured of catching runaway leaders City.
Mourinho signed Sanchez this month to bolster his attacking options but Spurs caught the visitors cold at a packed Wembley, Eriksen opening the scoring from the kick-off following a long ball from inside the Tottenham half.
Promoted
The goal, timed at 10.48 seconds, was the first United have conceded in 2018 but despite some bright moments of their own they were 2-0 down just before the half-hour after Phil Jones lashed the ball into his own net.
(With AFP Inputs)
Topics mentioned in this article