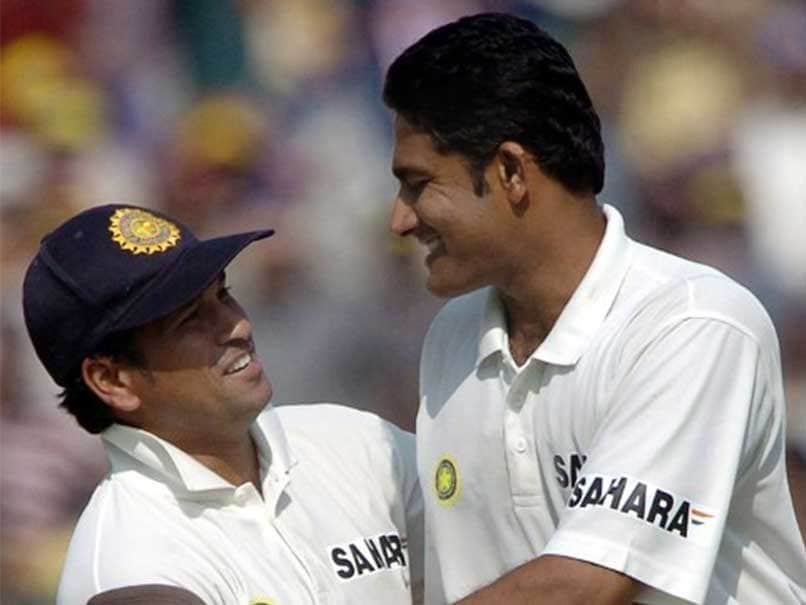 Sachin Tendulkar and Anil Kumble have both captained each other.
© AFP
Sachin Tendulkar and Anil Kumble are two of the greatest cricketers India has produced. They have played with each other for close to two decades, so it was obvious that when one of them retired, the other was moved. Sachin Tendulkar has revealed that Anil Kumble's retirement speech way back in 2008 made him quite emotional. Kumble finished his cricketing career on November 2, 2008, in New Delhi with 619 wickets - the third highest in the history of Test cricket after Sri Lankan Muttiah Muralitharan (800) and Australia's Shane Warne (708).
"That Delhi Test turned out to be Anil Kumble's last and it was an extremely emotional moment for us all. Anil was one of the biggest match-winners India has produced and we had played together for close to two decades," Tendulkar has written in his autobiography 'Playing It My Way'.
"I was very surprised when he said he was thinking of retiring. He felt he was not bowling close to his best and was not able to give 100 per cent for the team. My argument was simple. Even 80 per cent of Anil Kumble was good enough for most batsmen and India still needed him."
Australia were touring India then to play four Tests and the hosts eventually won the series 2-0. The third match, which ended in a draw, was played at the Ferozeshah Kotla in New Delhi which also turned out be Kumble's last match.
"I almost managed to persuade him to carry on but an injury to his spinning finger on the third day of the Test was the final straw. He had just recovered from a shoulder surgery and with the finger injury, which required eleven stitches, he simply couldn't bowl. We carried him on our shoulders and it was a fitting finale for one of international cricket's true all-time greats," Tendulkar has written.
With Kumble retiring, Mahendra Singh Dhoni became India's regular Test skipper. The wicketkeeper-batsman was anyway leading India in One-Day Internationals (ODI) as well as Twenty20 Internationals.
"His final speech was very emotional for all of us and the crowd gave him a standing ovation. I'm glad to say we managed to convince Anil to come to Nagpur (which was Sourav Ganguly's last international match) for the last Test to be a part of the celebration if India went on to win the series," writes Tendulkar, who himself has played in 200 Test matches.
"It was only right that Anil should be there, because he had captained us in two of the first three Tests and had also been the captain when we played in Australia earlier in the year," concluded Tendulkar, referring to the series when Kumble led India in Australia in what turned out to be a controversial series due to the 'Monkeygate' chapter.