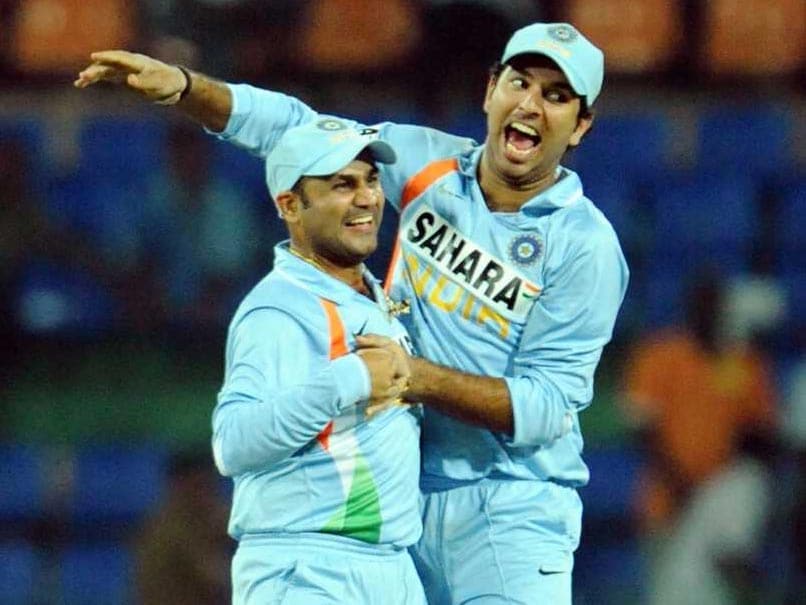 Virender Sehwag and Yuvraj Singh were part of India's T20I World Cup win in 2007.
© AFP
Former India cricketer Virender Sehwag on Friday backed star left-hander Yuvraj Sigh to make a comeback into the national side. Speaking at a promotional event for the Indian Premier League (IPL), Sehwag said Yuvraj and Harbhajan Singh were on Kings XI Punjab fans' wishlist ahead of the upcoming auction. According to Sehwag, Yuvraj needs to perform in domestic cricket and pass the fitness tests to make the cut for India's limited-overs cricket team. "He's not in the Indian team, but Yuvraj is still an amazing player. His talent is intact. Even a current India player can lose form. I don't think we'll get a player like him again. If his form his good, he's a match-winner," said Viru.
Sehwag cited the example of Ashish Nehra to make his point.
"That's up to the selectors. If he performs in domestic cricket, or passes (yoyo), then why not? If Ashish Nehra can make a comeback at 36, why not Yuvi," he was quoted as saying by the TOI.
Sehwag said the IPL benefited him financially while pointing out that whenever a player gets dropped from the Indian team, it affects his price in the T20 League.
For this, he gave the examples of seasoned campaigners Yuvraj, Harbhajan and Gautam Gambhir.
"(The IPL) benefited me financially, because when I played for India, it was Rs 2 lakh per game, Test matches Rs five lakh a game and then suddenly in the IPL you get Rs 10-crore or Rs 12-crore contract and then you are financially secure and you can work more on fitness and perform for the IPL and India.
"The moment you get dropped from India (the national squad), prices drop which we have seen in a lot of players. Yuvraj Singh, Gautam Gambhir, Harbhajan Singh - (since) they are not playing for India, they did not get (Rs) 10 or 12 crore," he added.
(With inputs from PTI)