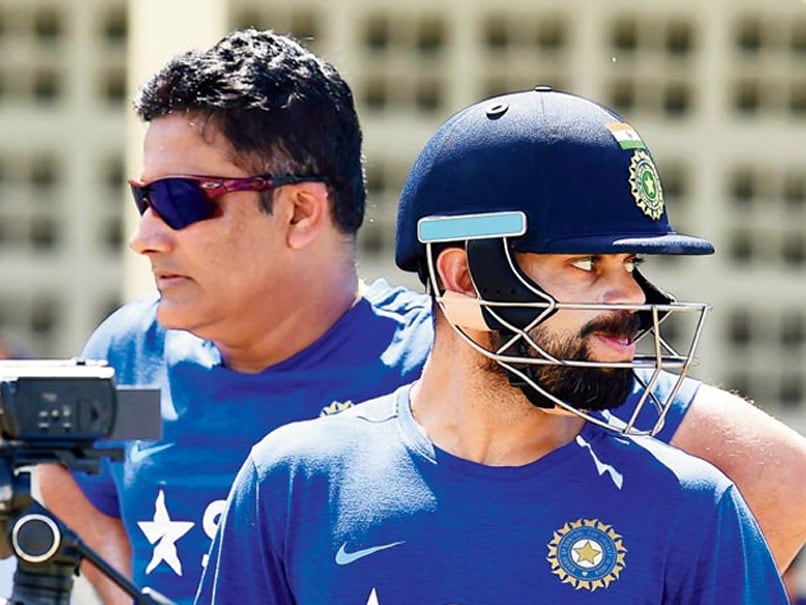 Virat Kohli is said to be 'unhappy' with coach Anil Kumble.
© Mid-Day
The Board of Control for Cricket in India's (BCCI) Cricket Advisory Committee (CAC) are left with a new dilemma after India captain Virat Kohli conveyed his "strong reservations" about head coach Anil Kumble, who has applied afresh for the post.
According to a report in 'The Telegraph', Kohli met the CAC members - Sachin Tendulkar, Sourav Ganguly and VVS Laxman - together with BCCI's acting secretary Amitabh Choudhary, CEO Rahul Johri and General Manager (cricket) Dr MV Sridhar on Saturday evening. The meeting lasted for around an hour.
"Kohli is very clear about where he stands vis-a-vis Kumble. It seems the relationship is beyond the repair stage, at least from Kohli's side. However, the CAC will now meet Kumble and see if a patch-up is possible," a source was quoted as saying in the report.
The CAC will meet Kumble today in London. According to sources, the CAC are left with several questions unanswered.
"Kumble's track record as head coach is almost without a blemish. How does one remove him? On what grounds? "To what extent should the captain have a say? Also, can we have a situation where Kohli, no matter how successful and brilliant he is, gets complete charge? Big questions need to be settled," the source added.
Another question bothering the CAC is what if Kohli has a problem with the next head coach as well? Former India opener Virender Sehwag is among six applicants to have applied for the post. But what if there are issues between him and the captain within months or even weeks?
The cricket fraternity is buzzing with talks of ex-India Team Director, Ravi Shastri's easy-going manner being missed. Shastri hasn't applied for the post, but he has backers. The Supreme Court-appointed Committee of Administrators wants Kumble to travel, but there's no clarity.
(This story has not been edited by NDTV staff and is auto-generated from a syndicated feed.)