Story Progress
Back to home
Virat Kohli Extremely Good, Not Great Yet, Says Michael Holding
Last week, Virat Kohli was crowned cricketer of the year by the International Cricket Council, capping off a strong innings for the 29-year-old across all three formats of the game.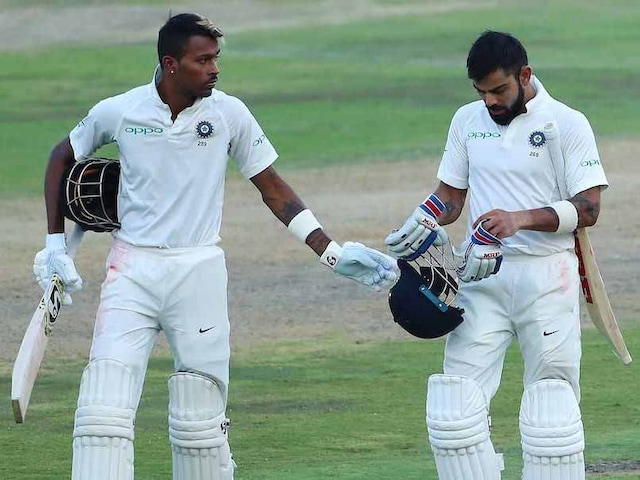 Virat Kohli scored a ton in the 2nd Test vs South Africa.
© AFP
Highlights
Kohli was in spectacular form in 2017

Kohli was named ICC Cricketer of the Year

Holding said Kohli is an extremely great batsman
Former West Indies fast bowler Michael Holding feels India captain Virat Kohli is an extremely good batsman, but for him to enter the category of cricket greats he will have to score runs in England. Holding described Kohli as one of the top three batsmen in the world at the moment along with England's Joe Root and Australia's Steve Smith. According to Holding, however, great batsmen score runs everywhere and Kohli is yet to do so.
"Virat Kohli is a fantastic batsman. I was asked to name three top cricketers and I included Kohli in that list. He is a very very good player. When I see him score runs in England, I would call him a great player. I like people who score runs everywhere. He is an extremely good player," Holding told Mumbai Mirror.
Holding believes Kohli is emotional about is cricket and needs to further improve his captaincy.
"But as a captain, he has some work to do. I don't want to condemn him too much because I like to have my own way as a captain. I like to be given the team I want all the time. But it is still not the right way to go. There got to be discussions with the wiser heads from time to time, come to conclusions and flesh out different arguments. I get an impression that he is getting what he wants.
"He is very emotional about his cricket. He means everything he wants to do. In time he will learn. Because he has been so successful since he took over, it is hard for him to change. He has to see other view points and arrive at consensus," Holding further added.
Last week, Kohli was crowned cricketer of the year by the International Cricket Council, capping off a strong innings for the 29-year-old across all three formats of the game.
Kohli is just the fourth Indian to win the prestigious Sir Garfield Sobers Trophy, following in the footsteps of batting greats Sachin Tendulkar (2010), Rahul Dravid (2004) and teammate Ravichandran Ashwin (2016).
"It's the first time winning the Garfield Sobers Trophy, and it's a huge honour for me," Kohli said in a statement.
"It's probably the biggest of all in world cricket and two Indians getting it back-to-back makes it more special."
Kohli was also crowned the world's best one-day batsman, winning that title for the second time since 2012.
During the voting period from 21 September 2016 to end-2017, Kohli scored 2,203 Test runs at an average of 77.80 including eight centuries.
He accumulated 1,818 runs in the one-day format including seven centuries.
The 29-year-old was also bestowed a rare honour -- selected to captain the ICC's Test and ODI sides, a team in name only that comprises the best players from around the globe.
India emerged as the world's best Test side in 2017 under Kohli, with an unbroken series winning streak at home. He also leads the ODI and Twenty20 teams for the subcontinent.
Promoted
But it has not always been smooth sailing for Kohli, whose men were defeated 2-0 in a Test series against South Africa, prompting criticism about his team selection and India's poor Test record away from home.
(With inputs from AFP)
Topics mentioned in this article