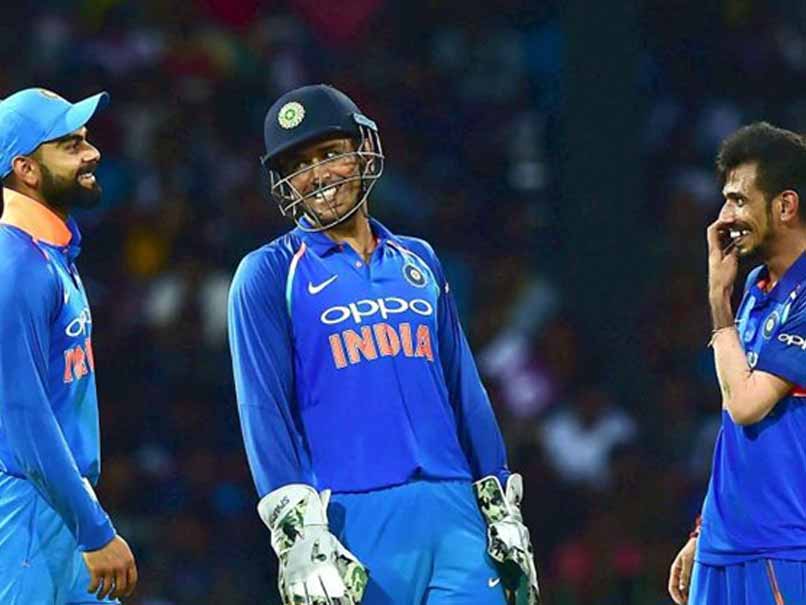 Chahal explained how Dhoni signals to Kohli and tells him to relax at times.
© PTI
You may have taken the captaincy from MS Dhoni, but you can't take the captain out of MS Dhoni. Not just once, the Ranchi man has proved this time and again, despite handing over the captaincy baton to Virat Kohli. He is often heard guiding and advising the young players during the match. NDTV.com caught up with young sensation Yuzvendra Chahal, who gave insights on how the former skipper takes over from Kohli without letting anyone know.
"Dhoni bhai is still our captain," Chahal told NDTV.com in an exclusive interview.
"Sometimes, when Kohli bhai fields at mid-on or long-on, then we need someone who can guide us too. It is not possible for Kohli to come up and tell what needs to be done. Then, Dhoni takes over," Chahal said.
Chahal explained how Dhoni signals to Kohli and tells him to relax in whatever position he is fielding at.
"Dhoni signals Kohli to remain at his place. He says - tu wahi reh, mai dekh lunga (You stay there, I will handle)," Chahal said.
"Actually, it saves time too. Dhoni has abundance of experience with him. We all are lucky that we are sharing the field with him," the 27-year-old said.
Chahal also revealed that Dhoni calls the youngsters in the team as 'Chotey'.
"Dhoni bhai is approachable. I know he has quit captaincy but we all know he will always remain the team's captain. He calls me Chotey," the young leg-spinner said.
Recalling some of the moments when he was instructed by Dhoni, Chahal said: "He knows how to read a batsman's mind. I don't know how he does, but he manages brilliantly. He calls me and says, Chote isko bahar daal ya straight daal. I do the same and get the results. He is an amazing person."
During the Australia series, the 36-year-old's tips came in handy for the spinners as Kuldeep Yadav bagged the wickets of David Warner and Marcus Stoinis, while Glenn Maxwell, Matthew Wade and Pat Cummins were dismissed by Chahal.
"Woh maarne waala daal naa andar yaa baahar koi bhi (bowl the one where he attempts to hit, turning in or away, anything is fine)", Dhoni was heard telling Chinaman bowler Kuldeep during the series.
Ghumane waala daal ghumane waala (bowl the one that turns)," Dhoni was constantly heard advising Chahal and Kuldeep.
"Na, na, na. Isko itna aage nahi (not this full)," Dhoni told Kuldeep after he was unhappy with the latter's line and length with Glenn Maxwell at the crease.
"Tu bhi nahin sunta hai kya (You also won't listen)? Aise, aise dalo (bowl it like this)", Dhoni was heard telling Chahal during the match.
Known for his unorthodox methods on a cricket field, Dhoni has groomed many spinners with his verbal tips behind the stumps.
Ravindra Jadeja and Ravichandran Ashwin are the biggest examples before us.
Not just spinners, captain Kohli sometimes is seen taking Dhoni's advice when it comes to using DRS.
Dhoni called time on his Test career during the series in Australia in 2014. However, he stayed on as ODI and T20 international captain.
Dhoni stepped down as the captain of India's limited-overs teams ahead of the ODIs and T20Is against England in January earlier this year.
The 36-year-old led India to victory in the 2007 World T20 in South Africa, the 2011 World Cup in India, and the 2013 Champions Trophy in England.
Dhoni captained India in 199 ODIs. India won 110 and lost 74 under his leadership.
He also led India in 72 T20Is. India won 41 and lost 28 under his captaincy in the shortest format of the game.