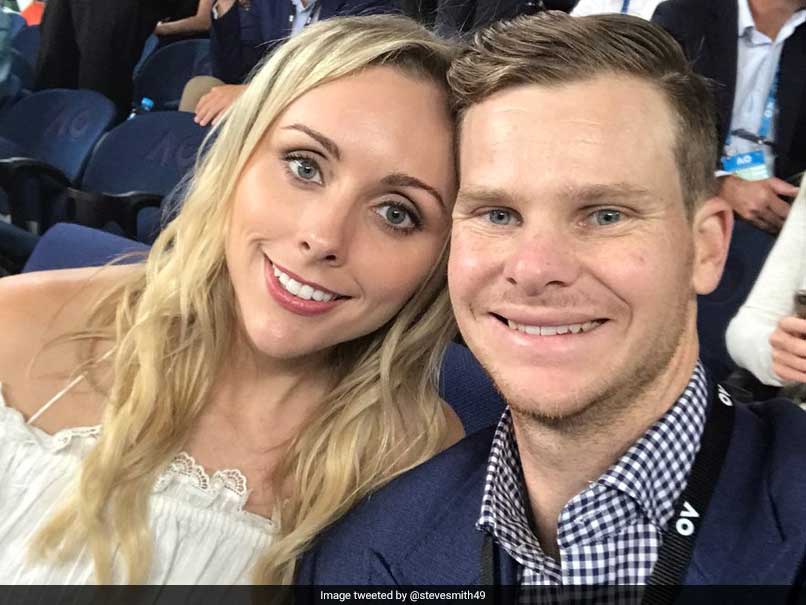 Steve Smith attended the Australian Open with fiancee Dani Willis.
© Twitter
Australian cricket captain Steve Smith and fiancee Dani Willis enjoyed a great night of tennis action at Melbourne Park. Smith tweeted a photo with tennis legend Roger Federer and another, a selfie, with Willis. "Great night out at the @AustralianOpen with @dani_willis we both absolutely love our tennis! Thanks @CraigTiley for having us. What a belter of a match!," he wrote. However, in what in what some fans described as another 'brain fade' Smith tagged the wrong Dani Willis (@dani_willis) in his photo.
While some of Smith's followers were quick to point out the error out to him, others enjoyed a good laugh at his expense.
Again a brainfade moment by tagging the wrong person! ??

— Aditya Kashyap (@itsmeAditya12) January 22, 2018
I guess you tagged wrong girl Steveee ??????????

— Sumukh ?? (@Sumukh__) January 22, 2018
Your twitter form is a bit like your one-day form....Patchy? Wrong Ball/Wrong Bird? Same,same but different? Still a Champion ?? though! @DaniWillis91 may have to punish this bloke for this ??

— Mathew Smith (@BCHFlippenning) January 22, 2018
May need to take a look at the other accounts there!

— Ian McE (@ianmacdublin) January 22, 2018
After Australia's loss to England in the 3rd ODI, Smith shot down suggestions of ball-tampering after video of him using lip balm from the corner of his mouth raised eyebrows.
Smith laughed off the reaction, after watching a replay of the video, saying it was his standard technique for helping shine the white ball with no assistance from any foreign substance.
"It was all spit. People said something about lip balm. If you look at my lips they are pretty dry. I certainly didn't have any of that on," he told reporters after the match.
"It is just the way I get the spit into the side of my mouth and get some spit onto the ball. There was nothing in it," he said.