Story Progress
Back to home
Sourav Ganguly Praises Virat Kohli For 'Staying Out' Of India Coach Selection
BCCI put the decision of naming the new Indian cricket team coach on hold, saying it wanted to speak to skipper Virat Kohli first.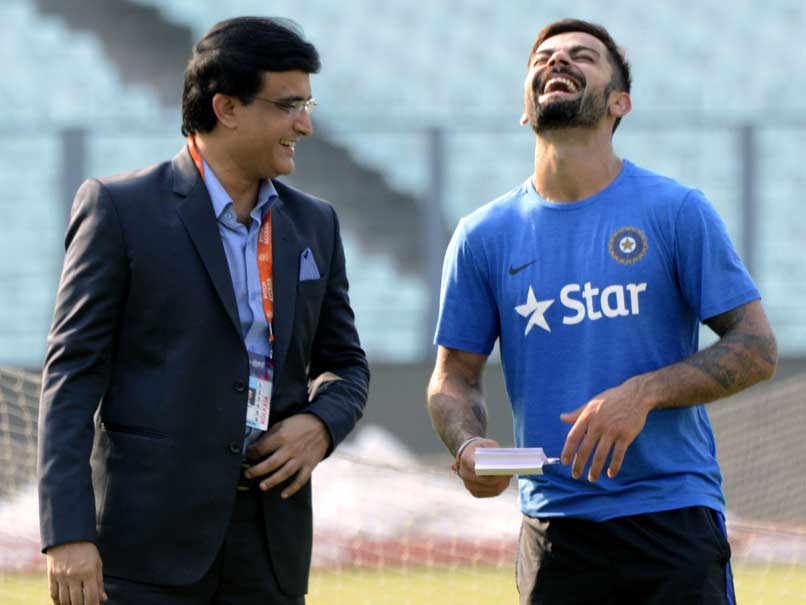 Sourav Ganguly credited Virat Kohli for staying out of the selection process to pick India's next coach.
© AFP
Highlights
Ganguly praises Kohli for keeping away from coach selection

BCCI puts decision name new coach on hold

BCCI, CAC said they will consult Virat Kohli first
Cricket Advisory Committee (CAC) member Sourav Ganguly on Monday praised captain Virat Kohli for "staying out" of the selection process to pick Team India's next coach. The former India captain credited Kohli for keeping totally away and not giving any input. The Board of Control for Cricket in India (BCCI), along with CAC members -- Ganguly and VVS Laxman, held a press conference in Mumbai and announced that the decision to name Indian cricket team's new coach will be taken in the coming days after a consultation with skipper Kohli.
"Have to give credit to Virat Kohli that he totally stayed out of it (coach selection), didn't give any input on names," Ganguly told reporters.
Ganguly said that Kohli is an important cog in the system and his input is extremely valued.
Asked about the inputs taken from Kohli in the meetings during the Champions Trophy, Ganguly said, "That was on a different aspect. As I said, he has stayed out of the whole thing.
"We want to make sure we take the best possible decision for Indian cricket. The coach, captain and players are the ones who will take Indian cricket forward. The CAC goes out of the picture once the coach is selected."
The three-member Cricket Advisory Committee comprising Sachin Tendulkar (who joined the meeting via Skype), Laxman and Ganguly put the appointment of next India coach on hold despite completion of the interview process.
"Want to make sure everyone is in sync going forward. Six months down the line we shouldn't be doing something differently. We need a few more days and need to talk to captain Virat Kohli before picking the new coach," said Ganguly.
The CAC interviewed five candidates for the post of head coach and at the end of it said that they needed more time to come to a final decision.
Topics mentioned in this article