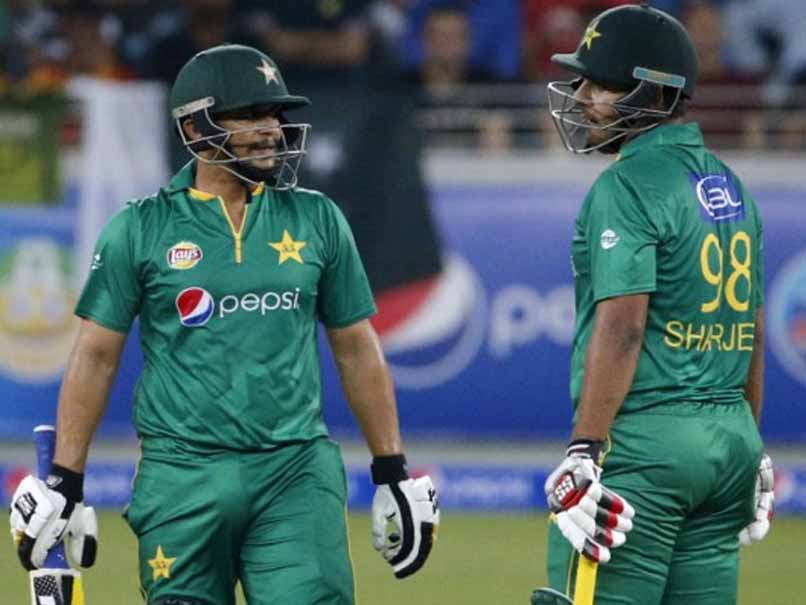 Sharjeel Khan (R) and Khalid Latif (L) were both charge-sheeted by the PCB.
© AFP
Pakistan national team cricketers Sharjeel Khan and Khalid Latif have claimed innocence in the spot-fixing scandal that has rocked the Pakistan Super League (PSL), in their initial response to the show cause notice issued to them by the Pakistan Cricket Board (PCB). The duo, charge-sheeted by the board after being suspended by the PCB's anti-corruption code, had been sent back home from Dubai during the PSL. The charges against them included having contacts with bookmakers and trying to spot-fix in matches.
Sources close to the two players, however, said they had denied all charges through their lawyers.
"The two have said that they met with one person named Yousuf on the request of former Pakistan opener Nasir Jamshed," one source told PTI.
"They have said that they only went to meet with Yousuf considering him a fan but when he made offers to them they walked away," the source said.
Since the two didn't report the offers to the PCB's Anti-Corruption Unit, they are liable to be charged as the code of conduct carries penalties for not reporting an approach.
The PCB after receiving their detailed replies will move to set up a three-member tribunal which will then hold hearings to decide on the case. The tribunal will be headed by a Judge.
Pakistani cricket fans have been disappointed after learning about Sharjeel's suspension under the anti-corruption code as the left-handed opener had cemented his place in all three formats as a hard-hitting batsman.
The Hyderabad-based batter scored three half-centuries in the one-day series in Australia and also scored 39 in his Test debut in the third Test at Sydney. He remains the only batsman to have scored a century in the Pakistan Super League T20 event.
Khalid Latif, who hails from Karachi, had also cemented his place in the national T20 side since last year.
"I have denied any involvement in any wrong-doing as I have done nothing wrong," Sharjeel told PTI.
"I can never do anything that will bring a bad name to my country.
"The PCB has told us not to speak to the media but the truth will come out eventually," he added.
(With inputs from PTI)