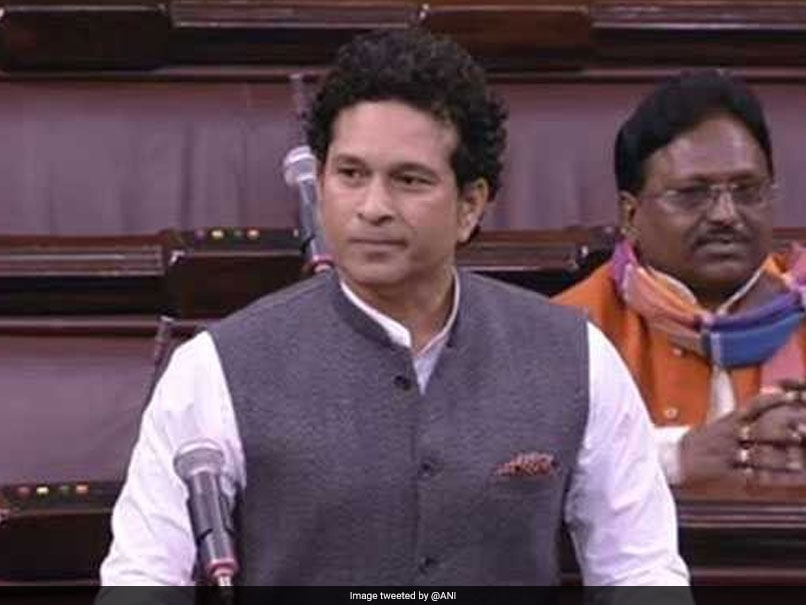 Sachin Tendulkar delivered his Parliament speech through Facebook Live.
© Twitter
Sachin Tendulkar was supposed to make a rare speech in the Rajya Sabha, of which he is a nominated member, on Thursday. But shouting Congress MPs drowned him out. So the cricket legend delivered his Parliament speech on Facebook Live on Friday, saying, "There were things that I wanted to say yesterday but couldn't." Sachin reiterated his wish to transform India from a sport-loving nation to a sport-playing nation. He spoke of how fitness must be the primary priority of a young and developing India and how playing an active sport would help the nation achieve its fitness goal. Ït is my endeavour to transform India from being a sport loving nation to a sport playing nation. I urge you all to participate in this effort and make my dream, our dream. Always remember, dreams do come true! Jai Hind," the video caption says.

Here are some of the key points made by Tendulkar:
1) I loved playing sport and cricket was my life. My father, professor Ramesh Tendulkar, was a poet and a writer. He always supported me and encouraged me to be what I wanted to be in life. The greatest gift I got from him was the freedom to play, the right to play.
2) My vision is healthy and fit India...We are a diabetic capital of the world with over 75 million people affected by this disease. And when it comes to obesity, we are sitting at no.3 spot in the world. The economic burden of these diseases will not allow our nation to progress.
3) Humare fitness ke sessions light ho rahe hai and khane ke sessions thori heavy hote ja rahe hain, humein ye aadat badalni chahiye. (Our fitness sessions are declining while our food sessions are on the rise, we should change this habit). Many of us only discuss and don't play at all. We need to transform India from a sport loving nation to a sport playing nation.
4) Make everyone more active and participative, inculcate and develop the sporting culture of the country.
Tendulkar also appreciated the North-East of India for its sporting culture. "The North-East of India, which has only 4 per cent population of India, has a vibrant sporting culture," he said.
"It has produced many sporting heroes, including our boxing idol, Mary Kom." Tendulkar also loisted out names like Mirabai Chanu, Dipa Karmakar and Baichung Bhutia.
On Thursday, Sachin Tendulkar stood for almost 10 minutes in the Upper House of Parliament, waiting to make his speech. Vice-President M Venkaiah Naidu, who is also chairman of the Rajya Sabha, asked the Congress' protesting lawmakers to sit down and listen to what the cricketer had to say, but to no avail.