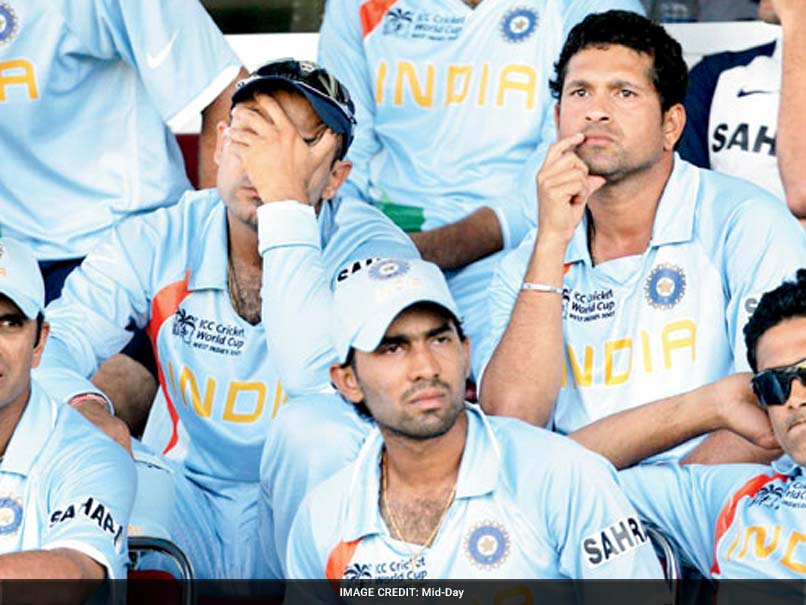 Indian players watch the batting failure against Sri Lanka at Queens Park Oval on March 23, 2007.
© Mid-Day
Indian cricket hit the depths of despondency 10 years ago on this very day. Following a shock loss to minnows Bangladesh in their opening game of the 2007 World Cup, the Indian team were expected to see off Sri Lanka at Port of Spain in Trinidad, but crashed to a 69-run defeat.
The nation moaned, groaned and ridiculed the team which four years ago had finished second in the previous World Cup in Southern Africa.
The World Cup dream which came with Greg Chappell's appointment in 2005 was crushed and for batting icon Sachin Tendulkar, it was yet another World Cup in which the silverware proved elusive.
Tendulkar's utter disappointment caused him to think about retirement. Giving up his best-loved game was entrenched his mind as he licked his wounds as it were on his return from the Caribbean. One evening, he gets a call from the most destructive batsman to play the game, his batting idol - Sir Vivian Richards.
Strengthened by Richards' positive talk and Ajit Tendulkar's optimism of his younger brother lifting the 2011 World Cup made Tendulkar head to the training ground again.
In four years' time, he was doing just that at his beloved Wankhede Stadium - lifting the World Cup. March 23, 2007 is not a day to celebrate, but it's a day which led to a change in Indian cricket's canvass. mid-day spoke to the artist.
Excerpts:
One of my worst days
I would call it (March 23, 2007) one of my worst days in cricket. When you feel you win and end up losing, you are bound to feel terrible. Like the Johannesburg Test (in 1997) when we had to get South Africa out but it rained, the Barbados Test (in 1997) when I was captain and the 1996 World Cup semi-final loss to Sri Lanka. There are such instances when you feel really terrible. The 2007 World Cup was obviously not good for us. The first blow was the loss to Bangladesh and then we lost to Sri Lanka. I never thought we would lose to Bangladesh. We were not over-confident, but you do feel confident about India beating Bangladesh. It was one of those uncertainties of the game.
Spent two days in my room
We were in the West Indies for two days after we lost, but I didn't leave my hotel room after we lost. I was in no mood to do anything. It was such a massive disappointment that I didn't feel like doing anything in those two days. It was tough to get that out of your mind and move on to the next tournament
I stick by what I said
Yes, 100 per cent, absolutely... Greg (Chappell) was responsible for this imbalance and I stick by what I said (about Chappell having a lot to do with the mess Indian cricket found themselves in). The guys who were opening in South Africa which was our previous tour, were batting in the middle order. There were so many changes that were made. If I were to bat at No. 4 in the World Cup, why was I opening in South Africa? And he had no answer to that. Anything and everything that was happening was not in the right direction for the team.
Really, really terrible
I was so disheartened! You feel terrible that the game which has shown you the best days of your life was now showing you the worst day of your life. I couldn't imagine cricket could do this to you. I felt really, really terrible. I felt low and I didn't leave home for quite sometime.
That call from Sir Viv
I was away when I got a call from Sir Viv Richards. He spoke to me for around 45 minutes - about the ups and downs in cricket. He stressed that I have plenty of cricket left in me and said, 'You are not going to retire now.' He had heard from a friend of ours that I was really depressed to a point that I was literally thinking of retiring. He told me that it's only a matter of time that I get back so don't take any decision now.
I started training again
It makes a huge difference when your batting hero calls you. I always looked up to him and Sunil Gavaskar. Sir Viv's call to me was made at the right time and I got convinced. I then said to myself, 'Okay, I'm going to abandon these thoughts and start practising again as soon as I return to Mumbai. My brother Ajit spoke to me about the 2011 World Cup, telling me that this trophy can be in my hands. That was the motivating factor and I started chasing my World Cup dream. I trained at 5:30 am and practised in the afternoons.
2007 team, a good one
The Indian team of 2007 was a good one. It was not handled properly and the right resources were not used. I repeat, it was a good side because the same players stuck together and played some amazing cricket and went on to become No 1. in Test cricket and won one-day competitions and the 2011 World Cup.
(This story has not been edited by NDTV staff and is auto-generated from a syndicated feed.)